Small Caps Under Seige: Could This Be A Once-in-a-Decade Wealth Creating Opportunity?
Feb 14, 2019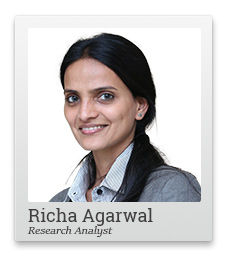 As I write this, 400 smallcap stocks have reportedly touched 52-week lows. It's indeed a blood bath - my own recommendations haven't been spared either.
This kind of correction in the small cap space has happened after a long time. And I won't be surprised if it puts many first-time investors off equities for a long time, depriving them of a once-in-a-decade opportunity (the last sharp correction in small caps was in 2011, and was followed by a sharp comeback).
--- Advertisement ---
The 1 Stock to Buy Now

Small cap gurus and research analyst, Richa Agarwal, has zeroed in on what she believes could prove to be The No. 1 Small Cap Stock of 2020.

It's a stock that she has been tracking for years...and now that it's available at a price she really likes, she is going all in.

Like we said, she calls it her No. 1 Small Cap Stock for 2020.

Read all about it here...
------------------------------
I recently got a query from a subscriber asking if it would not make sense to wait a little more and buy small caps when they have corrected even more.
Theoretically, it makes perfect sense.
The only issue is we will know the bottom only in hindsight. And it's not just us. Many a great investor in the early stages of their careers have tried doing this and failed spectacularly.
Most mature investors unanimously agree that timing the market is an exercise in vain. One can never get it consistently right.
While I have no view on how deep this correction could go or when it will reverse, I'm certain of one thing - markets move in cycles.
SmallCap Carnage: Will Resurrection Follow?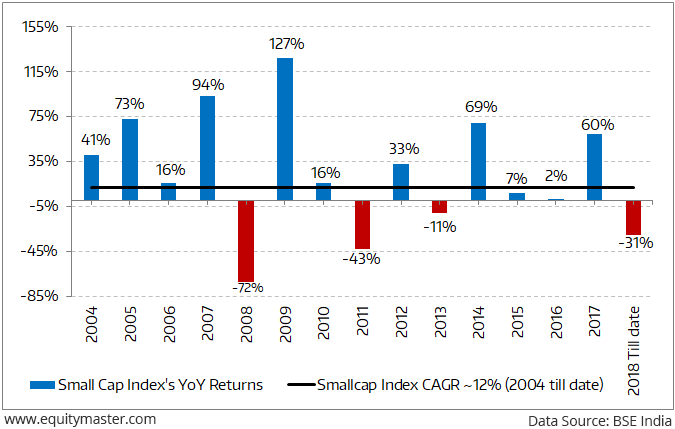 While smallcaps are under a bear grip now, it will be followed by a phase of recovery. And as that happens, quality stocks in the small cap space will make a fast comeback.
This comeback could happen pre-elections, post elections or may even take over a year. And before the comeback, the correction could get even more severe.
That's the uncertainty that we will unfortunately have to live with.
But then in equities, and especially smallcaps, there is no gain without pain (volatility and downcycles).
The only way to consistently master these cycles is to focus on the right time rather than timing.
The right time is when the market price of a business seems to be at sharp discount to intrinsic value of a business. Speaking of which, I see a great rebound opportunity in some quality small caps that I have recommended to my subscribers, and that have corrected sharply amid the recent carnage in the market.
With the right asset allocation, these stocks could be a vehicle to get rich and beat the broader market returns in the next small cap upcycle.
Until then, let patience and value (rather than price) be your guiding mantra.
Regards,



Richa Agarwal (Research Analyst)
Editor, Hidden Treasure
PS: We know that small caps are being frustrating right now - but we also hope you see that this is a good thing. A rare opportunity. Get started on building wealth with these 4 small cap stocks that Richa believes are set to rebound big time as the market recovers from the crash...
Recent Articles