The Train to 'Small-Cap-Profits Land' is Back on the Station!
Feb 15, 2019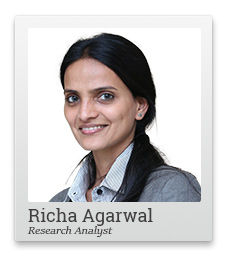 The BSE Small Cap index hit a fresh one-year low yesterday.
And with that, the 2-year price chart of the index makes for a very interesting sight.
While they haven't invented a time-capsule yet, the stock market's time capsule is very well alive and kicking!
Yes, it's like a time capsule back to February 2017, before the whole rise to exorbitant small cap stock prices began in the first place: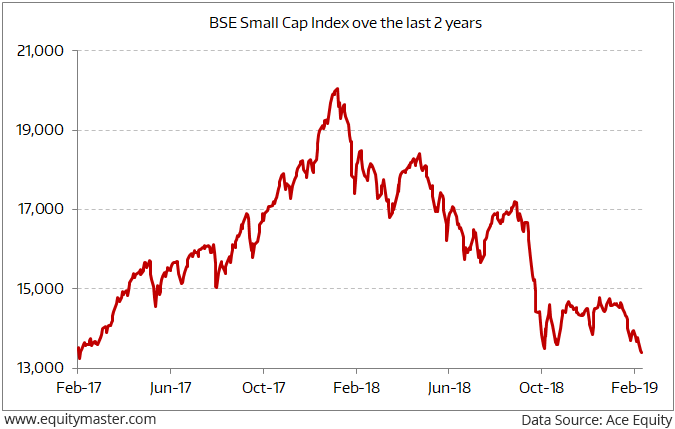 You see, the climb from 13,000 to 20,000 points on the small cap index from the start of 2017 to the start of 2018 took small cap prices to a silly level. The prices left small caps expensive and unattractive.
For investors who had invested earlier at lower levels, it was time to book profits. It allowed them to exit many of their small cap positions at big profits.
But for investors looking to buy, it made the going quite difficult for a while. Finding the complete package of attractive company along with attractive valuations became an uphill task to say the least.
You see, the returns a stock will give are inversely proportional to the price it is bought at. Seems obvious, but this simple truth often gets lost in the stampede of rising share prices.
But like gravity, it's a simple but inescapable truth: Everything else constant, the lower your buy price, the higher your returns.
And so its great news that prices for small caps over the last few days have been falling like there's no tomorrow.
Many of my favourite stocks too are seeing drastic declines. And for no fault of their own...
In the cases of so many strong stocks the correction is not because of an issue with fundamentals but simply because of the recent wave of market correction, especially in the small cap space.
This is a space where not just the weak businesses but almost everything has been going down, including great businesses with great futures.
This is precisely what I've been waiting for. And let me tell you, such opportunities don't come often.
I'm not going to let it go by without recommending some great small caps at attractive valuations that promise to be great wealth creators over the next few years....
If any of you missed the train to 'small cap profits land' that left the station on February 2017, the train is firmly back on the station for another trip to the land of money multiplication.
Don't you miss it again!
Regards,



Richa Agarwal (Research Analyst)
Editor, Hidden Treasure
PS: We know that small caps are being frustrating right now - but we also hope you see that this is a good thing. A rare opportunity. Get started on building wealth with these 4 small cap stocks that Richa believes are set to rebound big time as the market recovers from the crash...
Recent Articles