I Would Recommend this Small-cap Stock Over Tesla
Feb 16, 2021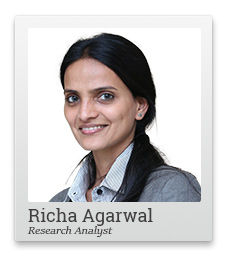 My friend recently shared a WhatsApp forward with me. As I clicked on the link, it was about bitcoin touching a new high and Tesla making a US$ 1.5 billion investment in it.
This wasn't something new for me. He keeps sharing every positive development on bitcoin, along with an update on its price.
This goes back to almost 3 years ago when he invested in the cryptocurrency and unsuccessfully tried to talk me into doing the same.
His investment is up 7x since
I do feel bad about missing on this speculation opportunity in hindsight.
But this has not changed my view on bitcoin as in investment bet. It's still an 'AVOID'.
That Musk is betting on it and is ready to accept it as a currency for his company's products does not influence my views on the bitcoin.
--- Advertisement ---
One stock to add to your portfolio asap

Our co-head of research, Tanushree Banerjee, has uncovered this one stock, which she believes is a must have in your portfolio.

Tanushree is very bullish on this stock.

It could potentially multiply invested money 12 to 13 times over the long term.

Tanushree will reveal details of this stock at her upcoming special event.

You can click here to sign-up. It's free.
------------------------------
It does, however, make me wonder about Tesla's prospects.
Had I been an investor in Tesla, I would have seen this as a bad capital allocation decision.
And most likely would have exited the stock.
By the way, his own brother cut down his holdings in the company close on the heels of this announcement.
Only time will tell if Elon Musk made a wrong move.
To be clear, I do consider Elon Musk a genius. A few years ago, I read a book on him. Elon Musk: Tesla, SpaceX, and the Quest for a Fantastic Future by Ashlee Vance.
I was thoroughly impressed with SpaceX - which developed reusable launch systems (rockets) and reduced costs - and with everything about Tesla.
But then, geniuses do make blunders sometimes.
Revealing Tomorrow: The Great Indian Wealth Project
Isaac Newton did it with his investment in South Sea Company, an experience after which he is alleged to have said:
'I could calculate the motions of the heavenly bodies, but not the madness of people'.
Thanks to his speculative investments, another genius, Mark Twain, the Great American Author, went bankrupt at an age ripe for retirement and famously said:
"October. This is one of the peculiarly dangerous months to speculate in stocks. The others are July, January, September, April, November, May, March, June, December, August, and February."
And need I remind you of the geniuses at LTCM (Long Term Capital Management), and their relatively short existence?
Moral of the story - Your investment rationale can't be 'a genius is investing in it'. There has to be more to it.
This warning is most likely to be overlooked at a time when liquidity fuels markets. In fact, I won't be surprised if this announcement feeds the hotness quotient of Tesla, making it even more popular stock among 'Robinhood' traders.
But such stories end badly.
Back home, smallcaps are reviving on the back of both improving fundamentals and liquidity.
But you will need to be sidestep speculation and cult following. Focus on real developments in the business.
You may have less exciting stocks in your portfolio to discuss with friends, but you will be most likely wealthier.
Speaking of wealth, I have recently come across a stock which makes up in fundamentals for what it lacks in excitement when compared to Tesla.
--- Advertisement ---
How to Earn a Fortune in Gold, the Smart Way

Gold is on 'the verge of a decadal run' says Vijay Bhambwani, India's #1 Trader and Editor of Fast Profits Daily at Equitymaster.

He says gold has the potential to generate staggering gains in the coming years...And those who are betting on gold right now will hit the jackpot.

But wait.

While gold is an attractive investment destination, there's a very specific way to play this opportunity...

A way that ensures you rake in maximum profit and perhaps hit the jackpot...while minimizing potential pitfalls. Thankfully, Vijay - India's #1 Trader - can guide you step-by-step in the upcoming gold rush and help hit the jackpot just at the right time.

Sure, you don't want to be an average trader. That's not how you make a fortune.

Here's how you can get Vijay's guidance...
------------------------------
It's a market leader in a specific auto component. This auto ancillary company could be one of the big beneficiaries from the rising trend of electric vehicles (EVs).
So far, irrespective of the cyclical nature of the auto industry, the stock has maintained positive direction in the revenue growth.
In the last five years, it has almost doubled its profit margins. What more, it's one of the few players in the industry to have a negative working capital, as it can sell products to its customers before it has to pay the bills to its vendors, i.e. it generates cash fast.
If you think it is too good to be true, wait for the cherry on the cake.
This company has been a consistent dividend payer with healthy payouts. It's also likely to witness a substantial boost in the margins over the next three years.
Hidden Treasure subscribers can read the stock recommendation here.
Even if you're not a subscriber it is still not too late to join the smallcap revival.
But you need to act fast.
Given the pace at which markets are rallying, it may not be long before buying opportunities are lapped up.
Stay tuned more updates on the smallcap revival and actionable opportunities in the smallcap space.
Warm regards,



Richa Agarwal
Editor and Research Analyst, Hidden Treasure
PS: Join Tanushree Banerjee at her mega summit - The Great Indian Wealth Project - on 22 February. Tanushree will be talking about the best stocks to create wealth over the decade. Register for free here.
Recent Articles