8 Figure Fortune Masterclass: Sensex 52,000 is Just the Start of the Great Indian Bull Market
Feb 17, 2021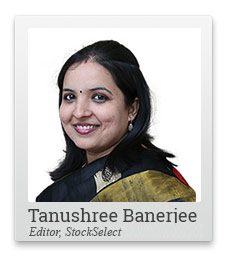 When is the best time to identify a 166-bagger stock?
Fortunately, I was not asked this question in my first job interview in 2004.
If I were, I wouldn't be writing this today.
Or the daunting task of picking a huge multibagger could have kept me away from recommending stocks for ages. I would have probably awaited a huge market crash before I recommended any stock.
My recommendation on Titan in 2005, was when the stock had multiplied 4x in 4 years. The Sensex was at a multiyear peak.
And the post SARS recovery promised to keep the FII inflows coming, indices soaring.
Little did I know that the watchmaker turned jewellery retailer had an unthinkable runway ahead of it. The only thing evident to me was Titan's ability to beat all odds.
The stock of Titan has been a 166 bagger since 2005.
In the interim the company has had several instances of 30 to 50% crashes...in 2008, 2011, 2016, 2018, and 2020.
--- Advertisement ---
We are Bullish on These 3 Little-known Stocks

Our research has uncovered 3 tiny stocks.

You won't hear about these stocks from the mainstream media or your stock broker.

They generally ignore such small size companies.

But our research says, these 3 little-known stocks are set for a massive rally over the coming months and years.

They can potentially offer solid double and triple digit gains to investors.

So, if you are an investor looking to buy good stocks to invest in...when the markets are at all-time high...

Then you must seriously consider these 3 stocks.

You can get the details of these 3 stocks at our free online summit.

We would recommend you to sign-up at the earliest. Because we have limited FREE seats and they are filling up fast.

Click here to sign-up instantly. It's free.
------------------------------
And each time it offered investors a chance to buy more of the stock.
But would that be possible today?
Should Sensex at 52,000 turn investors numb?
Should Sensex valuations at nearly two-decade high be a reason for you to abandon stock picking?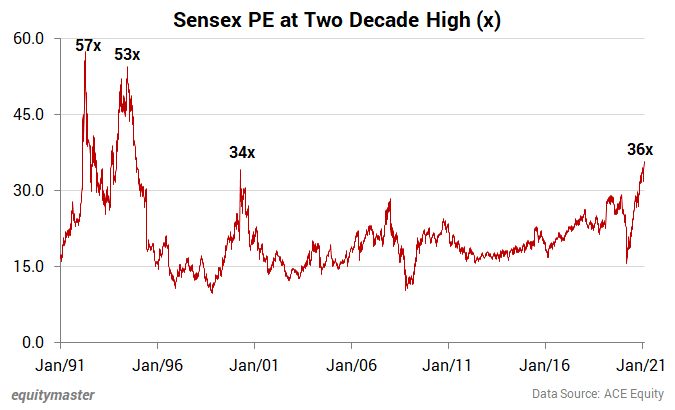 Well, there is no denying that the current Sensex valuation calls for caution.
But there are at least three reasons why the index could continue its rally.
A sharp post-covid recovery in corporate earnings.
The RBI's reluctance to raise interest rates.
Steady influx of foreign money into Indian stocks.
So, timing the markets as part of your wealth building plan could be futile.
Sensex at 52,000 or higher should not change the way you buy stocks.
You must look for only the most solid businesses that can confront all odds.
And you must not compromise on margin of safety in valuations.
A solid wealth building plan needs thorough research. You will also need a commitment to consistently invest in a few great stocks at the right times.
There may be very few such stocks that are actionable but ones that do qualify could be your starting point.
Add to that the power of compounding.
Assume you invested Rs 100 consistently in the BSE 100 index across market peaks and troughs since 2001.
Your total investment of Rs 24,100 would have multiplied to Rs 107,000 over the years. That is a compounded return of just 8%.
Learn: How to Potentially Accumulate Rs 7 Crore in Wealth Over the Long-term
But preparing to pick the right stocks in 2001 could have handed you stellar gains if you bought the stocks in 2002 or 2003.
Here your compounded return would be an enormous 19%. In fact, selecting stocks in 2007 and acting on them in 2008 and 2009 would have earned a compounded return of 17%.
As compounding runs wild in great stocks over the years, putting a wealth building plan in place even at Sensex peaks pays off handsomely.
So do not let steep return expectations keep you shy of taking small exposures to great stocks.
And do not put off your wealth building plan in anticipation of a market crash.
If you're curious to know more about of a solid wealth building plan, I have good news.
I'll continue this 8 Figure Fortune Masterclass until I have armed you with all the knowledge you need to get started on this profitable life-changing journey... a journey to build an 8 Figure Fortune!
Watch out for the Profit Hunter tomorrow...
Warm regards,

Tanushree Banerjee
Editor, StockSelect
Equitymaster Agora Research Private Limited (Research Analyst)
PS: Join me at the Great Indian Wealth Project web summit on Monday, 22 February. I'll show you how to potentially accumulate up to Rs 7 crore in wealth over the long-term. Book your free seat here.
Recent Articles