The Mini Crisis that Heralds the Next Wave of Mega Profits
Feb 18, 2019
It doesn't take a genius to realise that multiplication has a significant edge over addition. It is basic math.
Even when addition has a great head start, multiplication soon catches up and eventually leaves addition far behind.
This simple idea was at the heart of one of the most influential scientific papers of the 18th century.
Thomas Malthus, its author, argued that human population follows the multiplication pattern. It is doubling itself every 25 years, he guessed at the time. Food production, on the other hand, grows more like addition.
So, even if there's ample food production to begin with, there will soon be more mouths to feed than food production can sustain.
Taken to its logical conclusion, Malthus' theory pointed to a huge calamity.
We should have strict population control measures in place, warned Malthus. Else, we should brace ourselves for the alternatives - famines and mass starvation.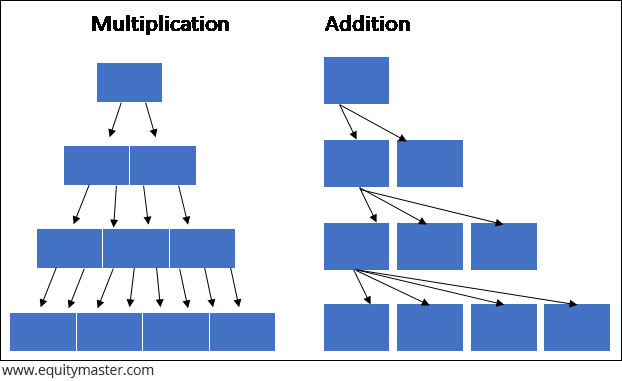 Well, more than 200 years after Malthus' famous prediction, we are still awaiting the food apocalypse.
Even with 6 billion more mouths to feed, there's enough food going around. And it is unlikely we will run out anytime soon.
The mistake Malthus made was to think of us humans as swarms of locusts.
But humans can think, locusts can't.
Our self-sufficiency in food even after a massive explosion in population is a tribute to our ingenuity and our tenacity. Malthus simply forgot to take this all-important factor into account.
However, Malthus is not the only one who underestimated human resourcefulness and ended up with egg on his face...
The Times newspaper in the UK was forced to eat humble pie too. This was barely a couple of decades after its famous prediction that every street in London will soon be buried under nine feet of horse shit.
The allusion was to the explosion in horse population in London. They were by far the most popular means of transporting people around.
More horses meant more horse shit and more annoyance to humans.
However, instead of the problem getting worse, horses faced a complete wipe out. Cars, buses and trams started replacing them in large numbers.
Motorized transport became the transport method of choice for most people. And horse drawn carriages started turning into cute artefacts fit for museums.
Once again, it was human ingenuity to the rescue.
There are plenty of other cases where naive extrapolation of a mini-crisis into a big catastrophe have all fallen flat.
Once we've directed our human inventiveness towards finding a solution, we have almost always ended up with success. A bet against our combined creativity and imagination hasn't proven to be a particularly profitable bet.
And it is betting on this very creativity and imagination that can prove extremely rewarding for investors as well.
All one has to do is find out an area where there's a mini-crisis developing.
And then bet on the people and companies who are addressing these challenges head on.
Well, I recently came across one such area and it is none other Bill Gates who has helped uncover it.
Writing in his latest annual letter, he has wished for more people to fully understand what it will take to stop climate change and reduce greenhouse emissions.
Yes, we are doing a lot to reduce greenhouse gas emissions in the power sector by betting on renewables.
But there are other big sectors that are equally guilty and sadly, very little is being done here.
Here's Gates.
The larger point is that if we're going to solve climate change, we need to get to near-zero emissions on all the things that drive it-agriculture, electricity, manufacturing, transportation, and buildings. I call these five areas the grand challenges in climate change.
I personally think this is going to be a theme to watch out for the next few decades at least.
The endorsement by Bill Gates has only lent it more credibility.
So, the next time you come across any company that has environment friendly products or services on offer in any of these five areas, keep an eye out on it.
Study the business model deeply and look for signs of profitability and significant scalability.
There's a great chance the next batch of multi-baggers will all share the common trait of being environment friendly.
Good Investing,



Rahul Shah (Research Analyst)
Editor, Profit Hunter
PS: Speaking of opportunity arising from crisis, that is exactly what is happening in the small cap space. We urge you not to get distracted by the falling prices, and keep your eyes on the rebound profits that are bound to come. To get the best stocks poised for profit, click here.
Recent Articles