8 Figure Fortune Masterclass: Find the Best Stocks of the Decade With My Proven AAA Checklist
Feb 18, 2021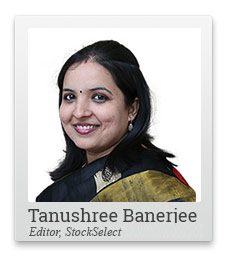 Peter Lynch called 'cutting the flowers and watering the weeds' his most expensive mistake.
It's not just him, but most investors tend to sell their winners too quickly (cutting the flowers) and hold on to bad stocks (watering the weeds) for years, even decades, in the hope of recovery.
Sometimes they sell out of fear that every high potential stock will turn out to be the next IL&FS, Vakrangee or Manpasand Beverages.
That's understandable. Most retail investors don't do their homework on their long-term investments.
You need to do more than just identifying winning stocks. You also need to identify the risks in these stocks and track them over years, not just a few quarters.
The pursuit of return must be balanced with aversion to risk.
This is especially true when you want to hold your favourite stocks in your portfolio for at least a decade.
Don't worry. I'm here to help.
--- Advertisement ---
We are Bullish on These 3 Little-known Stocks

Our research has uncovered 3 tiny stocks.

You won't hear about these stocks from the mainstream media or your stock broker.

They generally ignore such small size companies.

But our research says, these 3 little-known stocks are set for a massive rally over the coming months and years.

They can potentially offer solid double and triple digit gains to investors.

So, if you are an investor looking to buy good stocks to invest in...when the markets are at all-time high...

Then you must seriously consider these 3 stocks.

You can get the details of these 3 stocks at our free online summit.

We would recommend you to sign-up at the earliest. Because we have limited FREE seats and they are filling up fast.

Click here to sign-up instantly. It's free.
------------------------------
Here is my proven AAA checklist you can use to pick the best stocks of the decade.
Antifragility
The coronavirus pandemic made some companies stronger. It blew others to bits.
Nassim Nicholas Taleb called companies that can withstand any kind of storm 'antifragile'.
Investors assume most large companies are antifragile. This is not without reason. They have the largest market share, revenue, and profits. They also have access to cheap capital and large markets.
In 2020, top 20 listed firms in India generated 70% of all corporate profits in India. Three decades back, the share of profits of top 20 listed companies was just 14%.
So, the assumption is that the strong will get stronger. However, that may not be correct.
A business, however large, can be fragile if it does not generate free cash.
For instance, businesses that are cost or capex heavy were deeply impacted during the Covid-19 crisis. They had to downsize, lay off employees, and renege on their contracts.
Fragile businesses tend to get cast away from investors radar for good when they face such crisis. Remember the hotel and multiplex stocks?
Cash rich, lean, antifragile businesses, have the best chance to not just bounce back from crisis but also corner a large share of the market, as the fragile players move out.
Adaptability
Kodak, Motorola, Sony, and Yahoo are global giants that fell behind for lack of adaptability to new technology. They failed to create new products that catered to changing demand.
In India, we have our own behemoths like MTNL, facing a similar quandary.
New product launches as well as automation which brings in operational efficiencies, determines how adaptable a company is to new technologies.
Without the ability to adapt to the changes, stocks of these companies remain vulnerable to a drastic change in demand, regulations, and the macro environment.
For instance, auto companies in India that are on the backfoot as electric vehicle manufacturing could put them at risk of becoming obsolete.
Learn: How to Potentially Accumulate Rs 7 Crore in Wealth Over the Long-term
Austerity
Difficult times force companies to practice austerity. Yet, most don't get through it.
That's why smart investors, including Warren Buffett, prefers to look for companies that survive difficult times.
To me, the signs of such austerity are genuine, only if they are visible even in the most euphoric times.
Companies that keep costs on a tight leash, plan their capex carefully, avoid debt, skip risky products, and pass expensive acquisitions, even at the peak of their success, are the ones to bet on.
Such austerity in good times offers clear visibility of long-lasting outperformance.
HDFC Bank's habit of excess NPA provisioning during periods of peak profits is the only secret of the bank's all weather clean asset book.
The massive returns from the stock over decades are the fruits of such austerity.
Any stock that checks all the boxes in this AAA checklist has a solid chance of compounding your wealth over decades.
I believe this checklist will be fundamental on your journey to an 8 Figure Fortune.
More tomorrow...
Warm regards,

Tanushree Banerjee
Editor, StockSelect
Equitymaster Agora Research Private Limited (Research Analyst)
PS: Join me at the Great Indian Wealth Project web summit on Monday, 22 February. I'll show you how to potentially accumulate up to Rs 7 crore in wealth over the long-term. Book your free seat here.
Recent Articles