The Small Cap Market Crash and the Path to 1,000+% Gains...
Feb 19, 2019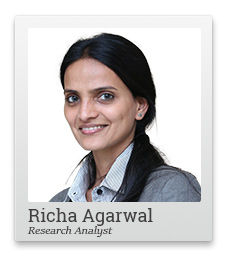 It's not news anymore that for smallcaps, there is blood on the streets.
The only chance you stand against the merciless current market is with patience.
Some of you have asked me:
What's the point of holding fundamentally good companies on paper with high intrinsic values that you cannot realise now?

Shouldn't one focus on cutting losses when stocks crash?

How do you even know how long to wait? Aren't we all dead in the long run?
I've said this before and I'll say it again: Smallcaps are a capricious lot.
And I do not know how long one must wait - nobody does.
I usually recommend stocks from a 3 to 5-year horizon. There have been cases when the target price has been met in the first year of recommendation itself.
And then there were instances when the stock nosedived and refused to budge for a long time.
For instance, Titagarh Wagons.
From our recommendation price of Rs 66, the stock had corrected to Rs 14 (a fall of 78%) within 10 months of recommendation. It remained in the red for 2 years... an eternity for someone who had bought at the originally recommended price.
But as you can see in the chart below, the rise in the stock price was equally dramatic.
From its lows of Rs 14 in August 2013, the stock went up to Rs 161, a gain of 1,047% in less than 2 years (most of which came in 2 months, from Jan 15 to March 15).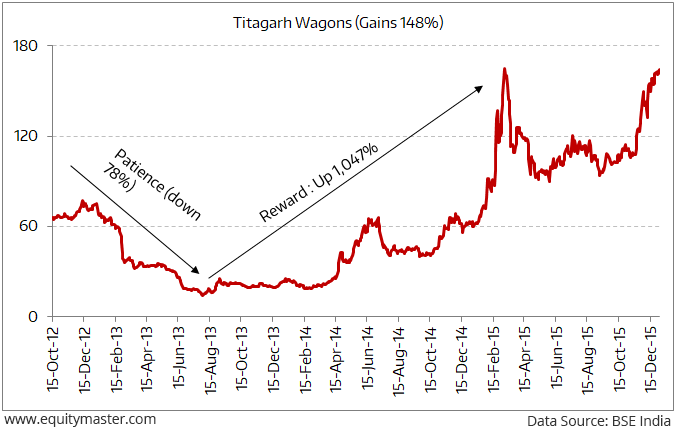 78% fall and then 1047% gain - all in a period of around 2.4 years...
That's what the combination of volatility and patience (backed by a strong process) can do.
We closed the stock with 148% gains from the recommendation price - a CAGR (compound annual growth rate) of 33%.
I'm being selective in sharing this example of course. There have also been a few cases where I was wrong to wait...when pressing the exit button early would have made sense (the wisdom of this can ONLY be seen in hindsight).
And yet, I don't recommend stop losses when stocks crash.
You see, I don't take my cues from stock prices, but from the gap between price and estimated value. And if there is a significant upside (and no other stocks that are better opportunities), I wait...
Again, sometimes, I have been wrong in my assumptions.
But then, a wise man, Peter Lynch, has said:
In this business, if you're good, you're right six times out of ten. You're never going to be right nine times out of ten.
And we have done well on that front. Distancing ourselves from random price corrections, sticking to facts and logic, and most importantly, maintaining the temperament and discipline have ensured that we were right more times than we were wrong...
And that the gains outweighed the losses by a wide margin.
Hidden Treasure has beat the Sensex nearly 3X over the last decade or so... and that, dear readers, is why we wait...
This discipline is difficult to practice when the stock you have invested crashes 70% to 80%...
But it could be easier if you approach smallcaps with enough caution in the first place and allocate only a small amount of capital to a single stock.
This will not just let you ride the volatility smoothly...but will make sure that you have enough capital to deploy in rebound stocks - those with enormous potential to bounce back from the market crash.
If you can ride out the volatility with patience, this market is a once in a decade opportunity for you. I hope you will make the most of it.
Regards,



Richa Agarwal (Research Analyst)
Editor, Hidden Treasure
PS: A market crash is not an easy time for any investor - but it is an opportunity for the patient investor. These 4 stocks will help you ride out the market volatility and potentially come out wealthier.
Recent Articles