POTENTIAL MULTIBAGGER
Do You Own this Little-known Smallcap Stock? >> READ MORE
This is Exactly Where You Will Find Bargain Stocks Today...
Feb 20, 2019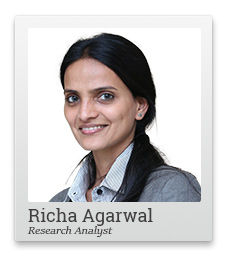 The BSE Sensex has actually risen 4% over the last 12 months.
In sharp contrast, the BSE Small Cap index has seen a significant fall of 27%.
Foreign institutional investors (FIIs) have been selling and smaller companies have been tumbling.
This state of affairs has meant that the environment has been increasingly marked by neglect in smaller companies. Investors, who were falling head over heels for small caps at the start of the year, have now lost interest big time.
How do I know this?
This lack of interest is also showing up in their liquidity on the stock exchange. Liquidity of smaller companies has taken a massive beating: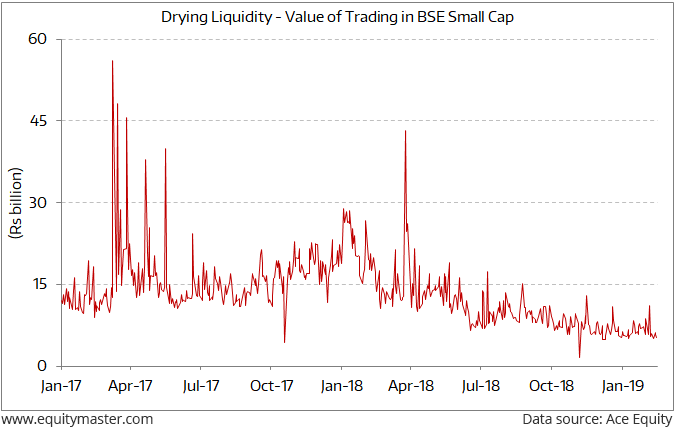 Liquidity in value terms is down from a high of over Rs 50 billion to just Rs 5 billion now. Liquidity has all but dried up in small cap stocks.
Now, liquidity is a funny thing.
It may have very little effect on the fundamentals and the intrinsic value of the business. Yet stock market investors generally love higher liquidity stocks, i.e. stocks that are traded in large quantities in the stock market.
The higher the better. And the lower, the worse.
So much so, that the vast majority of investors completely leave out stocks below a certain liquidity level.
Is this something to be worried about?
Not at all! In fact, this is very good news indeed!
This is a very natural part of the small cap cycle as liquidity tends to be quite elastic with significant increases as stock prices and investor enthusiasm increase and the reverse when prices and interest levels fall.
While this could make buying and selling stocks in larger quantities a little difficult, other than that in itself this is nothing to worry about. Especially if you have patient capital that can sit out any bad liquidity patch and the investor maturity to ride out the extreme volatility.
So you see, it's all part of the market cycle.
But why bother with them at all?
Well, simply put, the potential profits in small cap stocks at such times are just too hard to ignore.
In fact, the best stocks in the small cap world can be bought at the most lucrative prices when they are being neglected by investors.
And then at times such as these when the whole category - i.e. small cap stocks as a group - are being neglected.
Investors have always had a manic love/hate relationship with small caps. And they begin to neglect them when they're in the 'hate' phase and want nothing to do with them.
This usually happens when they've fallen or gone nowhere for a while. It is then that neglect begins to creep in, volumes and liquidity in these stocks starts drying up, investors start ignoring fundamentals, and stocks begin to fall further getting caught in a vicious downward spiral.
And that is exactly what we're seeing right now!
Investors are shunning stocks with least regard for their long-term potential and fundamentals. The low competition in such stocks from other investors, and the resultant opportunity to scoop them up low and early - before others get on their trail in a few years - offers the potential for massive profits. Profits of the kind that are too hard to ignore.
I don't know how long this phase will last. But I do know that mouth-watering opportunities have been uncovered in many small caps that are selling at bargain valuations thus making them poised to generate a lot of wealth in the years to come...
Get in before investors fall in love with small caps again!
Regards,



Richa Agarwal (Research Analyst)
Editor, Hidden Treasure
PS: Mouth-watering opportunities have been uncovered in these 4 small cap stocks making them poised to generate a lot of wealth in the years to come...
Recent Articles