Corona Virus Could Trigger a Rally in this Stock
Feb 20, 2020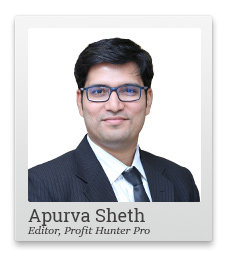 The novel Coronavirus is hitting headlines every day. Hubei is the epicenter of the outbreak.
The death toll in China has surged above 2,000 and the total number of cases registered has also spiked dramatically to 75,000. Countries outside China have also started reporting deaths.
Unfortunately, we haven't been able to find a cure or vaccine for this novel virus so far. However, I believe the human spirit will prevail and we will be able to find a solution for the virus soon.
Meanwhile the outbreak is leading to unintended consequences in many walks of life. Trade and commerce is severely affected because of it.
Tourist arrivals have slowed down sharply in China. Hundreds of flights have been cancelled. Public transport systems are curtailed and people are stepping out far lesser than they did a few weeks ago.
All this means a lot of unsold oil and gas.
Crude oil has dropped sharply after the virus outbreak in December last year. Natural gas was already trending lower on the MCX since November fell even more after the outbreak.
Crude Oil & Natural Gas fall after Coronavirus Outbreak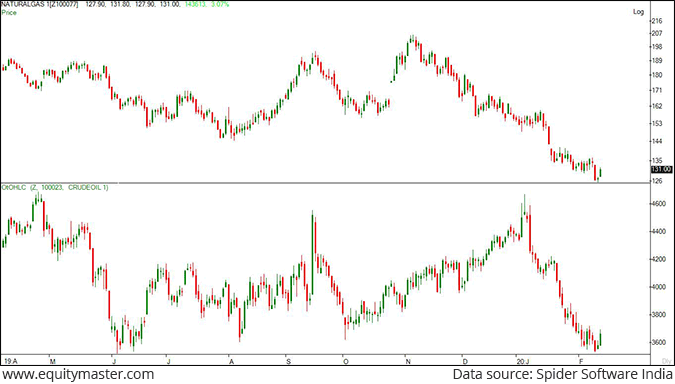 Falling crude oil prices is good news for a country like ours which imports 80% of its requirement. It is even good for companies which use crude oil or petrochemicals derived from it as a major portion of raw material.
There are several sectors which benefit from falling crude oil prices. Some of them are -
Paints
Oil marketing companies
Dyes
Plastics and Polymers
Adhesives
Oil based lubricants
Apart from all these there a sector in India which is directly benefitting from falling crude oil prices and Coronavirus in China.
--- Advertisement ---
Here's an urgent profit opportunity from us that no mainstream media is revealing...

The #1 Stock for 2021.

...An innovative stock with the industry giants chasing it for its technology to touch millions and millions of people every day.

It serves several clients across the globe, but what got me is this...

The stock is leaving all its competitors behind despite the COVID crash, and now the price has already started to move.

There's actually one more reason why this stock could take off and make its early investors rich.

It's revealed here in this note with transparency.
------------------------------
Specialty chemical companies in India are in a sweet spot. Most of them use crude oil-based derivatives as raw materials. Falling prices results into better margins for them.
The novel Coronavirus originated in the Wuhan city of China. Wuhan lies in the Hubei region, which has a large chemical industry.
Environmental concerns in 2016 led to the shutdown of many industries in the region. This led to windfall gains for Indian specialty chemical manufacturers.
If the Coronavirus continues to spread then it could lead to mass scale shutdowns of these plants in China.
China's loss is India's gain.
Shutdowns would force global companies to procure their needs for specialty chemicals from India. This could bring a bounty for Indian companies.
Which companies could benefit the most? Well that's where we come in to picture. I have teamed up with Vijay Bhambwani for the Fast Profits Report which is our premium monthly recommendation service.
We identify price trends in natural resources which may impact trends in equity markets. Vijay identifies long lasting trends in the natural resources space. And I analyse the impact on the stocks of companies likely to be affected directly from movements in natural resources.
Last week I recommended a specialty chemical company which benefits from crude oil and coronavirus. If you would like to know more about this company than you must click here.
Warm regards,

Apurva Sheth
Editor, Breakout Profits
Equitymaster Agora Research Private Limited (Research Analyst)
PS: On Tuesday, 25 February at 10 AM sharp, Tanushree will reveal details of the Greatest Money-Making Opportunity very few Indians know about! Get the details of this event here.
Recent Articles