Why is India Not Following the Global Stock Market Rally?
Feb 22, 2019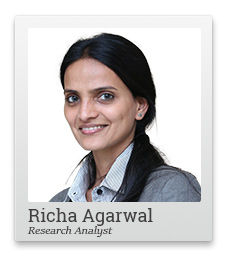 We recently examined how the Sensex and the Smallcap index performed over the past one year, and how liquidity has played a role.
Today, let's look at a shorter timeframe and broaden our list of indices and compare Indian indices with that of global peers.
Have a look at this chart. It shows the returns of top global indices from the beginning of the year.
While global indices worldwide have rallied sharply after a dull end to 2018, Indian indices have remained in the red.
The BSE Sensex is down 3% since the beginning of the year. While the BSE Smallcap index has borne most of the brunt and is down by over 11% year to date.
The biggest reason why Indian indices have not followed their global peers in a rally is that they were expensive to begin with.
When Indian stocks were at their peak in the middle of last year, not many stopped to asked the most important question - "how much?". Especially in the case of smallcap stocks. And those who did, managed to stay away.
One of the biggest reasons Indian stocks have given bad results since the start of the year - valuations - is now also the reason why they are likely to give great results from here on.
The latest crash has helped bring down even the choicest smallcaps to mouthwatering valuations.
Now apart from valuations, macro factors have played their part too...
Extreme volatility due to the IL&FS crisis as well as a market-wide liquidity crunch has weighed down heavily on Indian indices.
The interim budget spooked global ratings agencies as fears of fiscal slippages increased. Moody's noted that India's government will face challenges meeting its fiscal deficit target next year because of new fiscal spending and no new policies to increase revenue.
This has had an effect on FII's decision making.
FIIs have inevitably taken the flight to safety, especially after the US Federal Reserve hiked its key benchmark funds rate to 2.25% to 2.5% in December 2018.
In this year so far, FIIs have pulled out US$ 91.4 million out of Indian equities.
With FIIs pulling out, the already volatile Indian markets are set to get even more volatile as we approach the Lok Sabha elections.
But we can use this volatility to our advantage.
Volatile markets have pulled down even the best stocks due to no fault of their own.
The potential profits in fundamentally strong small cap stocks at such times are just too hard to ignore.
In fact, the best stocks in the small cap world can be bought at the most lucrative prices when they are being neglected by investors.
The start of 2018 needed you to be fearful while everyone else was getting greedy. And if you want to make big money, now you need to be greedy while others are stricken with fear.
Stocks like Page Industries, witnessed a decline of over 40% from Jan 15 to April 2016. However, that did not stop the stock from becoming a hundred bagger in the following months. Imagine the opportunity loss had we let that crash change our view on the stock.
The key is to stay invested, and add quality stocks as and when the opportunity presents itself.
Now is the time to make the most of the uncertainty and pick up quality stocks, and sit back and enjoy the ride.
This is exactly the approach we take in my service, Hidden Treasure.
We don't care where the markets are headed or try to time our recommendations. We simply focus on the fundamentals and wait for stocks to catch up to their intrinsic value.
I have been keeping an eye out for attractive smallcaps to recommended to my Hidden Treasure subscribers.
And I hope you do the right thing for your future wealth and make the most of this volatility as well.
Regards,



Richa Agarwal (Research Analyst)
Editor, Hidden Treasure
PS: Volatility can be your friend. You just have to find the right way to take advantage of it... and that's what we have for you. Click here for 4 stocks that were chosen to profit from the current volatility.
Recent Articles