Find Out
How to Find One Stock with Crorepati Potential? >> READ MORE
The One Chart that Opens the Door to Exponential Returns
Feb 22, 2022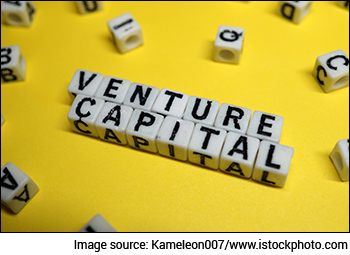 Michael Moritz is the billionaire head of the VC firm Sequoia Capital.
He was once asked why Sequoia was so successful. Moritz mentioned longevity. He said some VC firms succeed for five or ten years, but Sequoia has prospered for four decades.
On being asked the secret sauce, Moritz replied, "I think we have always been afraid of going out of business".
Only the paranoid survive.
There are 2 ways of surviving in the financial world.
The first is the one that most of investors who swear by investing legends like Warren Buffett and Charlie Munger follow.
Compounding: The eighth wonder of the world
It's a tried and tested investing strategy. But only if you give it years to work its magic.
It's like planting a Chinese bamboo tree. The first couple of years will never show much progress on the outside. But 5 years later, the progress will create something remarkable.
--- Advertisement ---
A One Stock Gift in 1990 Turns into Rs 130 Crores

In 2017, Ravi made headlines by calling a leading business news channel with a surprising announcement - his grandfather had left him 20,000 shares of only one stock.


And on the day of his call - these shares were worth Rs 130 crore.

Can you guess which is this company?

It's MRF.

Ravi's story is one of the amazing stories of becoming Crorepati from a single stock.

But the question is, how to find that one stock with crorepati potential?

To find the answer to this million-dollar question, join our 'One Stock Crorepati' MEGA summit on 30th June, where we will reveal details of what we call a potential 'crorepati' stock...

Click here for full details...
------------------------------
As Buffett puts it, 'Time is the friend of a wonderful company and an enemy of a bad one'.
Buffett didn't panic and sell during 14 recessions he has endured in his investing carrier. I'm sure all of us are aware of the wonders of compounding and have been practising it in some or the other asset class.
But today I'm writing about the other way of investing which appeals only to a limited audience. But if done right, this strategy can make you a fortune.
The VC way of investing: The fast and the furious
On a lighter note, whenever I think of VC investing, the speed and magnitude of returns come to mind. I'm always reminded of a line from one of my favourite Hindi movie Hera Pheri 2.
"21 days mein paise double".
Just look at all the tech IPOs which listed in the last 1 year. The maximum returns were made by VCs and private equity players.
The poor retail investor was left holding overpriced, overhyped stocks in their portfolios.
--- Advertisement ---
"$2.5 Trillion Crypto Market Boom..."

A booming $2.5 trillion market...

Set to multiply by 100 times over the next decade...

With legendary investors like Warren Buffet, Elon Musk, and Peter Thiel pouring in billions of dollars all over...

Would You Really Want to Miss It?
------------------------------
Venture capital funds have a peculiar way of operating. Actually, it's not peculiar. It just looks peculiar to stock market investors because our focus is on minimising risk.
But VCs work on the premise of 'more is better'.
The more darts you throw at the board, the higher the statistical probability that you will hit the bulls-eye. Thus, more is better.
The common rule of thumb is that of 10 start-ups, three or four fail completely. Another three or four return the original investment. Only one or two will produce substantial returns.
For a VC fund to beat public equity markets, the one or two successful companies, give them a 50x returns over a 5-7 year period.
Only way to get a 50-100x return in such a short span of time is to invest during the growth phase of the company.
Here are some examples...
Tiger Global made a 340 times return on its investment in Freshworks.
Info Edge clocked 1,000 times return on Zomato when it went public.
Despite Paytm's disastrous listing, Chinese investors Ant Financial and Alibaba made over US$1 bn.
EXPOSED: The Shocking Truth Behind Today's Hottest Investment Opportunity
That precisely is the inherit advantage which venture capitalists have. This road is fraught with risks. But investing in an early-stage start-up can prove to be the jewel in your portfolio.
Look at this chart...
A Picture Speaks a Thousand Words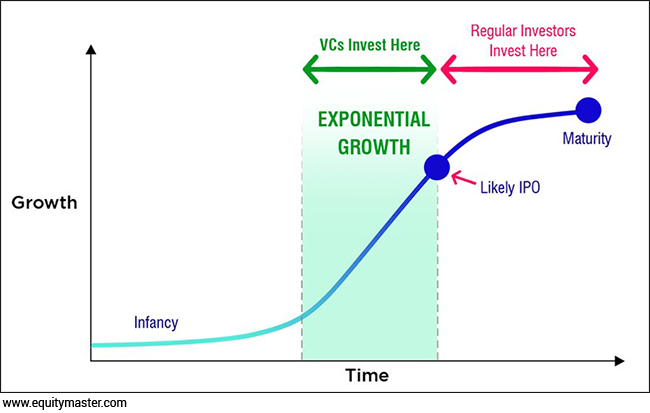 The explosive growth of a young company is often captured by VCs. The growth leads to re-rating in the valuation of the company every time it raises funds.
Have you ever seen a VC fund raiser for a fast growing start-up happen at lower valuation?
I haven't.
When a when a company is growing and its losses are rising, the focus of investors and promoters is to grow revenues as fast as possible. This way the losses can be overlooked in the short term.
This is exactly how VCs make their exponential returns.
Unfortunately, when the stock lists, the explosive growth period of the company is behind it. It will likely grow at or marginally above its industry's growth rate.
In that case how can investors make exponential gains like VCs?
The key is to find investments in new and upcoming technologies.
The full market size of these industries hasn't been discovered yet. And this is where the opportunity is. It's like finding sun rise sectors and strong companies in them before the market.
That is the space from where your next 50-100 bagger will come from.
Warm regards,



Aditya Vora
Research Analyst, Hidden Treasure
Recent Articles