The Hidden Tesla in My Great Indian Wealth Project
Feb 23, 2021
Editor's note: A couple of weeks ago Tanushree wrote to you about an exciting stock she has identified in her Great Indian Wealth Project. You can think of it as India's Hidden Tesla. I'm sharing this today to ensure you are aware of such profitable opportunities in the market.
---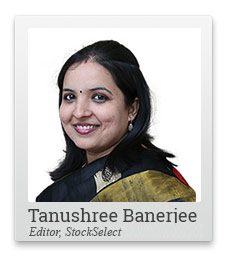 Behemoths like Google and Amazon started off in garages.
Their humble beginnings had absolutely no signs of the metamorphosis the companies were to see over decades.
And no tech guru could have predicted that in less than three decades, these two companies would have a bulk of global population as their customers.
Amazon and Alphabet (Google) today have market caps that together make them the sixth largest economy in the world. Their penny stocks to multibagger stories have no parallel.
Yet the company that is grabbing headlines today is electric vehicle and battery maker Tesla.
--- Advertisement ---
No crash, correction, or pandemic can STOP This..

At last, it's happening...

Right here in India...three hidden mega-trends are converging for the first time ever to trigger an economic boom of unparalleled proportions.

A boom so powerful - no crash, no correction, and no pandemic can STOP India from becoming the next economic superpower...

And those who take advantage of this mega shift could potentially generate massive wealth for themselves and their families in the long run.

We are talking about  potential 1,000% gains...and perhaps even more over the long term.

But trust me, people who pass this opportunity will regret their decision in the years and decades to come...

So, if you want to save yourself from potential downsides of this mega shift...

...and instead, leverage on it for potential windfall gains...

Join us on 15th April at my special event...

We'll reveal the full details there.

Here's Your Free Pass to Our Special Event
------------------------------
The 10x rise in the company's stock price in the past twelve months has captivated everyone's attention.
And every investor out there wants to spot the next Tesla.
Now, you may or may not be one of them.
But there is no denying electric vehicles and battery storage have a big future. These will likely become an integral part of our lives in few years.
No investor should ignore the stock picking opportunities in this space.
What would I do?
Well, I would look for a Google or Amazon like long-term opportunities riding Tesla like tailwinds.
Revealed: 3 Stocks for Potentially Massive Gains
I prefer...
Proven businesses
Proven managements
The agility and scale to capture new opportunities.
That is why, an Indian company founded in a garage three decades ago caught my attention.
This company is an undisputed leader on Indian roads. Its products offer stiff competition to global majors.
And it is all geared up to partner electric vehicle manufacturers in India with its EV specific products.
Mind you, not every auto ancillary can produce offerings which can withstand the stress and extreme conditions that the high-torque electric vehicles present.
So, I won't be surprised if this company manages to get on to Tesla's core vendor rolls in India.
--- Advertisement ---
[Watch Now] 3 Little-known Stocks We are Super Bullish On




Click Here to Watch Now
------------------------------
Meanwhile, its core business allows it a prominent role in niche sectors. This is a business that can survive any kind of crisis.
And, in fact, it has turned every crisis into an opportunity.
I will soon write to my StockSelect subscribers about this 30-bagger stock.
What excites me about this business is its ability to bounce back from temporary crisis time and again.
And simultaneously be agile like a start-up.
Over time, the stock could be among those to create immense wealth for its long-term investors.
I have put down the exact blueprint to accumulate several crores in safe long-term stocks like this, in a guide - Eight Steps to Your Eight Figure Fortune.
Warm regards,

Tanushree Banerjee
Editor, StockSelect
Equitymaster Agora Research Private Limited (Research Analyst)
PS: Tanushree was live at the Great Indian Wealth Project web summit last evening. Thousands joined her online to and discovered the best stocks to buy in this decade. If you missed the summit, you can watch the video here.
Recent Articles