The Right Policy or the Right Stocks? Which One Will Beat the Markets...
Feb 26, 2019
First up, a big thank you to all the attendees of Equitymaster Conference 2019 and for making it a big success yet again.
This year's conference was a pleasant surprise to me in more ways than one.
For the first time in many years, it was coming right after a sharp fall in small and micro caps - an area my services specialise in. And I was expecting a fair degree of backlash, especially from new subscribers.
Equitymaster Conference 2019 in Full Swing at the Taj Palace Hotel, Mumbai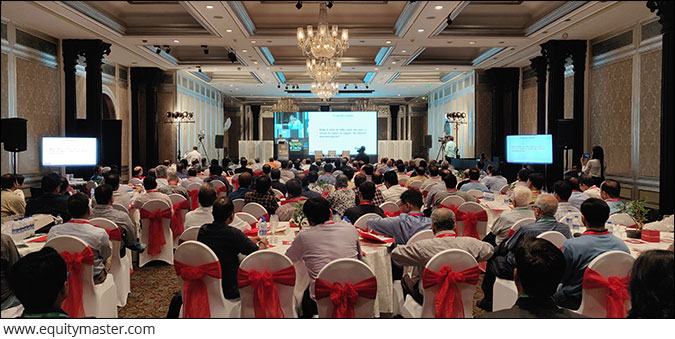 Nothing wrong with this, though. Our subscribers shell out their hard earned money towards subscription fees and have every right to expect good, solid recommendations.
However, it sometimes becomes difficult to explain to them the difference between...
A sound policy and the right stocks.
The way investing works, sound policies will sometimes get you into the wrong stocks...
And likewise, even bad policies can get you into right stocks at times.
And what is happening to our Microcap Millionaires recommendations recently is more a case of the former than the latter.
Our policy is strong, and yet, some of the stocks have gone wrong...
Thankfully, though, most of the attendees to whom I explained this simple distinction were extremely receptive of it.
They were happy to give the policy the time it needed to work its magic.
Those who couldn't make it to the conference, here's the distinction in the form of an image.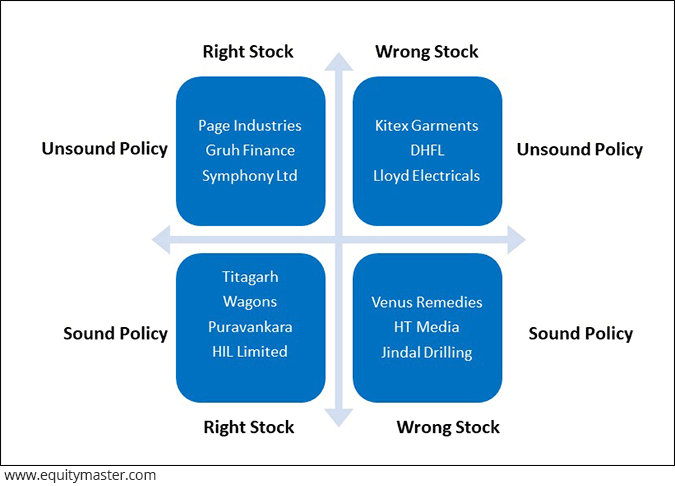 Why is buying stocks like Page Industries, Gruh Finance and Symphony Ltd - all multibaggers of the last few years, considered an unsound policy vis-a-vis sound policy stocks like Titagarh Wagons, Puravankara and HIL Limited?
For the simple reason that while I don't really know how much to pay for buying stocks like Page, Gruh and Symphony; how long to hold on to them; and how many of these to buy... I am far more confident of answers to these three questions for stocks like Titagarh, Puravankara and HIL Limited.
My policy is I buy a stock when I know at what level to buy the stocks at, how long to hold on to it, and how many I should buy.
While it is true that this will sometimes lead me to wrong stocks like Venus Remedies, HT Media and Jindal Drilling, it is equally true that for every Page, there are many Kitex Garments...for every Gruh Finance there are many DHFLs... and for every Symphony Ltd, there are many Lloyld Electricals.
If there are difficulties in answering the above three questions, the success rate will be low - which is why the policy for the group of stocks in the top half of the matrix above is an unsound one.
I much prefer the policy in the bottom half, as I know it can be applied over and over again with reasonably dependable results.
How dependable?
Well, with this policy, we were able to earn more than 21% CAGR in Microcap Millionaires over five years as opposed to 12% earned by the Sensex and 16% earned by the BSE Small Cap index.
Given the soundness of it, I think this policy will continue to outperform the market by a significant margin in the future as well.
The current slump in open positions therefore is a temporary thing. On an aggregate basis, it should end up being in more right stocks than wrong over the long term.
I was happy a lot of the subscribers at the conference could nod their heads in agreement. I hope you are nodding as well...
Good Investing,



Rahul Shah (Research Analyst)
Editor, Profit Hunter
PS: Do not let market volatility scare you away from opportunity. Volatility is a gift - a chance to set yourself up for success. IF you have the right policy and the right stocks - and here are 4 stocks that are set to rebound successfully from the crash.
Recent Articles