My Personal Checklist for Your Trading Success
Feb 26, 2021
Editor's note: It's a special day for Profit Hunter readers. Many of you are not only investors but traders too...or aspire to be. So who better than India's #1 trader Vijay Bhambwani to help you make it big? I asked Vijay to share his wisdom with you. He has generously prepared a handy checklist for your trading success. Read on...
---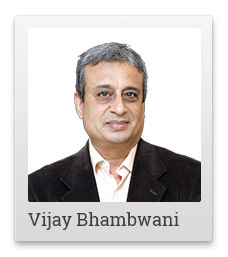 Financial markets are a mechanisms to take money from people who have it and give to people who don't have it but have great ideas to multiply their money.
This line is from the NISM (National Institute of Securities Markets). It's the education division of SEBI, the Indian market regulator.
For me, the market is an enchantress. She has an affiliation with the Goddess of wealth.
Those who play by her rules are amply rewarded. Those who don't get a rap on the knuckles by way of losses.
You could be a player in equities, commodities, forex, or bond markets. Your area of investment will vary but the broad rules remain the same.
You want a high rate of return on investment, in the shortest possible time, and with a controlled level of risk.
But if you think the pigeon holing and categorisation ends here, think again. There is another bifurcation that you need to think of.
--- Advertisement ---
One stock to add to your portfolio asap

Our co-head of research, Tanushree Banerjee, has uncovered this one stock, which she believes is a must have in your portfolio.

Tanushree is very bullish on this stock.

It could potentially multiply invested money 12 to 13 times over the long term.

Tanushree will reveal details of this stock at her upcoming special event.

You can click here to sign-up. It's free.
------------------------------
Are you a passive investor or a trader?
Of late, the western markets prefer to use the term 'active investor.'
'Passive investing' involves buy and hold type of investments. On the other hand, trading resembles a pizza delivery boy.
This boy is on a time table (end of the trading session). He cannot wait in a traffic jam and is a go getter.
In the market place it simply means he will try to make money by going long. If that fails, he will change horses and start short selling without remorse.
The idea is to put food on the table for the family irrespective of the market's direction.
It may seem easier said than done but it is not rocket science.
You see, in trading you need to do two things well. Take care of the basics and learn how to control yourself.
Revealing Tomorrow: The Great Indian Wealth Project
You may think you are trading against the market, but you are actually trading against yourself. By that I mean, your fears, your greed, and your demons.
If reading all this makes you think trading is not for you... don't worry. I'm here to help.
If you adopt the checklist below, your probability of success as a trader will improve a lot.
Identify the direction of the market: If you get this wrong, there is no remedy. Buying on a falling market day and short selling on a rising market day are cardinal errors.

Know which way you must trade for the session ahead. What if you are unsure? Then don't trade. It's as simple as that. There is no point losing money along with your morale and quitting the game as a loser.
Trade only in the direction of the market: Many a time, traders tell me they start the day right and went with the flow but then felt the markets had 'moved too far.' So they reversed their direction and lost money.

Wait! Do you think the market cares what you think? The market will go where it wants to go. You job as a trader is to follow it. That's how you make trading profits. We are not trend setters. So don't nurse such illusions. That's how you lose money.
Keep your trade sizes constant: This is a mistake many traders make. Let's say you have been trading 500 shares and making money.

If you suddenly raise your stake to 2,000 shares, then you have no margin of error. A loss could mean you surrender profits of the last four trades of 500 shares each along with all the execution costs, commissions, and taxes.

--- Advertisement ---
How to Earn a Fortune in Gold, the Smart Way

Gold is on 'the verge of a decadal run' says Vijay Bhambwani, India's #1 Trader and Editor of Fast Profits Daily at Equitymaster.

He says gold has the potential to generate staggering gains in the coming years...And those who are betting on gold right now will hit the jackpot.

But wait.

While gold is an attractive investment destination, there's a very specific way to play this opportunity...

A way that ensures you rake in maximum profit and perhaps hit the jackpot...while minimizing potential pitfalls. Thankfully, Vijay - India's #1 Trader - can guide you step-by-step in the upcoming gold rush and help hit the jackpot just at the right time.

Sure, you don't want to be an average trader. That's not how you make a fortune.

Here's how you can get Vijay's guidance...
------------------------------

Know your costs: Most investors who want to turn into traders are savvy business people. They know their input costs...until they turn to trading.

For some strange reason they start thrashing their limbs around in the markets like a child entering a swimming pool for the first time.

Do know the markets (and your broker) don't really care whether you make a profit or loss. Your broker collects a commission either way. The exchange and government will collect levies and taxes too.

It's only you the trader who can make either a profit or a loss. So you need a concrete plan where you enter a trade only if you know where you are going. Don't succumb to 'trading hunches' 'gut feelings', or 'inner voices'. These are sure paths to financial doom.
Know when to press the kill switch: You have to be in control. Trading is a high risk activity. Prices are never in your control.

But how much you want to lose is in your control. Always trade with stop losses. The stoploss must be determined before you enter the trade.
Know when to trade and when not to: Not trading for the day is also a plan. If no clear trade emerges, don't trade.

But what if you hit a jackpot? Then don't trade on the next day. Chances are you feel like a God who can do no wrong. You may get overconfident and lose all of your gains. Take the next day off.

It's the same after losing big on any day. You may want to do a 'revenge trade' to try and get your money back. Don't!
Learning how to trade is like learning how to skate: Both activities take time to learn. Give it time. Be patient.

When I first put on roller skates on my feet at age 11, it was a feeling I had never experienced. I fell every few steps. I even fell while trying to get up after falling. My backside was sore.

But with time I learnt how to handle myself on the skates. The critical element was time. Trading is like roller skating. You must give it time.
I've been trading the maker for 35 years. I wish I could give this checklist to my younger self when I began my trading journey.
If you are starting out as a trader I recommend this checklist to you. Follow it and I believe you have a good chance of making it big as a trader.
I wish you the best in your journey as a trader!
Warm regards,

Vijay L Bhambwani
Editor, Fast Profits Daily
Equitymaster Agora Research Private Limited (Research Analyst
Recent Articles