What I Learned from 10 Years of On-the-Ground Stock Research...
Feb 27, 2018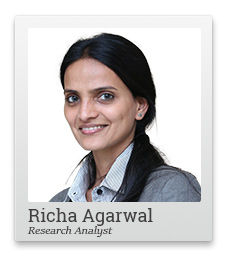 10 years. Thousands of kilometres of travel. Over 100 stocks recommended. And a lot more categorically rejected...
My Hidden Treasure team is celebrating its 10th anniversary this month.
The timing could not have been better. I celebrated by standing up in a room full of my subscribers and shared with them the rigours of my journey with this small cap service - the successes and failures, the good calls and bad, the enormous profits made, the losses averted!
As I stood before our subscribers at Equitymaster's annual conference held on 11th and 12th February at Taj Mahal Palace Hotel, I felt immense pride at what we have created...
A service that studies businesses and people - one that cares what is happening in our country - one that could well be seen as measure of our progress and growth. I've traveled far and wide studying companies that will grow into the captains of tomorrow.
Not to mention, this growth helps thousands of my subscribers make the kind of wealth most investors find impossible to reach for...
Today... I share with you the lessons we learned. And I also have a special announcement - so please stay with me - as I let my enthusiasm spill over a little!
The Equitymaster Conference 2018 at Taj Mahal Hotel, Mumbai (Colaba)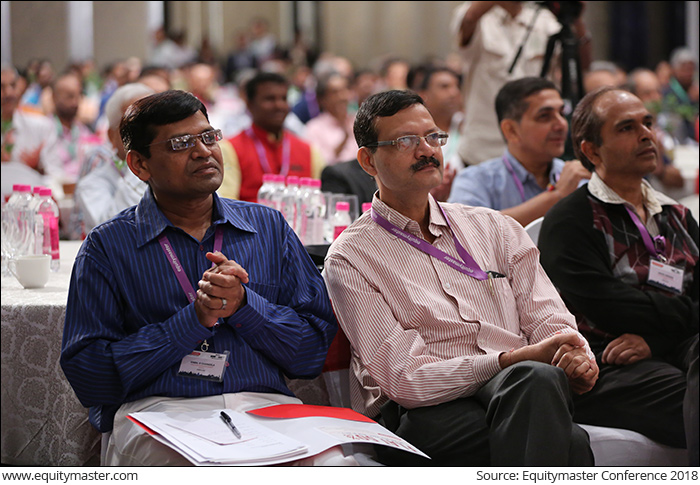 A Decade of Crossing Borders Across India...
Over the last decade, my team and I have had the opportunity to meet managements of companies across India.
We have met all sorts - but the ones I most admire, that I am most thankful for, are the meetings with those I call the 'intelligent fanatics.'
These meetings have not just helped me recommend some great businesses, but have inspired me deeply...personally.
Every day I set out on a journey of discovering new and inspiring little companies that are set to outperform the markets, and come away inspired.
So, when faced with the choice of what to present to our subscribers during the conference, I decided to talk about my interactions with the managements that impressed me the most.
We Travelled to These Cities to Meet Managements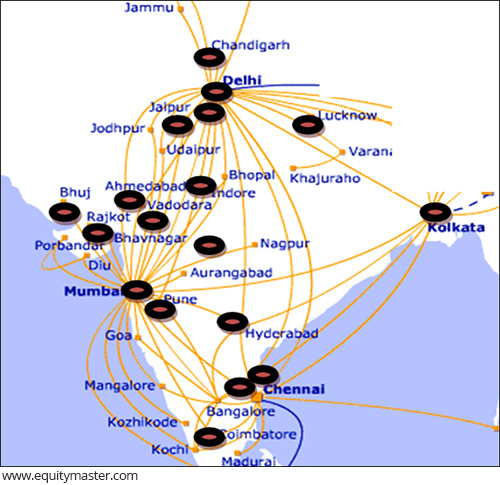 Here is one such exchange for you...
'You don't get a second chance to make a solid first impression.' - Lakshmana Rao, CMD, Mold-Tek Packaging Ltd
The above statement was made by Mr Rao, as he spoke about his quest for innovation and success with his top clients in the industry.
Mr Rao certainly walks the talk.
His company has pioneered by bringing suave plastic containers to the paints and lubricants industry. With 20% market share in rigid packaging, it has consistently reached new milestones with dominant share in value-added labelling and back-end integration.
In the last one year itself, the share of high margin food and FMCG segment in sales has more than doubled.
With marquee clients like Asian Paints, Castrol, Amul, Cadbury's, Kwality etc, Mold-Tek Packaging is not just meeting, but beating our expectations.
Meeting managements has not just helped me nail great stock ideas... It's the only reason why...
Besides, these meetings helped me avoid unscrupulous managements, value traps, and story stocks that were not backed by strong fundamentals.
Last, but not the least, these meetings are the reason for the service outperforming benchmark indices by almost three times.
Hidden Treasure Beats Benchmark Indices Nearly 3x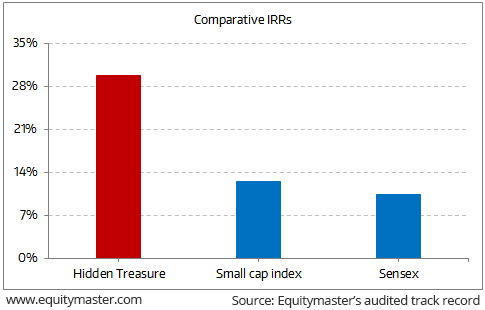 You can see views on these and other stocks under coverage here. And you will see why I'm so glad to be a part of Hidden Treasure.
So, what next for the future of small caps?
So far, it has been a fabulous journey. But people kept asking me: Are there still low hanging fruits in small cap space?
Statistics suggest it's not easy to pick from the index. Take a look.
Is the Small-Cap Edge Shrinking?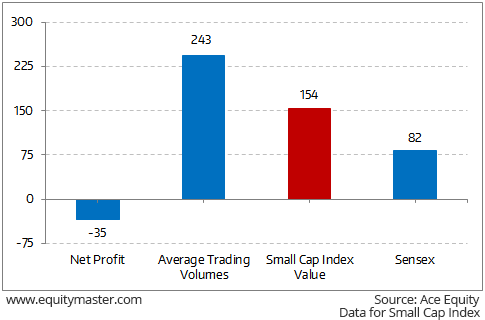 The net profit for companies in the small cap index has declined 35% over the last five years. But valuations and buying interest have both only gone up.
But I'm still bullish on this space since my universe extends beyond the small cap index.
And with changes like value migration and formalisation happening in the economy, I believe a few solid smallcap stocks will be the biggest gainers in emerging India.
I have several specific strategies to spot future winners in the small cap space, and I am here to write more about these in my upcoming letters in this new Profit Hunter newsletter.
But before I sign off today, I did mention I had a special announcement for you. My team asked me how I would like to celebrate the 10-year anniversary of Hidden Treasure.
'Would you like to treat the office to lunch?'
I shook my head. I knew exactly what I wanted.
'I would like to treat my readers to a special offer.'
They laughed. But obliged. So all new Profit Hunter readers can get this special offer to sign up for my service.
And will be very happy to welcome you on board.
Happy Investing,

Richa Agarwal (Research Analyst)
Editor, Hidden Treasure
PS: This new Profit Hunter newsletter comes with a new offer. Click here to see how you can get a free year of Richa's signature smallcap recommendation service. And a happy anniversary to the Hidden Treasure team.
Recent Articles