Smallcaps Take the Big Stage at The Taj Palace in Mumbai
Feb 27, 2019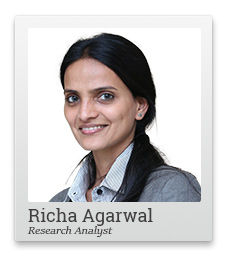 This weekend has been special.
It was the weekend of Equitymaster's fourth annual conference at the iconic Taj Palace, Colaba, Mumbai.
I want to thank you all who turned out in great numbers from across the length and breadth of the country, and even from outside India. There were Equitymaster loyalists from over 35 cities and at least 6 countries.
It was a sheer delight to meet and interact personally with many of you, share my philosophy, and hear back from you. Your feedback and suggestions will go a long way in making Hidden Treasure - my small cap recommendation service more valuable.
Although a regular annual event, this conference was a first in many regards. We had some amazing first time speakers and sessions. For me, the most exciting was the chance to conduct a presentation and question and answer session with the CEO of a smallcap company I have personally recommended, and have great faith in.
This is a rare occurrence - a platform where subscribers themselves get the chance to hear directly from the management of a small company, and ask him questions. I'll cover more details soon in my next write up to Hidden Treasure subscribers.
A Still From the Conference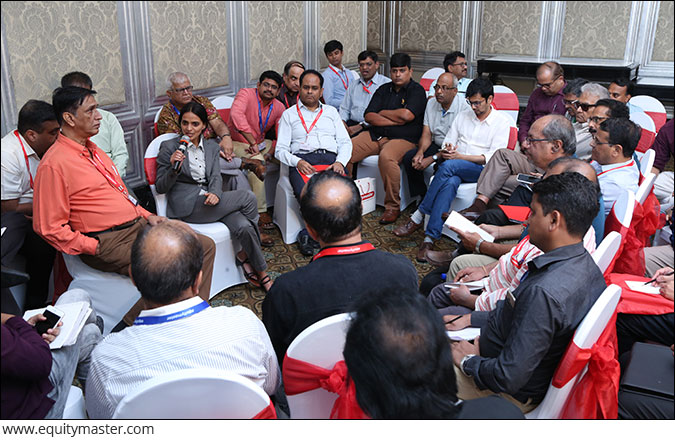 Smallcaps, as we all know, have been going through a downcycle for quite sometime now.
In this crash, all stocks, irrespective of the quality and fundamentals, have taken a hit.
And my job is to show you the bigger picture and allay anxieties in this regard - and I'm quite hopeful and excited about the opportunities smallcap soace is offering now.
So what's this bigger picture?
The Difference Between Risk and Volatility...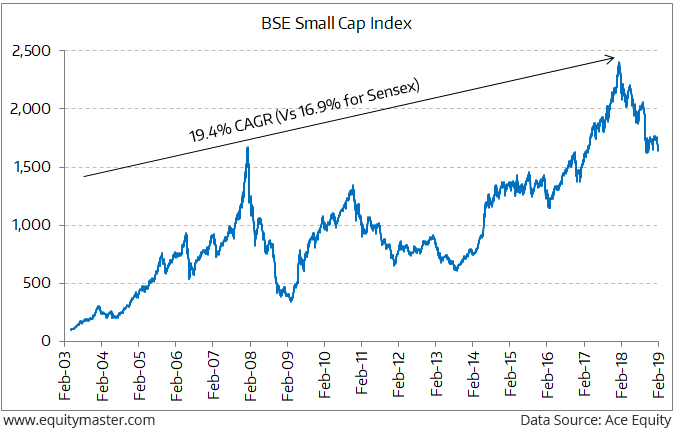 As you can see above, in the long term, despite ups and downs that could put a roller coaster ride to shame, smallcaps have offered a compound annual growth rate of 19.4%, as compared to 16.9% returns for the Sensex.
While this outperformance may not look impressive at first glance, bring in the element of compounding, and what you see is the smallcap index portfolio outperforming that of Sensex by 42% at the end of the period.
Now, if smallcap index, with no discrimination about quality of business, managements and valuations could make this difference, imagine the wealth that you could create in smallcaps if you stick to high quality, margin of safety and a disciplined process.
Actually, you don't have to imagine. I can show you proven results right here.
On 15th Feb 2019, my Hidden Treasure service completed 11 years. I thought it would be good to assess how we have performed. And we got our track record audited.
Here are the results:
Hidden Treasure Beats Sensex Nearly 2.5 Times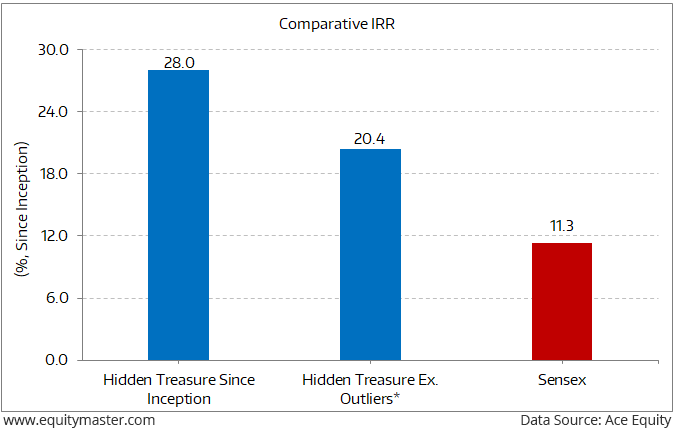 Note: IRR is internal rate of return. Closing date for audit: Feb 15, 2019
*Excludes the extraordinary winners like Page Inds, eClerx Services, Balkrishna Inds, NIIT Tech
Since inception (i.e. in 11 years), Hidden Treasure has offered an internal rate of return (IRR) of 28.13%. If I exclude the biggest winners - Page Industries, eClerx Services Ltd, Balkrishna Industries Ltd with over 1000% gains and NIIT Technologies Ltd with gains in higher triple digits, the IRR stands at 20.4%. In comparison, the Sensex's IRR stands at 11.3%.
To give you a better idea, Rs 1 lakh compounded at 28.13% (Hidden Treasure) for 11 years becomes Rs 15 lakh.
Rs 1 lakh compounded at 20.4% (Hidden Treasure excluding biggest four winners) for 11 years becomes Rs 8 lakh).
Rs 1 lakh compounded at 11.3% (Sensex) becomes just Rs 3 lakh.
Do bear in mind that this comparison is done at an end date when Smallcaps have already crashed while Sensex is yet to feel the heat.
So yes, smallcaps come with volatility and their fair share of failures, but the real risk in my view is shunning them and missing the huge wealth that quality smallcaps can potentially create. With the right asset allocation and process, you can maximize your wealth while limiting the risks.
This much for today...but stay tuned as I have a lot more to share.
Regards,



Richa Agarwal (Research Analyst)
Editor, Hidden Treasure
PS: Volatility can be your friend. You just have to find the right way to take advantage of it... and that's what we have for you. Click here for 4 stocks that were chosen to profit from the current volatility.
Recent Articles