With the Coronavirus Scare, Is Investing in Stocks a Good Idea?
Mar 3, 2020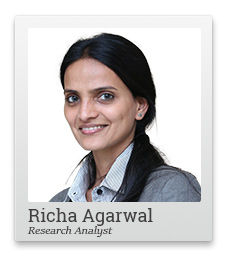 An article points out, six days is all it has taken for the S&P 500 to go from a record high into correction mode.
With last week's bloodbath, something similar can be said of the Indian markets too.
There's fear everywhere...
About a sinking demand. About auto sales. About corporate bankruptcies. About the GDP numbers. About the fiscal deficit. About bank NPAs. About global trade wars.
The list can go on and on...
And if all the bad news wasn't enough, now has come the frighteningly fast spread of the coronavirus. It's causing investors to get very jittery indeed.
Now everyone's really scared.
What should investors do in a situation like this?
Since Warren Buffett certainly knows a thing or two about making money, what would he say about the situation that we're in today?
In his own words:
I will tell you how to become rich.

Close the doors.

Be fearful when others are greedy. Be greedy when others are fearful.
There's no better time than today for this astute Buffett quote to be valid!
The BSE Small Cap index has taken a huge hit.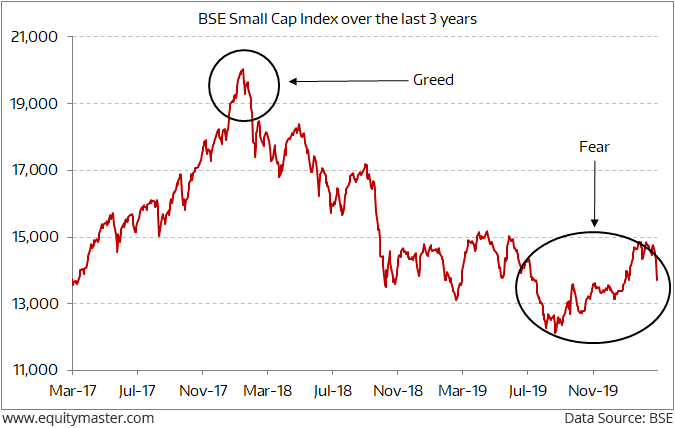 You see, the climb from 12,000 to 20,000 points on the small cap index from the end of 2016 to the start of 2018 took small cap prices to a silly level.
The prices left small caps expensive and unattractive.
But there was good news everywhere at the time - and investors were too greedy to realize.
--- Advertisement ---
Last Day to Grab the Biggest Opportunity of This Decade...

This is your last chance...

You had registered for Richa's emergency summit, Rebound Riches, but you missed it for some reason.

At the summit we revealed how the carnage on the stock markets has created a once-in-a-decade opportunity... a rare chance to grab high-potential stocks at very attractive prices.

The details of 3 such high-potential stocks are outlined in Richa's special report, 'Rebound Riches: 3 Stocks Set to Become India's Next Mega Stocks.'

If you act before 11:59pm tonight, then you can grab it for virtually FREE.

Because once the clock strikes 11:59pm, you might miss out on the biggest money-making opportunity of this decade.

Click here to grab the biggest opportunity of this decade...
------------------------------
Finding the complete package of attractive company along with attractive valuations became an uphill task to say the least.
You see, the returns a stock will give are inversely proportional to the price it is bought at. Seems obvious, but this simple truth often gets lost in the stampede of rising share prices.
But it's a simple but inescapable truth. Everything else constant, the lower your buying price, the higher your returns.
In the cases of so many strong stocks right now, the correction is not because of an issue with fundamentals.
Its simply because of the recent wave of market correction, which has been especially acute in the small cap space.
Because of all the fear among investors, this is a space where not just the weak businesses but almost everything has been going down, including great businesses with great futures.
This is precisely what I've been waiting for.
And let me tell you, such opportunities don't come often...
I'm not one to let it go by without recommending some great quality smallcaps at very attractive valuations. The ones I'm recommending to my Hidden Treasure subscribers these days promise to be great wealth creators over the next few years.
Make no mistake. India has a bright future ahead of it.
But the upward march of an economy is never a one-way street up.
Bad times always alternate with good times. Fear alternates with greed.
And if you're looking to get rich in a hurry, be fearful when others are greedy. And be greedy when others are fearful.
Do this, and when the market rebounds, you'll be laughing all your way to the bank.
Warm regards,



Richa Agarwal
Editor, Hidden Treasure
Equitymaster Agora Research Private Limited (Research Analyst)
PS: Several small cap stocks have seen a massive correction in light of the fearful environment - our small cap expert Richa Agarwal believes this is the time to buy before they run up. Get Richa's best small cap stocks now.
Recent Articles