Smallcap Investing in the New Normal World
Mar 3, 2021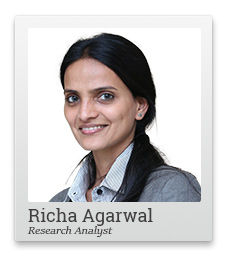 I am yet to come to terms with the bitcoin rally and rise of 'Robin Hood traders'.
And now we have more unpalatable news from across the continent.
Germany's biggest banks - Deutsche Bank AG and Commerzbank AG, have told new depositors to shell out 0.5% annual rate to keep large deposits with the banks.
The banks can hardly be blamed for driving customers away. After all, they have to pay central banks to park money with them.
Amid the huge money printing and a rising public consciousness to have a safety net, banks have no option but to pass on this disincentives.
Now it's one thing to read about negative interest rates.
But when you have to 'spend' to save money, there is a creeping discomfort that the world will never be as we know it.
--- Advertisement ---
[Watch Now] 3 Little-known Stocks We are Super Bullish On




Click Here to Watch Now
------------------------------
And that we will have to come up with new maps and tools to navigate the shifting landscape.
Given this backdrop, should we be surprised if the stocks are trading at P/Es that would make conventional value investors shake their heads in disgust.
It looks like they will be frowning for a long time. The era of low to negative interest rates is not likely to go away soon.
So how should you incorporate this in your investing?
We in India are still far away from having to pay for our savings.
But what's happening globally is indeed creating a ripple effect here.
The search for high returns has led to massive inflow of the money to emerging economies, including India.
The BSE Sensex is trading at a prohibitive P/E ratio of 35 times.
Stocks across market caps have seen a sharp post covid rally.
And we don't know what crisis it will take to see who is swimming naked. Covid certainly was not one.
I don't know if the valuations for well-known stocks are justified.
Or if there is still any margin of safety in them, let alone a meaningful upside.
But I'm glad that in the smallcap space, we are still not at that point where such questions become pressing.
At least, we're not there yet...
I believe this rally could just be the beginning of a great bull run in smallcaps.
My thinking is backed by certain structural and fundamental changes. These are easy to dismiss while calling markets a no go zone for value investors.
Here are some of them:
The balance sheet of smallcap companies are getting stronger. Debt is coming down.
Smallcap companies are witnessing a revival in earnings. Also, this is not an accounting maneuver. It's backed by growth in operating cash flows.
The capex for the companies in this space has gone up in the last two years. I won't be surprised to see this translate to growth in the revenues and profits. I have been on quite a few earnings calls, and it's heartening to see select companies in this space reporting their highest ever revenues and profits, even higher than pre-covid levels.
Valuation wise, fundamentally strong smallcap companies are still lagging the larger ones.
Now it's important to mention here this is not happening to every smallcap company.
In fact, I believe there are going to be more losers in the listed space than gainers from these levels.
But given thousands of listed companies, the universe of stocks that could deliver sustainable wealth is still big enough.
You see, the last few years were tough for smallcap companies. Everything that could go wrong, did.
The market regulator announced norms for mutual funds that led to outflow of money from smallcaps.
Then came the GST and demonetisation.
And with IL&FS debacle, the credit squeeze followed.
Just when you thought and things could not get worse, Covid happened.
But all these short term adversities created some long term advantages for certain businesses.
These advantages have come from the consolidation in the smallcap space. Amid a few years of hardship, the unorganised and smaller players have been crowded and phased out by the bigger players.
And even within the organised segment, it's the market leaders that are becoming larger in the niche they cater to. The value is shifting from unorganised to organised players.
Another striking development has been a shift in the global supply chains. World over, the companies are looking at diversifying beyond China.
And India with its cheap labour, cost advantage, and resources has been a beneficiary.
The value that has thus emerged is yet to be reflected in the financials of some companies I'm tracking.
This is why, despite an over 100% rally, I see a lot of value and growth in the smallcap space.
Stay tuned for specific stock recommendations that I believe could be huge wealth creators in this decade.
Warm regards,



Richa Agarwal
Editor and Research Analyst, Hidden Treasure
PS: Get access to my top smallcap stock recommendation reports here.
Recent Articles