Your Top 10 Days to Get Rich in the Smallcap Rebound
Mar 5, 2020
Editor's note: At 5 pm on March 9, Equitymaster's small-cap stocks guru, Richa Agarwal, will be live at the Rebound Riches Mega Summit. Get the details of Richa's top 3 stocks to profit from the upcoming rebound in smallcaps. Register for free here. In today's edition of Profit Hunter, read all about this great money-making opportunity penned by Richa, a few weeks ago.
---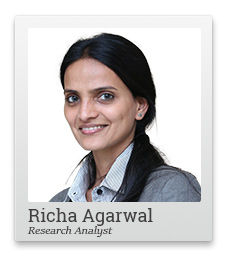 The world's best investor - Warren Buffett says much of his success is due to winning the 'ovarian lottery'.
By ovarian lottery he means being born a male and in the US (and not in any other country of the world). He considers both these factors crucial to his wealth and investment journey.
Of course, he is being modest. After all, how many American males his age have achieved the stature he has?
But come to think of it, there is a grain of truth in what he says. Investing is not all about skill. There is an element of luck as well.
Take the case of the Indian stock markets.
Imagine being an early investor in stocks like HDFC, Titan, or Asian Paints.
When I read success stories of some big investors, I believe some of them did get lucky. I console myself that I was too young to consider investing then!
Forget specific stocks. In the last 17 years, the Sensex has risen from 3,000-odd levels to 40,000 now. It's up almost 17 times!
That's an absolute gain of almost 1,200%, and a compound annual growth rate of more than 16%.
Basically, someone who invested in the market then would have multiplied their money nearly 17 times.
--- Advertisement ---
Automobile Sector's Colossal Disruption Could Make You a Fortune

During any major disruption in a sector, fortunes are created.

And now, we are at the cusp of a major disruption that the automotive sector will experience.

It is the electric vehicles gold rush.

At Equitymaster, we have unearthed a hidden way to ride the 15x EV opportunity so that you could take home potentially life-changing gains in the long run.

You can get all details of the hidden way in our upcoming special online event.

YES, Register Me for FREE
------------------------------
Well, we can't do much about luck, the place and year of our birth or change the past in case you started investing too late.
And we certainly can't do anything about global threats like the Coronavirus.
But here's something you must absolutely know.
Most of the big gains in the markets over one or two decades came in just 10 crucial days.
For instance, Rs 1,000 invested in Sensex on April 3, 2003 would have amounted to Rs 12,400.
But had you missed 10 of biggest single day gains in the Sensex during this 17-year period, you would have ended up with just Rs 5,836.
This is more than a 50% less versus a scenario in which you were invested throughout.
Remaining 'invested throughout' sounds easy but it's difficult to practice.
Over this period, there has been enough negative news in the markets and the economy to shake an investor's confidence, to make him panic and press the exit button.
If you let moody and volatile Mr Market make you shift in and out, you wouldn't be doing the smart thing.
This is even more relevant in the smallcap space.
Let's take a specific example of Hidden Treasure recommendation - Page Industries.
We recommended the stock in January 2009. It's been close to 11 years now.
Till date, the stock is up 8,076%. This means Rs 10,000 invested at the time and price of recommendation would be worth about Rs 8.2 lakh today.
But here's the most interesting part...
A huge chunk of these gains came in on thet 10 best days. If you remove those 10 days, the gain on stock crashes.
Rs 10,000 invested in the stock, at the same time and price but excluding the gains on 10 best days, would be worth just Rs 2.4 lakh today.
That's 70% lower than what you would have got by remaining invested throughout i.e. buy and forget investing.
The chart below shows the decline in the value of the investment if you missed different numbers of 'best days'.
How Much You Lose by Not Being Invested Throughout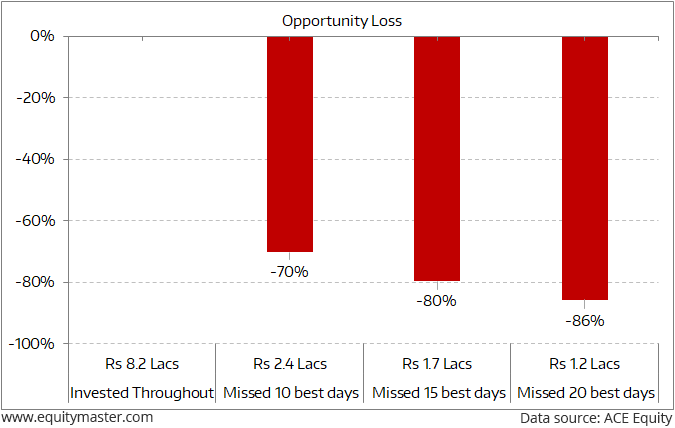 I've assumed Rs 100,000 was invested in Page Industries in February 2009.
The x-axis shows the final investment value under different scenarios.
The y-axis captures the losses on missing best days compared to the investment value if a person was invested throughout.
Now why would an investor move in and out of a stock like Page Industries?
How about a drop of 40% in the stock price?
Yes, there were many times when Page Industries faced a sharp price decline over many months. Indeed, not everyone had the stomach for this kind of volatility in the stock and sold it off.
--- Advertisement ---
The Rebirth of India

India's leading research analyst, Tanushree Banerjee, will show our readers how an upcoming mega shift would drastically change the state of the Indian economy...

And how investing in three high-potential stocks at the heart of this rebirth...

...could potentially hand them 100%, 300%, 500%, even 1,000% or more in the long run.

Since you are one of our valued readers, we sincerely urge you to head over here for more details
------------------------------
Some would have even got back when the things normalised. But I could bet they did not taste the same success as ones who remained invested throughout.
After all, what were the chances of him knowing in advance which 10 days over these 11 years would be the best days for the stock?
The lesson here is simple: Big money in the markets is made over the long-term with the magic of compounding.
Once you have found a fundamentally strong stock, you need to ignore the short-term volatility.
Smallcaps, as you know, are inherently the most volatile equity class. The chances of investors getting swayed by the market mood or temptation to time the markets are the highest in the smallcap space.
Since January 2018, the BSE smallcap index, (and even high-quality smallcaps) has corrected enough to make investors edgy.
Most investors wonder if they could cut their losses short and may be come back when there is a clear rebound.
This is psychologically comfortable. But I believe practicing it will be their biggest folly. That's because the best gains are likely to come after the phases of correction.
Also, there is less than 1% chance that you would know the days on which the stock makes the biggest comeback.
In short, you need to identify rebound bets as soon as possible.
The chances of you maximizing gains from them are highest when you invest in them at beaten down prices.
If there is a hunting ground today for such strong rebound bets, it is small-cap stocks.
I hope you will make the most of this once in a decade opportunity to make money from the smallcap rebound.
Don't remain on the sidelines.
Join me at 5 pm on March 9 for the Rebound Riches Mega Summit. I'll share details of my top picks to profits from the smallcap rebound. More than 14,000 astute investors have registered for the summit. I'm excited to bring this opportunity to you, dear reader. If you haven't registered for the summit, you can do so for free here.
Warm regards,



Richa Agarwal
Editor, Hidden Treasure
Equitymaster Agora Research Private Limited (Research Analyst)
PS: At 5 pm on March 9, I will be live at the Rebound Riches Mega Summit. Get details of my top 3 stocks to profit from the rebound in smallcaps. Register for free here.
Recent Articles