I Warned You About This When the Market Was High...
Mar 6, 2019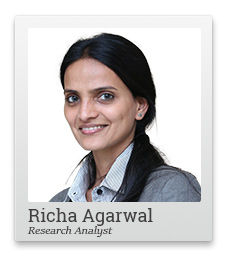 It's easy to look back in retrospect and say that the market was too high at so-and-so time, or too low at so-and-so time in the past.
What matters, though, is what you were actually saying or doing at the time.
So, I decided to go back a bit and take a look at what I was telling subscribers of my small cap recommendation service Hidden Treasure when the BSE Small Cap index was hitting its giddying high of 20,000 points in mid-January 2018.
And yes indeed, my report to them at the time, started with a bold warning:
'A great company is not a great investment if you pay too much for the stock'
With the inflated stock prices I was seeing at the time, this seemed like the most important message to give investors. And I'm glad I had given it...even without the benefit of hindsight.
You see, when you buy a share, what are you really getting into?
You are buying into part-ownership of a business.
So, while running a business can provide useful lessons in becoming a successful investor, that knowledge isn't enough.
Why?
Because investing is both a science and an art.
It's a science because you need to carefully estimate the true value of a business from its financial statements and those of its competitors. This is called the 'intrinsic value'. The knowledge gained by running a business will be useful here.
It's also an art, however, because the price you pay for a stock determines how much of that intrinsic value you'll get as an investor. And to be able to determine the right price at which to buy a stock is difficult.
To quote Warren Buffett's mentor Benjamin Graham once again...
'Obvious prospects for physical growth in a business do not translate into obvious profits for investors. A great company is not a great investment if you pay too much for the stock'.
To be a successful investor, you must buy stocks below the intrinsic value of the underlying business.
You cannot expect to buy it at an inflated price - the kind of prices that small caps were quoting at those times - and expect to make good money.
However, today, after all of this crashing and bashing of small caps, what do I feel about small caps today?
No sign of warnings anymore, only big opportunity!
Here is what I told subscribers last week:
Investors are shunning stocks with least regard for their long-term potential and fundamentals... the resultant opportunity to scoop them up low and early - before others get on their trail in a few years - offers the potential for massive profits. Profits of the kind that are too hard to ignore.

I don't know how long this phase will last. But I do know that mouth-watering opportunities have been uncovered in many small caps that are selling at bargain valuations thus making them poised to generate a lot of wealth in the years to come...
So do yourself a favour, and tap into this opportunity now. You will thank me later.
Regards,



Richa Agarwal (Research Analyst)
Editor, Hidden Treasure
PS: Now - when the small cap market looks very sad - is the time to buy into it. Heed this advice from small cap expert Richa Agarwal - and get into these stocks now.
Recent Articles