The Big Short: 'Bad Stocks' That Are Great Investments
Mar 7, 2018
'How can you recommend this stock? It has just reported such a bad result!'
A letter from one of my subscribers, shocked and appalled at one of my recommendations.
And it is not the only one... I've also received comments like...
'Why would you recommend a commodity company when commodity prices are down in the dumps?'

'The industry is in bad shape. There is excess capacity. The company's profits have fallen and will fall further. How can you ask us to buy the company?'
Reading these letters, you must wonder whether I am running a terrible service with awful recommendations.
But actually I'm quite proud to say that this Benjamin Graham-inspired service called Microcap Millionaires, has beat the Sensex twice over since I launched it.
Here are all the positions I closed in just the last year:
| Company | Recommendation Date | Reco. Closing Date | Returns |
| --- | --- | --- | --- |
| GUJ.AMB.EXP. | 20-Apr-16 | 20-Jan-17 | 91.0% |
| ARIES AGRO | 20-Sep-16 | 20-Jan-17 | 73.3% |
| TECHNOFAB ENGINEERING | 20-Feb-15 | 20-Feb-17 | 43.7% |
| GRAPHITE INDIA | 20-Feb-16 | 20-Mar-17 | 70.5% |
| CENTURY ENKA | 18-Mar-16 | 20-Mar-17 | 109.9% |
| ARCHIES LTD | 20-Apr-16 | 20-Apr-17 | 57.4% |
| TARA JEWELS | 19-Aug-16 | 19-May-17 | 10.9% |
| DREDGING CORP | 20-Feb-15 | 20-Jun-17 | 62.5% |
| DREDGING CORP | 20-Feb-17 | 20-Jun-17 | 49.6% |
| MAH. SEAMLESS | 20-Mar-15 | 20-Jul-17 | 109.8% |
| RENAISSANCE JEWEL | 20-Feb-16 | 8-Dec-17 | 108.3% |
| PURAVANKARA | 20-May-16 | 8-Dec-17 | 206.0% |
Source: Equitymaster.com
How can these seemingly bad stocks be giving such great results?
A movie that came out a couple of years ago holds a clue...
It's called 'The Big Short'.
--- Advertisement ---
Special 10th Anniversary Offer of this Proven Retirement Secret

This Retirement Secret is a proven blueprint to ULTIMATE FREEDOM.

Many of our subscribers have had a chance to take advantage of this Secret for the last 10 years.

And now the time has come to take control of your destiny forever...

With our Special 10th Anniversary Offer, we're pleased to invite you to celebrate an early & wealthy Retirement with your family and friends.

Click here to learn more
------------------------------
Apart from being a fun movie, it is full of investing lessons.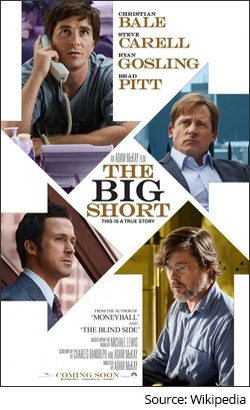 The movie is about the US subprime crisis of 2007-08, the buildup to it, and the story of a handful of people who made tons of money calling the mortgage market's bluff.
And, of course, about the rest of the financial world that snickered behind their backs while the bubble lasted... And then lost their shirts thereafter.
Among others, the movie features the story of a physician turned hedge fund manager - Michael Burry - said to be one of the first to recognize the outrageous stupidity going on in the mortgage securities' market at the time. The emperor was naked, and Burry was not afraid to call him out.
But Burry didn't stop there. He bet against the market, and bet big. When pin finally met the bubble, he made buckets of money.
While that may be one of his most fabled investment bets, that certainly isn't his only. Burry is credited with earning some fabulous returns for his investors over a long period of years.
As for his investing style in the share market, Burry is a value investor and a self-confessed Ben Graham aficionado.
He takes a lot of his inspiration from Graham's book, Security Analysis.
You may find one concept from Burry's way of investing quite interesting indeed.
He calls it 'Ick investing'.
Here's Burry himself:
Ick investing means taking a special analytical interest in stocks that inspire a first reaction of 'ick.' I tend to become interested in stocks that by their very names or circumstances inspire unwillingness - and an 'ick' accompanied by a wrinkle of the nose on the part of most investors to delve any further.
When I came across this quote by Burry, my first reaction was its uncanny resemblance to how most of our recommendations at Microcap Millionaires tend to be.
Burry is right, I thought. Stocks that inspire a first reaction of 'ick' are a fertile hunting ground for bargains.
Now, make no mistake. This does not mean that all icky stocks are profitable stocks. The universe of icky stocks has many that are to be avoided like the plague.
But such stocks also share a special quality that makes them so interesting: The natural reluctance of most investors to 'delve any further'.
We, humans, like to generalise.
We're quick to paint everything with the same brush. While it helps us make quick decisions, this habit is also much to our detriment in many areas of life. And our herd mentality only makes this problem worse.
In the world of stocks, this leads to situations where even though a first glance might yield a grim picture about a company, digging deeper sometimes reveals otherwise. That, combined with cheap valuations, can mean lucrative potential profits.
Having the wisdom to think logically and independently in such cases can at times lead one to conclude that:
The company does have the basic fundamentals to potentially see itself through the bad situation;
Is selling for a price that is well below its conservatively estimated value.
What we have found at Microcap Millionaires - over and over again - is that such situations often end up becoming very profitable investments.
So next time a stock makes you go 'ick', stop and take another look: I've found that can be a very rewarding activity indeed!

Rahul Shah (Research Analyst)
Editor, Profit Hunter
PS: For any individual investor there is but one sure-fire path to building real wealth in the stock markets - find out which Buffett-endorsed method we are talking about here.
Recent Articles