This Phone Call Changed How I Look at Markets...And Will Change You as Well
Mar 8, 2018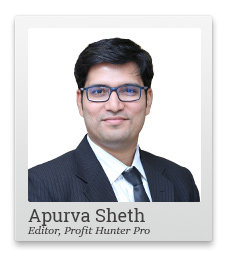 Sooner or later, everyone comes across a point in time that decides what you will do for the rest of your life.
For me this point was a summer internship at the Bombay Stock Exchange (BSE) in 2009.
I worked with the knowledge management department of BSE, which published its internal reports and magazines.
In my two months, I worked with the team on these publications. I also attended a two-day workshop on technical analysis where I realised all I wanted to do was learn more and more about technicals.
I was in the second year of my management course and all my energy was now focused on studying technicals. I ended up getting a placement with the institutional research department of a broking firm in June 2010 - recommending trading ideas to financial institutions, like banks, mutual funds, FII's and insurance companies.
Bull Market Top in 2010
It took me a few weeks to find my center, and learn the tricks of the trade, but soon I was at the top of my job. It helped that markets were also in an uptrend at the time.
--- Advertisement ---
How to use this proven "Secret" to generate real wealth?

As a small investor you'll have an incredible edge if you use this Secret to generate real wealth.

All you have to do is know how to use this Secret in the right way.

Click here to learn more...
------------------------------
And then one day, as they tend to, the uptrend came to a halt. It was the day after Coal India listed on the bourses. It was the largest IPO in the Indian markets. Large IPO's suck liquidity out of the system which normally results in market tops.
Bear Market of 2011
So, the markets dropped almost 29% in a year after topping out in November 2010. Most bear markets last anywhere between nine to fifteen months. This one lasted for thirteen months before it slowly began to recover.
Shallow Recovery from 2012 to 2013
Nifty bottomed out in December 2011 and reclaimed the 6,200 level by May 2013, just short of the previous all-time high of 6,338. On the surface, it looked like markets (Nifty) were back in action but when you looked under the hood (Midcaps) they were bleeding.
And it didn't stop here, Nifty dropped almost 18% in the three months between May and August 2013.
Midcaps also suffered and dropped 21% during the same period.
Nifty managed to stay afloat despite the fall but Midcaps retested the previous lows it hit in December 2011.
Clearly this was a difficult time to be invested in the Indian stock markets. The retail investor, still nursing the wounds of the 2008 crash, was bruised once again.
Making money was difficult even for institutions - the smartest of all the market participants.
But then I noticed one of our top institutional clients was still making money in a terrible market. I noticed a pattern in the type of stocks they traded.
I wanted to know more about their strategy and how they were so successful at it. So, I got the treasury manager, who I knew a little, on the phone and asked him point blank. Our conversation went something like this...
Me: Hello Sir.
Him: Hi Apurva, how are you?
Me: I am doing well, thank you. Sir, it's been a difficult market to trade but it seems like a cakewalk for you. Most of your trades have done well. What's the secret behind it?
Him: Haha...there isn't any secret. But we follow a carefully chalked out process which has worked wonders for us in the last few months.
Me: I would like to know more about it.
Him: Sure, let's meet up over a cup of coffee and we can talk in detail about it.
I met him on the appointed day and what followed truly changed the way I look at markets.
He shared his approach to trading which influenced me a lot. So much that I'd call it, "One of the best trading lessons of my entire life!"
I met a few other institutional clients after this meeting and realised many of them used a slightly tweaked version of the strategy he described earlier.
I am sure you would like to know more about the strategy and even want to use it yourself.
Now, maybe I won't be seeing you for coffee...but don't worry! You can know everything about this strategy here...
Apurva Sheth (Research Analyst)
Editor, Profit Hunter Pro
PS: For any individual investor there is but one sure-fire path to building real wealth in the stock markets - find out which Buffett-endorsed method we are talking about here.
Recent Articles