What the FUD is up With Cryptos?
Mar 9, 2018
Dear Reader,
As you know well by now, anything to do with the crypto world beFUDdles me!
But I, or anyone, can only ignore them so far. Cryptos sounds like the future - which is intriguing and unnerving at the same time. I choose to stay informed, and I am going to make sure you do to - I have therefore invited local crypto expert, Prasheel Vartak - to dispel some off the fear and mystery that surrounds this exotic new asset.
Good investing,
Rahul Shah (Research Analyst)
Editor, Profit Hunter
---
Just when you thought all was well in the crypto world, boom! it's down again.
The rollercoaster ride just keeps on going.
In just a few minutes, bitcoin's price went down by over 10%, taking most of the other cryptos down with it. The whole crypto market capitalization too went down by 10% in a matter of minutes.
As always, it is difficult to pinpoint the exact cause of the price drop, but this time around its all FUD.
Fear, uncertainty and doubt - referred to as FUD in the crypto world - is one of the major causes of the price volatility in bitcoin and other cryptos.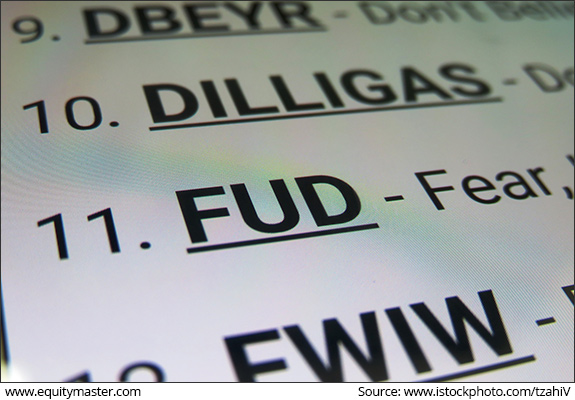 A lot of perceived negative news came in at the same time leading to panic.
Let's have a look at the FUD that caused this crash and try to clear out the doubts. Mind you, I'm using the word 'crash' very loosely here. A 10% drop is hardly a crash in the crypto world.
--- Advertisement ---
You can even beat Buffett using this Secret

Using this Secret, you have an advantage over not just Buffett, but every other big fund manager and investor out there.

As a small investor, if you start with this proven Secret, it could make a big difference to your wealth and final returns.

Once you start using this Secret, not only you'll have an inherent edge, but you'll also face less competition in a special class of investment.

Click here to learn more...
------------------------------
Fear of Regulation in the United States and Japan!
The FUD:
In the US, the Securities and Exchanges Commission (SEC) ruled that all crypto exchanges will be required to register; while Japan began a crackdown on the crypto exchanges, banning two of them and slapping notices and fines on several others.
The reality:
While, the SEC's statement may have triggered fears of further regulation among bitcoin traders, nothing the SEC has demanded is new policy, rather these are existing regulations that it is trying to fit to the as-yet-undefined crypto market.
In fact, regulation of exchanges is a good thing - it will help separate the wheat from the chaff when it comes to exchanges. It will protect the legitimate exchanges from being linked to the scams or Ponzi schemes running wild in the crypto world.
A well-defined set of regulations would ultimately protect new entrants to the crypto markets, as well as shield bona fide exchanges from further regulatory interference.
Similarly, in Japan - where bitcoin is identified as a legal tender, and crypto exchanges are regulated - the regulator - Financial Services Agency (FSA) - is simply ensuring the safety of the exchange's customers. The FSA suspended the businesses of two crypto exchanges for 1 month, and mandated them and four others to improve security measures.
Bitcoin Whale Sells US$ 400 Million of Bitcoins Overnight!
The FUD: A Japanese bitcoin whale (someone who owns a large number of bitcoins, enough to manipulate markets) sold off US$ 400 million worth of bitcoins.
The Reality: While a bitcoin whale from Japan did in fact sell bitcoins worth US$ 400 million, he's not your typical whale, and he didn't sell it off overnight.
Typical bitcoin whales are those who are ideologically motivated to hold bitcoin, and have been doing so because they believe in the potential of the cryptocurrency. A sell-off from one of them would mean that they have lost faith in the asset they hold - causing others to do the same.
What actually happened, though, is the bitcoin 'whale' in question - Mr Nobuaki Kobayashi - does not hold bitcoins because he believes in the technology, but because he is the bankruptcy trustee for the now-defunct Mt. Gox exchange, which filed for bankruptcy protection in 2014, after losing 850,000 bitcoins.
Mr Kobayashi has been selling bitcoins since September 2017, around the time when bitcoin's price started to surge, and sold US$ 400 million worth of bitcoins, simply to pay off Mt. Gox's creditors.
While he still holds over US$ 1.9 billion worth of bitcoin and bitcoin cash, additional liquidations would require court approvals.
Apart from this, liquidation at such a big scale would have the effect of redistributing large amounts of bitcoins to smaller holders. This should eventually lower volatility in the long term, as these 'whales' reduce in number.
Crypto Exchange Binance 'Hacked'!
The FUD: The whole crypto market was panicking amid news that Binance, the biggest cryptocurrency exchange in the world by volume, was hacked and everyone's bitcoins were being sold off by the hackers.
The Reality: While Binance did, in fact, face some irregular activity, the exchange itself was not hacked. None of the exchange's data was stolen or compromised, but hackers used a phishing scam to take over the victims' accounts and then used the account's API keys to manipulate the price of cryptos.
Using the phished account's access keys, the hackers put buy orders for an obscure cryptocurrency called VIA, pushing its price higher, while the hackers own pre-deposited accounts began selling VIA and simultaneously placed withdrawal requests.
However, the unusual activity triggered the exchange's internal control systems and stopped the withdrawals. In fact, the VIA coins deposited by the hackers were also frozen.
So, not only did the hackers not steal anything, but they also lost their own coins!
Binance also refunded all the money and cryptos to the accounts that were affected by the phishing scam.
While the exchange's security measures foiled the hacking attempt, it goes to show there are risks associated with exchanges. As I have been telling my subscribers - do not leave your cryptos at the exchange if you want to keep them safe!
As you can see, the world of cryptos is full of FUD and my mentor, global crypto expert Tama Churchouse, and I are on a mission to keep you and your foray into the crypto world safe and profitable. So, you never have to fear - if you have the slightest doubt, take my course, or leave me a question and I'll keep the crypto ideas coming.
Warm regards,


Prasheel Vartak,
Editor, Crypto Confidential
PS: Just a quick reminder that we are still giving away a free year of our small cap stock recommendations as a thank you to Profit Hunter readers and in celebration of the service's 10th anniversary! You can sign up here.
Recent Articles