A Rare Case Where 'Value Migration' Meets the Right Price
Mar 12, 2019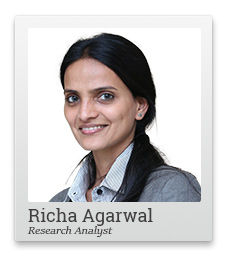 I have never been a big fan of theme based investing or big ideas.
While they may have some merit, such stocks are often highly chased, leaving little margin of safety for investors.
The price is almost never right.
But thanks to the smallcap correction, finding that sweet spot is not difficult anymore.
One of my favourite themes is Value Migration.
--- Advertisement ---

The Real Reason Trump is Visiting India

India is going to witness a massive surge in wealth in this decade.

No wonder President Trump wants to get in on the action.

The important question however is this – What do you want to do today?

Stand on the sidelines and watch as India catches up with world, throwing up a massive wealth creating opportunity?

Or, get in on the action, like President Trump, and grab your share of this wealth pie?

In fact you can get started on this right now by Click here to join our FREE MEGA Summit...
------------------------------
Now Value Migration is an often-misunderstood concept in investing.
Take the instance of so called value migration in transport.
One may argue that value has migrated from railways to low cost airlines. While there is a significant shift in the travelling trend in favour of low cost airlines, I wonder if I could say the same for value. Most of these low cost airlines are still struggling for profitability.
Similarly, I feel quite sceptical when one cites value migration in shopping from brick and mortar retail model to ecommerce companies.
Think of DMart versus Flipkart. I still like the former - a traditional business model with clear path to profitability.
Coming to a value migration play that I find interesting...
This company has been doing several things right. It started by migrating up the value chain by shifting from a raw material supplier to final product manufacturer- a shift from business to business (B2B) to business to customer (B2C) model.
That itself has led to an 8% increase in margins over last few years.
The backward integration helped the company become the largest niche player in its segment.
Real value was created in the form of a formidable brand that allows the company to collect cash before making sales.
And the management is no mood to rest on their laurels.
They have their eyes set on the next step of value migration - shifting to a market where the margins are higher and the opportunity size is bigger.
There are multiple tailwinds to support that shift - focus on affordable housing being one of them.
Most importantly, the company has the balance sheet and the kind of management that will be crucial to this transition.
While I have always liked this company, it is only over last few months that a real buying opportunity has emerged.
It's my latest recommendation in Hidden Treasure.
So make the most of such value migration bets when they are available in the buy zone.
But do not forget to double check if it is just a short term trend or real value that you are betting on. The two could be surprisingly different.
Regards,



Richa Agarwal (Research Analyst)
Editor, Hidden Treasure
PS: Small cap stocks have started to rally. Our small cap expert Richa Agarwal believes this is the time to buy before they run up. Get Richa's best small cap stocks now.
PPS: Our technical analysis expert, Apurva Sheth, has just published 2 exciting trading calls for his Profit Hunter Pro subscribers to take advantage of the Nifty breakout. You can get Apurva's trading calls by signing up for Profit Hunter Pro here.
Recent Articles