Investment in securities market are subject to market risks. Read all the related documents carefully before investing
Last Chance to Lock In


Small Cap Recommendation Service
Hidden Treasure at 50% Off
Price Going Up Significantly Next Month
Gold is Hot Again. Should it be Your #1 Safe Haven Asset?
Mar 14, 2022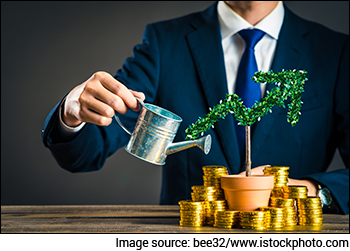 Will 2022 turn out to be the year of the yellow metal?
With inflation rearing its head in the US and with Russia invading Ukraine, the backdrop was perfect for gold to make a comeback.
And comeback it did.
Look at the table below. Gold is ahead of the Sensex over a month, 3-months, and 1-year. It's almost neck-and-neck over a 5-year period.
But on a 10-year basis, it is still lagging the benchmark index by a significant margin.
Returns from Sensex and Gold over Different Periods
| | Sensex | Gold |
| --- | --- | --- |
| 1 month | -5.3% | 8.9% |
| 3 months | -5.1% | 10.4% |
| 1 year | 8.8% | 17.7% |
| 5 year | 14.0% | 13.2% |
| 10 year | 12.2% | 5.5% |
Source: Equitymaster
Returns are in CAGR for 5-years and 10-years
Will this be the year where it narrows the gap for the 10-year period as well?
--- Advertisement ---
Investment in securities market are subject to market risks. Read all the related documents carefully before investing

Small Cap Research Update: Big Price Hike Coming Up, But...

Are you serious about generating high potential returns from small caps?

If the answer is yes, this is for you.

Our premium small cap research and recommendation service, Hidden Treasure, which could guide you make the most from small caps.

But the subscription price for it is going up noticeably next month.

However, if you act right now, you could not only lock in the current price but also get a 50% discount on it.

Click Here
Details of our SEBI Research Analyst registration are mentioned on our website - www.equitymaster.com
---------------------------------------------
Well, if principle of reversion to the mean is to be believed, it certainly does look as if gold may close the gap with the Sensex over the next 2-3 years. Perhaps sooner than that.
I know that the concept of investing in gold does not sit well with investors, especially of the value investing kind.
And no one has articulated the reasons better than Warren Buffett.
In fact, he has reserved a large part of one of his shareholder letters for bashing the yellow metal.
Here's an excerpt from that letter...
Gold, however, has two significant shortcomings, being neither of much use nor procreative. True, gold has some industrial and decorative utility, but the demand for these purposes is both limited and incapable of soaking up new production. Meanwhile, if you own one ounce of gold for an eternity, you will still own one ounce at its end.
I do agree with the Oracle of Omaha to an extent. Gold does not produce anything and there are other asset classes like stocks that have done much better than gold historically.
By the way, even Benjamin Graham was not a very big fan of gold. Here's his view on gold from his most famous book The Intelligent Investor.
The standard policy of people all over the world who mistrust their currency has been to buy and hold gold. This has been against the law for American citizens since 1935-luckily for them. In the past 35 years the price of gold in the open market has advanced from $35 per ounce to $48 in early 1972-a rise of only 35%. But during all this time the holder of gold has received no income return on his capital, and instead has incurred some annual expense for storage. Obviously, he would have done much better with his money at interest in a savings bank, in spite of the rise in the general price level.
Well, gold's dismal performance during Benjamin Graham's career justifies his negative views on the yellow metal.
--- Advertisement ---
Investment in securities market are subject to market risks. Read all the related documents carefully before investing

Want to Grow Your Wealth With Safe Stocks?

Access Our Premium 'Low Risk, High Return Potential' Stock Research at Rs 2,050 Off

Full Details Here
Details of our SEBI Research Analyst registration are mentioned on our website - www.equitymaster.com
---------------------------------------------------
But does this mean that even an Indian investor should not invest in gold? Well, I don't think so. For us to a pass a proper verdict, we will have to see how the yellow metal has fared in the rough and tumble of the Indian market.
If we take a very long-term view, here are the stats.
As per World gold council, gold was priced at Rs 1,485.64 per 10 gm back on 31 December 1980. It ended the year 2021 at a price of Rs 43,164, a CAGR of a decent 8.6%.
Sensex on the other hand was at 148 and 58,254 respectively on the same dates, giving it a much higher CAGR of 15.7%.
Thus, over a substantially long-term period, gold does not hold a candle to the Sensex.
Buffett and Graham were right after all. Gold may have outperformed stocks over a 3, 5 and even 10-year periods. However, it lags by a huge margin over longer time frames, say 20 years or more.
Thus, it's quite clear that when it comes to long term wealth creation, stocks have a big edge over the yellow metal.
However, what about gold's role as a safe-haven asset class? Is our capital well-protected if we decide to reduce stock exposure for a year or two because the stock markets have become very frothy?
If history is any indication, gold has proven to be a very good hedge against a stock market crash. In fact, it has proven to be a better hedge than the humble fixed deposit.
The following table will make things clearer.
Gold or FD? The Better Option in a Down Year
| | Sensex Returns (%) | Gold Returns (%) | FD rate of interest (%) |
| --- | --- | --- | --- |
| 1995 | -20.8% | 13.2% | 11.5% |
| 1998 | -16.5% | 7.5% | 10.8% |
| 2000 | -20.6% | 1.4% | 9.0% |
| 2001 | -17.9% | 4.1% | 9.0% |
| 2008 | -52.4% | 28.9% | 8.4% |
| 2011 | -24.6% | 29.4% | 8.6% |
| Average gain /(loss) | -25.5% | 14.1% | 9.6% |
Data Source: Equitymaster, ACE Equity, World Gold Council
Since 1990 there have been only six calendar years where the Sensex has lost more than 15%. As you can see, the average loss has been almost 26% per year.
And how has gold done during these down years? Well, it has earned an average return of 14% vis-vis 9.6% that a bank FD would have earned.
Gold has of course been more volatile with the lowest gain at 1.4% and the highest at 29.4%. But the good thing is that it has gone up in all the years where the Sensex has lost more than 15%.
Hence, whenever you think that the markets are expensive and you want to reduce exposure to stocks, getting into gold as opposed to bank FDs may not be a bad idea at all.
Besides, if one considers the next few years, outlook for gold seems better than those of bank FDs.
Thus, in addition to its history of being an excellent hedge against market crashes, you also have the advantage of riding on a bunch of macro tailwinds for gold.
All in all, it is a heads you win, tails you don't lose much scenario for gold.
So, if I were you, here's what I would do. I would take maybe 10% exposure to gold when the markets seem attractively valued or are not prohibitively expensive. But once they turn expensive, I increase the allocation to gold to say 30%-40%.
This way, you are playing the odds and putting yourself in a better position to avoid a big crash with as little damage as possible.
In conclusion, gold may not be better than equities for long term wealth creation. But it has beaten inflation and preserved purchasing power.
Besides, its attribute of going up when the stock markets go down, make it an asset class worth paying attention to.
Makes sense, doesn't it?
What do you think about gold, dear reader? Write to us and let us know your view.
Warm regards,



Rahul Shah
Editor and Research Analyst, Profit Hunter
PS: Dear reader, the Equitymaster YouTube channel is about to hit 100,000 subscribers and we're celebrating with a Rs 6,000 benefit just for you. Watch this video for the details.
Recent Articles