5 Fundamentally Strong Stocks to Pick for Trading Today
Mar 15, 2019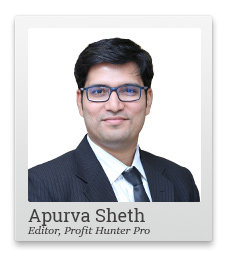 Last Friday, I told you the markets are not often prone to lackluster movement. Whenever Nifty ends two or more expiries within a range of +2% or -2% consecutively, it often moves sharply.
In the last three expiries of December 2018, and January and February 2019, Nifty ended with returns of -0.73%, 0.47% and -0.36% respectively.
The last time Nifty ended three expiries in a row within a range of +2% or -2% - it ended up moving 10.33%, -7.54% and 5.43% respectively in the fourth month.
This indicated chances of a big move - more than 5% - could be possible during the March expiry.
--- Advertisement ---
India Rushes to Prepare for a 2-Front War

A 2-front war is here.

China and Pakistan seem to be acting in sync... when it comes to attacking India.

Both countries have increased their military activity in the border region like never before.

And that's exactly what India is rushing to prepare for.

In fact, the Indian government has already allocated Rs 90,048 crores for 2020-21 itself.

Plus, an additional Rs 4 lakh crore would be spent over next 5-7 years.

This money will secure our borders.  And...it will potentially trigger a mega growth opportunity for a select few Indian defence companies.

With this flood of money flowing their way... their stock prices could potentially shoot up to record highs in the coming years.

You can learn everything about this massive opportunity on November 30 at our Explosive Profits Summit.

At this summit, you will also get the details of what we believe is India #1 defence stock.

It's a potential 10x opportunity in the long term.

Click here to sign-up instantly here. It's free.
------------------------------
Now, which way that move happens is anybody's guess. But going by price action it looked to me at first that chances of a fall were higher.
Now, however, the markets have thrown a humble pie on my face, and instead rallied sharply over the last one week.
The index has already moved up more than 5% from the February expiry closing level of 10,792 in a short time.
Most traders who expected lackluster movement to continue and shorted calls and puts in expectation of collecting premiums were caught on the wrong foot. My Profit Hunter Pro readers were saved as I sent a timely warning that they should expect a big move ahead in March - you can see it in this piece.
While I got the amplitude of the move right - I was wrong about its direction. Nevertheless, the rollover and options data indicated the tug-o-war between the bulls and bears may be entering its final stage. And 11,000 will be the crucial level which decides who wins this match.
New: 5 Pandemic-Proof Smallcaps You Should Know About...
So, as soon as the Nifty broke out above the 11,000 mark on Monday, it became obvious that markets would probably head higher and move up at least 5% from the February expiry closing level of 10,792.
A good trader is never married to his view or position...the moment he feels the market is moving the other way he swiftly changes his view accordingly.
That's a trading lesson I hold very close - and that's what we did at Profit Hunter Pro ...
After the market broke out of the 11,000 mark - the opportunities just started jumping out at me.
I have now added four new recommendations:
Now, before you ask let me tell you all these companies have gone through the Equitymaster research team's lens at one point or other and are fundamentally strong companies.
--- Advertisement ---
REVEALED: How India's Best Investors Are Planning For 2021 and Beyond...

Are you an active investor looking to grow and protect your wealth in 2021 and beyond?

Then you must Register for The Equitymaster Conference Right Now.

Because for the first time ever, this conference is going fully virtual.

That means you can listen to the biggest investment minds of this generation - right from the safety and comfort of your home.

So don't wait...

Grab Your Conference Ticket Right Now
------------------------------
That's not all. I have recommended one more stock which is nothing less than buying a ₹ 100 note for ₹ 50. It also enjoys a healthy dividend yield of 6%.
So, there are five stocks already on my radar which are ready to move up.
Apart from this, I also closed a recommendation in GE Shipping during the week with a profit of 7.54%.
So, you see there's lot of action happening in the markets right now, opportunities to make up for the recent sluggish markets abound, and I am sure you wouldn't want to miss it.
If you want to enjoy the action then go right ahead and join me and my subscribers to know how you can be a part of this profitable journey.

Apurva Sheth (Research Analyst)
Editor, Profit Hunter Pro
PS: Apurva's subscribers are buzzing with the excitement of 5 new trading recommendations - there's lots of opportunities to make a profit - don't be the one to miss out. Click here to join him.
Recent Articles