Find Out
How to Find One Stock with Crorepati Potential? >> READ MORE
What Pilots can Teach You About Investing
Mar 15, 2022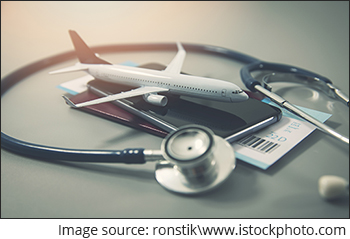 The odds of being in an airplane crash is one in 16 million flights. In fact, the odds of dying on your way to the airport are greater than the odds of dying from the flight.
Such is the safety flying in a commercial airplane.
But did you know there's a connection between how pilots fly airplanes and how expert investors invest in the stock market?
To explain, let me make a comparison with the healthcare sector.
The odds of dying by medical negligence is greater than being killed by many diseases.
Death by medical negligence is the third largest cause of death in the US and in many other countries too.
In the US alone, medical errors account for 0.25 m deaths per year. The number in developing countries is 10x of the developed countries.
--- Advertisement ---
A One Stock Gift in 1990 Turns into Rs 130 Crores

In 2017, Ravi made headlines by calling a leading business news channel with a surprising announcement - his grandfather had left him 20,000 shares of only one stock.


And on the day of his call - these shares were worth Rs 130 crore.

Can you guess which is this company?

It's MRF.

Ravi's story is one of the amazing stories of becoming Crorepati from a single stock.

But the question is, how to find that one stock with crorepati potential?

To find the answer to this million-dollar question, join our 'One Stock Crorepati' MEGA summit on 30th June, where we will reveal details of what we call a potential 'crorepati' stock...

Click here for full details...
------------------------------
As per the World Health Organisation, 2.6 m deaths are caused by medical negligence globally every year.
That's a scary number, isn't it?
As I'm drawing a parallel between aviation and healthcare, here's something that will blow your mind.
The number of lives lost due to medical negligence = 2 Jumbo Jet crashes every day!
Now let's see how this is related to investing.
First, do you know why has flying become so safe?
There're 2 black boxes on an aircraft: one that records mechanical information (e.g. fuel levels) and another that records sounds in the cockpit (including the pilots' conversations).
During accident investigations, these black boxes provide holistic, unbiased information to reveal what happened, so corrective measures can be taken to prevent future accidents.
Pilots are typically rewarded (not penalised) for reporting mistakes. Accidents are investigated in depth and insights are shared throughout the industry to facilitate learning and improvement.
This is summarised as an open loop system in the book Black Box Thinking where failures are seen as a building block for success.
The level of interconnections and information sharing in the aviation industry is mindboggling.
Any anomaly in a flight, anywhere in the world, can be easily accessed and studied by all aviation industry experts.
You might have heard how a pilot is subject to an extensive checklist.
A checklist is a process for identifying and analysing mistakes. It's also a process for sharing information Thus the learning curve gets steeper all the time.
Healthcare Industry: A Rigidity to Learn?
On the other hand, if we look at the healthcare industry, there are problems on multiple fronts.
Healthcare professionals perhaps because of their fancy degrees and high levels of IQ seem to be in a fixed mind-set.
--- Advertisement ---
"$2.5 Trillion Crypto Market Boom..."

A booming $2.5 trillion market...

Set to multiply by 100 times over the next decade...

With legendary investors like Warren Buffet, Elon Musk, and Peter Thiel pouring in billions of dollars all over...

Would You Really Want to Miss It?
------------------------------
When there is a sub optimal outcome or a mistake, the narrative from a doctor is always "There were complications in the patient or the procedure" or the classic phrase, "It was a one off thing".
There is no formal recording of failures or mistakes in the healthcare industry. Every time a doctor makes a mistake, it will lead to criticism. So a culture of information sharing is missing.
Now medicine is more of an art as compared to aviation where a plane is run by a machine. But my point is the lack of standardisation and open information sharing.
That brings us to the lessons aviation and healthcare applicable to investing.
After all investing is a balance between art and science. The approach should be more process driven and less emotion driven.
Just like aviation, a checklist needs to be created based on the risk appetite of every investor. This checklist or process should be a mix of financial indicators and sentiment trackers.
For instance, to start with I use basic valuation metrics to filter stocks. Then I look at the fundamentals and the prospects of the company and sector.
I follow a proper checklist which is a combination of hard numbers and qualitative aspects.
EXPOSED: The Shocking Truth Behind Today's Hottest Investment Opportunity
Every parameter has a weightage. The consolidated score should pass a minimum threshold. Only then do I analyse the company.
My checklist comprises of:
Valuation metrics
Fundamental metrics
Market valuations
Sector valuations
Qualitative aspects
The point is, when the markets crash and your checklist isn't ready, you would be speculating rather than investing.
A checklist will not only help you buy great stocks but also sell stocks in case your investment decision went wrong.
Keep your checklist updated with new business models and changing dynamics. This makes stock market investing accountable and a post mortem analysis is possible.
And you will stop depending on luck.
What do you think dear reader? Do you follow a checklist while investing?
Warm regards,



Aditya Vora
Research Analyst, Hidden Treasure
PS: We're in a celebratory mood. Our YouTube channel hit 100,000 subscribers. Watch this video for a Rs 6,000 benefit.
Recent Articles