30-Years of Sensex Data Tells Us It Is Time to Start Investing Again
Mar 16, 2020
Every time someone asks me whether one should invest in the market right now, I pull out the following chart.
Take a look yourself to see Mr Market's behavior every single trading day over the last 30 years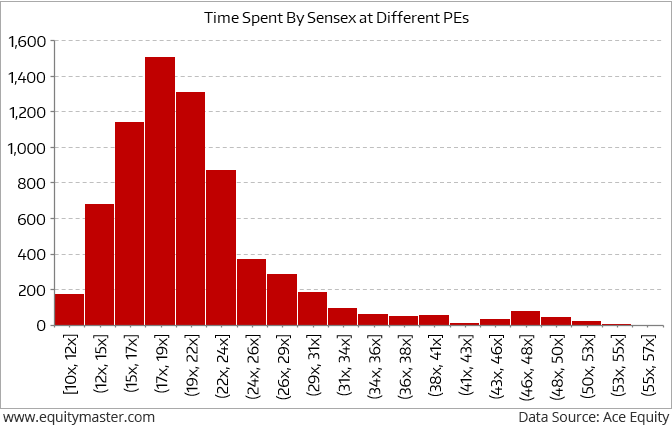 This chart is a graphical representation of the valuations that Mr Market has given to the Sensex - day in and day out - on more than 7,000 different occasions.
If you look at the three tallest towers in the chart, you will see that together they account for more than 50% of the trading days over the last 30 years.
--- Advertisement ---
One stock to add to your portfolio asap

Our co-head of research, Tanushree Banerjee, has uncovered this one stock, which she believes is a must have in your portfolio.

Tanushree is very bullish on this stock.

It could potentially multiply invested money 12 to 13 times over the long term.

Tanushree will reveal details of this stock at her upcoming special event.

You can click here to sign-up. It's free.
------------------------------
What do you think is the key takeaway from the chart?
For me, it is the fact that the supporters of the efficient market theory are right after all.
Majority of the times, Mr Market has been pretty efficient in its assessment of the market and has accorded it a valuation between 16x and 22x its trailing twelve-month earnings.
Thus, Mr Market has been pretty rational in its assessment of market valuations almost half the time.
But what about the remaining 50%?
Well, here's where the efficient market theorists seemed to have gone wrong. Instead of concluding that markets are frequently efficient, which of course they are, they concluded that markets are always efficient.
The difference between these propositions is day and night. And it is also the difference between the US$80 bn net worth of Warren Buffett and the average investor.
Smart investors like Buffett have beautifully exploited the tendency of Mr Market to be rational 50% of the time and remain borderline irrational or extremely irrational the remaining 50% of the time.
Put differently, value investors like Buffett love buying from Mr Market when he is irrationally fearful and selling to him when he is irrationally greedy.
In India, whenever Mr Market has turned fearful and has valued the Sensex below 16x its trailing twelve-month earnings, it has been a good level to increase exposure to stocks meaningfully.
And whenever it has gone to as low as 13x or below, it has rained gold in the stock market over the next 2-3 years.
At the other extreme, whenever Mr Market has turned greedy and has valued the Sensex at a PE of 22x or more, it has been a good time to reduce exposure to stocks and move a good portion into cash or fixed deposits.
And whenever it has gone to as high as 26x or above, a big crash has occurred more often than not.
Learn: How to Potentially Accumulate Rs 7 Crore in Wealth Over the Long-term
So, coming back to the question of whether one should invest in the market right now, well, a few weeks back Mr Market was extremely greedy and was valuing the Sensex at a PE of almost 29x. So, it was not efficient by any stretch of imagination. Therefore, a good strategy would have been to reduce exposure to stocks meaningfully and stay in cash.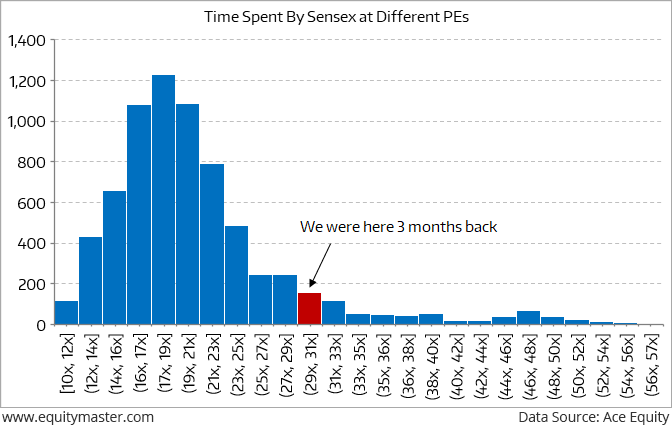 What a decision this would have turned out to be for those who followed it.
Sensex has crashed 20% since then...
The valuation accorded by Mr Market now stands at a reasonable 20x.
As can be seen in the chart, this is right in the fair valuation range. It may therefore not be a bad idea to start increasing exposure to stocks gradually if one was sitting on a lot of cash a few weeks back.
BUT... this is not the time to go all out on stocks.
That opportunity will present itself when Mr Market gets even more fearful and starts valuing the Sensex below 16x. We have not reached that level of fear yet.
But it is definitely time to get started. And here's one place for you to make a great start.
Good Investing,



Rahul Shah
Editor, Profit Hunter
Equitymaster Agora Research Private Limited (Research Analyst)
PS: Well, even the systems expert now says it is time to start investing. Slowly, of course, but not to worry - we have the one stock that gives you the perfect place to start getting back into the markets. Learn about it here.
Recent Articles