This Crorepati Stock Could Be the Best Vaccine for Your Portfolio Against Coronavirus
Mar 17, 2020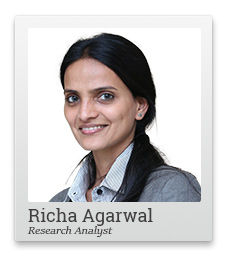 This was completely unimaginable a few months ago... A black swan event indeed.
The Coronavirus outbreak has spooked one and all. Schools, malls and cinemas have been shut down. The streets look deserted. Mumbai local trains, for a change, are looking spacious.
It's been a sea of red for stock markets worldwide this month.
Indian stock markets too are crashing like there is no tomorrow.
But it's not just the virus. Oil prices crash, FIIs' pulling out, Yes Bank crisis...it's a highly toxic mix.
In the last few days, Sensex and Nifty have touched levels below 30,000 and 9,000 respectively.
The BSE Sensex, BSE Midcap and BSE Small Cap, all the three indices have plunged in the range of 17% to 20% since in last one month.
As an analyst, I find all this humbling.
In all the planning and forecasts that experts have been making about the global economy, the 'virus' certainly was never factored in. And it has changed not just the extent but the very direction of the markets.
The recent crash has led to some polarized views on what the future holds. There's fear that this could go worse.
And you must pay heed to such warnings if you are playing for the short term.
For long-term investors, however, this could be a once-in-a-decade opportunity to ride the biggest gains in the smallcap space...Provided you know what to bet on.
You see, while the market crash has been indiscriminate and brutal for the smallcaps, the virus situation will affect different companies differently.
It's time to focus on the companies that lead the domestic market in their business...and can not only thrive but emerge stronger once the situation is under control.
The chances of finding such companies in the largecap space are slim. Fortunately, we have an option.
--- Advertisement ---
NOW or NEVER: Special Replay Goes Offline at 11:59pm

The special replay of our urgent broadcast on India's Revival is available to watch now.

Click here to watch it right away.

Thousands of readers attended this urgent broadcast LIVE yesterday and listened to Tanushree's critical briefing on 3 revival stocks - at the heart of a mega boom - that could potentially multiply invested money around 1,000% over the long term.

If you missed watching the broadcast LIVE...

Don't miss this replay now...Because it will go offline at the stroke of midnight tonight.

So, it's NOW or NEVER...

Click here the Watch the Special Replay Now
------------------------------
There are quite a few smallcap stocks that not only enjoy a long runway when it comes to the opportunities in the domestic markets... But are available at attractive valuations as well post coronavirus crash.
But even among these, there is a smallcap business that I consider first among equals.
I have been tracking this company for almost 4 years now.
Amid all the economic disruptions that Indian economy has been through - demonetization, GST, GDP growth rate slowdown...this company has grown and emerged stronger year after year. And so has my conviction in the management and their execution capabilities.
In recent years, the company has entered a new segment worth Rs 4 trillion where the opportunity size is almost unlimited.
The best part - Coronavirus sell off has brought the stock well in the Buy zone after a long time.
--- Advertisement ---
[Watch Now] 3 Little-known Stocks We are Super Bullish On




Click Here to Watch Now
------------------------------
As such, I am recommending subscribers to go beyond the standard allocation limit of 2%-3%, and allocate 5% instead to this stock.
This may seem too much for a single smallcap stock. But I believe this is one stock that has the potential to return crores in the long term. And when you spot a Crorepati stock, not betting big is not an option.
Curious to know more about this stock? Click here for the details. I can only hope that you won't let fear win out, won't let it crumble your hard-earned wealth to pieces, and that you will make the most of this opportunity.
To your health and wealth.
Warm regards,



Richa Agarwal
Editor, Hidden Treasure
Equitymaster Agora Research Private Limited (Research Analyst)
PS: Well, even the experts now says it is time to start investing. Slowly, of course, but not to worry - we have the one stock that gives you the perfect place to start getting back into the markets. Learn about it here.
Recent Articles