You Think the Corona Crash Has Made Large Caps Attractive? Wait Till You See This Opportunity...
Mar 18, 2020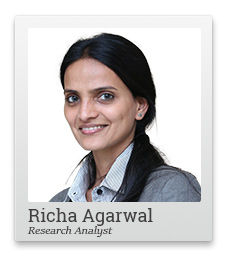 With the whole coronavirus problem, markets have become volatile to never seen before levels.
But does that make them more risky?
Imagine a time a year or two from now - when all the dust has settled - and you will get your answer.
Volatility is not the same as risk, and you must differentiate between the two.
While risk is the chance of permanent loss and thus your enemy, volatility is a different story altogether...
In fact, volatility could be your best friend if you know how to use it to your advantage.
Of course, if that's the case, there could be no better time in the Indian stock markets to befriend volatility than now.
How?
--- Advertisement ---
Richa Agarwal's #1 stock pick for 2021 is out

It is a little-known company that is now tapping into a Rs 4 trillion opportunity...

Setting it up to potentially deliver huge gains in the years to come.

Now, this stock has already started to move...

As the word spreads, there's a chance that this stock could move up rapidly.

Hence the urgency to act now...

Here are the full details of the company I'm talking about...
------------------------------
That's where you will find the dirty secret of the stock market today.
You see, at a time when you seen the Sensex and large cap stocks taking big knocks, you will be completely surprised at another feature of the market.
It has flown under the radar for most investors so far...
Small cap stocks, which were already cheap and attractive, have now become downright ridiculously priced!
Many of them offer massive gains to those who will buy at current prices.
And I'm not even talking about the weak companies...
I'm talking about strong companies with ultra-strong balance sheets. Businesses strong enough to weather the oncoming coronavirus storm - whatever it throws at them.
Unlock Now: India's 3 Unstoppable Tech Stocks
Looks like the perfect time for the opportunistic investor to pick up some good bargains!
Once you befriend volatility, you'll quickly realise that smaller stocks often see more volatility than the rest of the market. Much more volatility.
In general, the smaller the stocks, the more volatile they are.
While the small cap index itself has crashed to a large extent, among the rank and file of individual small-cap stocks, you will find dozens which have crashed more than 60%-70% from their recent highs.
Many have fallen even more...
And this is exactly what I love this about small cap stocks!
All these crashes may seem scary to novice investors, something to stay away from...
But seasoned investors know the crazy volatility in small cap stocks actually means you will find the most profitable opportunities in the entire stock market.
That's why I focus all my research on small cap stocks which has helped earn pots and pots of money for subscribers of my small cap service Hidden Treasure over the years - beating the benchmark index by a wide margin.
But to narrow down the choices for you, I'll recommend to you my top stock pick for the coming years.
Of the entire market, I love this one stock the most.
I believe this is one stock that has the potential to return crores in the long term.
To know more, click here for all the details.
Warm regards,



Richa Agarwal
Editor, Hidden Treasure
Equitymaster Agora Research Private Limited (Research Analyst)
PS: Well, even the experts now says it is time to start investing. Slowly, of course, but not to worry - we have the one stock that gives you the perfect place to start getting back into the markets. Learn about it here.
Recent Articles