If I Were to Recommend One Stock Amid Coronavirus Outbreak, This Would be It.
Mar 19, 2020
Editor's note: Dear reader, I request you to spare a minute of your precious time and participate in the Equitymaster's State of the Markets opinion poll. Please click here to cast your vote.
---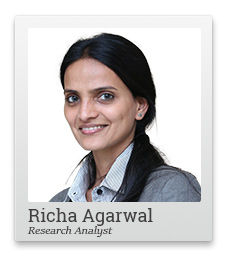 It's been two days since I started working from home.
And even though I'm saving at least two and a half hours of commuting time, I'm not happy about it.
I like working from office - the environment is focused, energy is high, and our ideas are bouncing off each other at all times .
But desperate times demand desperate measures.
And social distancing is a must.
Not knowing how long the virus situation will last, I'm more mindful and grateful for the things I tend to take for granted, and that includes the comfort of the crowds.
There is something else that I'm not taking for granted - that's the current market correction.
As I write this, the Sensex is down close to 900 points, and the smallcap index is below 10.5k levels.
It's a rare opportunity to pick great stocks at throw away prices. As an analyst, I'm greedy and intend to make the most of it.
The smallcap rebound that I have been talking about will have to wait a little longer. The silver lining is that if you have liquidity and patience, and if you enter now, the gains from these levels in quality stocks are likely to be sharper.
I have a laundry list of smallcaps that look attractive now and will stage a handsome recovery once the situation improves.
But we are in an unchartered territory... and it will make sense to add a dose of caution to the greed, just in take the virus outbreak and panic continue for long.
In other words, it's time to be biased towards certain businesses that have the capacity to survive a prolonged downturn, and stage a sharp recovery when things normalize.
This brings me to a specific smallcap that I have been tracking for 4 years, in which my conviction and recommended allocation has grown overtime. It's the only stock where I believe one could consider allocating 5% of one's portfolio as against my standard guidelines of 2%-3% to a single smallcap.
The reason I have done so go beyond the great fundamentals of the business.
This company is the market leader with 20% share in a niche segment. It caters to marquee clients, some of which include the biggest listed and unlisted players across sectors. With its relatively recent entry into the Rs 4 trillion food and FMCG market, the potential growth opportunities are unlimited. The company has a strong balance sheet to make the most of these. The cherry on the cake has been consistent dividends.
What I like best about the company is the management team. Of all the meetings I have had for Hidden Treasure - the smallcap recommendation service, this was one of the best and left an extra-special impression.
It wasn't just about business, financials, and growth prospects. Of course, I discussed all those...and they were impressive.
But what really stood out was the promoter's passion for what he does. Never before have I met a promoter who goes so deep into product and process and is so focused on keeping the company ahead of the curve. The promoter's statement - One doesn't get a second chance to make a solid first impression, seems to be the guiding philosophy that has made the company a favorite with the clients and helps it in bagging new deals.
Coronavirus outbreak has changed none of these impressions. Nor it has made a dent in the long-term prospects of the company. What it has indeed done is brought the company below my buy price, making it even more attractive investment at current price.
Curious to know more about this stock? Click here for the details.
Unless the Covid-19 leads to the end of the world, I believe this is one of the best opportunities to potentially earn crores from a single stock. I hope you will make the most of it.
Warm regards,



Richa Agarwal
Editor, Hidden Treasure
Equitymaster Agora Research Private Limited (Research Analyst)
PS: The market is increasingly fearful, and you must gird your loins at this time and be greedy. It is not easy - but for the sake of your wealth it is important. Just start with Richa's highest conviction small cap stock and take it from there. You can get it here.
Recent Articles