Ride the Indian Real Estate Revival with this 'Different' Smallcap Stock
Mar 23, 2021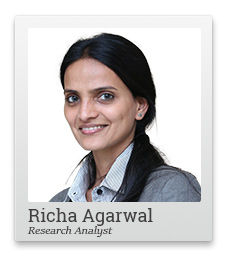 Almost a year ago, the citizens were asked clap hands or thalis in honour of professionals delivering essential services.
India had announced a nationwide lockdown in the wake of the pandemic.
But it was yet to assume the gigantic proportions. After all, the daily covid cases in India then were well below 100.
Despite the lockdown, the cases surged to almost one lakh per day. Everyone wanted the vaccine to be developed as soon as possible.
Well we have developed two home-grown vaccines now.
But we have developed something else too...
As per a recent serological survey done just last month in Delhi, around 56% of the people whose samples were collected have developed anti bodies.
This was well before the vaccination drive began.
--- Advertisement ---
One stock to add to your portfolio asap

Our co-head of research, Tanushree Banerjee, has uncovered this one stock, which she believes is a must have in your portfolio.

Tanushree is very bullish on this stock.

It could potentially multiply invested money 12 to 13 times over the long term.

Tanushree will reveal details of this stock at her upcoming special event.

You can click here to sign-up. It's free.
------------------------------
As surprising as it might seem, it's entirely plausible that more than half the population might already have some immunity against covid-19.
Herd immunity is here.
This suggests the ability of complex organisms (like humans) to adapt in the wake of threat to survival.
And the human body isn't the only thing with this ability.
We have seen this kind evolution and adaptation in the world of business and in the markets as well.
Contrary to everyone's expectations, markets have been on a dream run across market caps.
You could attribute this to huge liquidity, stimulus, and money inflow in a low yield world.
And this would be true.
But here's something we need to give these businesses credit for.
For Indian listed companies, operating profit for the quarter ended December 2020 is higher by 13.2% compared to last year.
I mainly focus on the smallcaps. So here are some of my specific observations.
Of the small cap companies that reported profits last quarter, the growth in operating profit was 18% over last year, despite muted sales growth.
Revealing Tomorrow: The Great Indian Wealth Project
That's a comparison of business profitability in a pre-covid quarter versus a post-covid quarter.
This is nothing short of a great feat at a time when the economy has just come out of a lockdown.
Not only does it show resilience of smallcap companies at a time when sales were flat, but also their ability to adapt to a new environment.
And there's more...
The growth in the smallcap space has come only for about 60% of companies. The other 40% are still struggling to come back at pre-covid levels.
This is a function of the industry to which a business belongs as well as the company's DNA i.e. the fundamentals and management quality.
Needless to say, unlike humans, businesses will not see herd immunity. In line with Darwin's theory, only the fittest will survive.
The stronger businesses are likely to gain market share at the expense of weaker players.
Amid the post-covid rally in smallcaps, most stocks are likely to go up.
But when it comes to stock picking, you need to be mindful of industry dynamics and the relative strength of the companies within sectors.
In May 2020 and the months following, when the fog had still not lifted, we limited our stock picking to the essential sectors in the economy.
--- Advertisement ---
How to Earn a Fortune in Gold, the Smart Way

Gold is on 'the verge of a decadal run' says Vijay Bhambwani, India's #1 Trader and Editor of Fast Profits Daily at Equitymaster.

He says gold has the potential to generate staggering gains in the coming years...And those who are betting on gold right now will hit the jackpot.

But wait.

While gold is an attractive investment destination, there's a very specific way to play this opportunity...

A way that ensures you rake in maximum profit and perhaps hit the jackpot...while minimizing potential pitfalls. Thankfully, Vijay - India's #1 Trader - can guide you step-by-step in the upcoming gold rush and help hit the jackpot just at the right time.

Sure, you don't want to be an average trader. That's not how you make a fortune.

Here's how you can get Vijay's guidance...
------------------------------
That was then. Now we have enough clarity and data.
It's time to cast our net wider beyond 'essential businesses', most of which have already witnessed a spectacular run up, towards the next big opportunity.
One of the themes that I find interesting is real estate, especially housing.
The industry data suggests that affordability (loan EMI to monthly income) is best ever in one and a half decade.
Managements of NBFCs expect this segment to be a key growth driver for their loan book. This is due to affordability, better regulations, and favourable government policies.
For now, I want to draw your attention to a specific company that has been a key beneficiary of consolidation in the sector.
What I especially like about this company is its clean management. It's rare in an industry which does not have a good track record of corporate governance.
The management doesn't believe in collecting huge land banks. They strive to be as asset light as possible.
This has helped the company keep debt on the balance sheet at low levels. Again, a rare quality in this industry.
You must have heard of the gospel of real estate - Location, Location, Location.
Well, this company swears by it.
While most real state players focus on metros, this firm has completely avoided them. Its focus has always been on tier-II and tier-III cities. Even then, it chooses to enter only those cities which are growing industrial hubs.
This approach has meant less competition and has allowed the company to dominate local markets for long periods.
Amid a strong demand revival, the company has reported strong operating leveraging in the latest quarter and is all set for a great run.
Hidden Treasure subscribers can read the recommendation report here.
Now do note that the boom in housing boom will benefit companies beyond the real estate industry.
It is likely to feed into a virtuous cycle for construction, pipe companies, housing finance, furniture, paints, ceramic tiles, steel, sanitaryware to name a few.
I will be keenly tracking the small-cap stocks in the segment that could create fortunes for investors.
Watch this space to stay tuned.
Warm regards,



Richa Agarwal
Editor and Research Analyst, Hidden Treasure
PS: Today is the last day to get access to my best smallcap stock recommendations that could create fortunes for investors. Don't miss this opportunity, dear reader. Get access to my recommendations here.
Recent Articles