Coronavirus Sell-off Is a Perfect Time to 'Lockdown' this 'Crorepati' Stock
Mar 24, 2020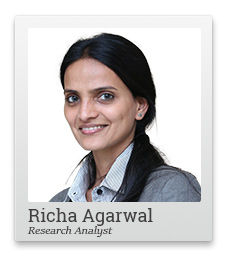 It's a complete lockdown, at least from where I see it.
As I write this, trading has been halted as the Sensex breached lower circuit.
I'm writing this from home (I guess that's where most of you will be reading it), while managing office and housework now that I do not have the luxury of calling my maid home.
The threat to lives and livelihoods is real. And it may get a lot worse before it gets better.
I hope I'm not sounding too grim.
I'm sure of a recovery...it's a matter of time.
On the positive side, China already seems past the worst. No new locally transmitted cases have been reported. The lockdown measures have been eased. And while I'm wary of official statistics of China, Startbucks planning to re-open 90% of its stores by the end of March gives me comfort.
Back in India, the next few weeks are crucial for us...for our lives, portfolios and may be how set we are to ride the next wave of wealth creation in the stock markets.
It's time to differentiate between risk and volatility. While the former is a permanent loss of capital, the latter is a short term phenomenon.
The former exists for the zombie /shell companies, for firms with balance sheets loaded with debts, and with no critical market share or leadership in any crucial product/service.
The volatility exists for all. This includes the anti fragile companies which are well placed to withstand the crisis... which will only emerge stronger once the crisis subsides, in a regime of less competition.
If you could keep your calm for next few weeks, it's time to make the most of the pervading fear as far as sentiments penalize the stock prices indiscrimnately.
In these sensitive times, I would recommend you to go with a staggered approach of investing in the anti fragile group- the ones that will emerge as the strongest rebound candidates and would dominate the names that will create a new wave of 'Crorepatis' over the coming years.
And I would recommend you allocate responsibly...in a manner that doesn't impact your liquidity, that allows you to not resort to force selling your investments shall the situation turn severe.
In my recent note to Hidden Treasure subscribers - Result Updates, And Strong Rebound Candidates with Attractive Steady Income
I have shared a list of stocks that are offering steady income in the form of dividends, along with a strong rebound potential.
Company Name
Dividend Yield
(%, Closing Price March 19, 2020)
View on March 20, 2020
Stock #1
13.9
Buy
Stock #2
10.3
Buy
Stock #3
9.8
Buy
Stock #4
9.5
Buy
Stock #5
8.1
Buy
Stock #6
6.8
Buy
Stock #7
5.6
Buy 50%
Stock #8
5.5
Buy
Source: Ace Equity, Equitymaster
I also want to draw your attention to a specific opportunity in the smallcap space one where I have the strongest conviction. So much so that I have recommended an allocation of 5% to this single stock as against a standard allocation of 2%.
What gives me comfort about it is a strong balance sheet, leadership in a niche crucial market, regular dividends and a solid management team, that has executed very well since the last four years I have been tracking the stock.
Amid this panic sell off, this stock is now trading at multi year lows. It's a highly attractive level to take exposure now and remain invested irrespective of what happens over the next few weeks.
When it comes to investing in quality, the lower your buy price is, the higher your returns will be in the long term.
So here's one quality stock available at a great bargain. I hope you will make the most of it.
Click here for the details.
Last but not the least, stay safe!
Warm regards,



Richa Agarwal
Editor, Hidden Treasure
Equitymaster Agora Research Private Limited (Research Analyst)
PS: Amid this panic sell off, here's one quality stock now trading at multi year lows. I hope you will make the most of this incredibly rare opportunity. Click here for your crorepati stock recommendation.
Recent Articles