A Man of All Markets
Mar 27, 2020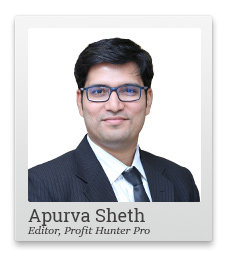 Coronavirus has spooked everyone across the world.
Most of the world's population is locked down in their homes right now. Social distancing is the only way we can limit the spread of this virus.
If all of us practice social distancing then we can control the spread of the virus. But one thing we don't want to control is the spread of good ideas.
At Profit Hunter, all of us mostly write to you our best ideas related to equity markets every week. But today, I want to write about a man who has the best ideas across various markets.
Indian retail investors mostly focus on equity markets but there are three markets which are much bigger and more lucrative than equity markets. These are commodity, bond and currency markets.
The following illustration shows the size of these markets and the opportunity they bring with them.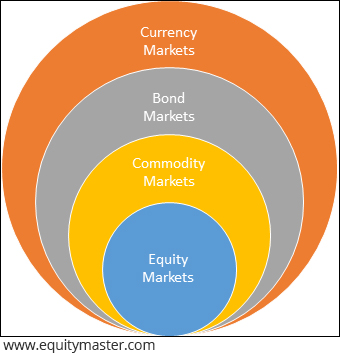 The equity markets are the smallest of them all. Commodity markets are much bigger than equities in terms of turnover.
The bond market is bigger than the commodity market but unfortunately, it's not easily accessible for retail investor in India.
Finally, the currency market is the biggest of them all. It's the most liquid market and remains open for the longest duration in a day.
Retail investors have mostly focused on equity markets to build their fortunes but there is a man in town who's made it his mission to change this.
Vijay Bhambwani is a veteran trader. He's been in the markets for more than 3 decades. He's seen equity markets evolve from open outcry system to screen based trading terminals.
He would probably be among the earliest to trade in commodity and currency markets when they launched in India.
Vijay built his fortune for himself he's all set to help common retail investors build a fortune for themselves.
--- Advertisement ---
One stock to add to your portfolio asap

Our co-head of research, Tanushree Banerjee, has uncovered this one stock, which she believes is a must have in your portfolio.

Tanushree is very bullish on this stock.

It could potentially multiply invested money 12 to 13 times over the long term.

Tanushree will reveal details of this stock at her upcoming special event.

You can click here to sign-up. It's free.
------------------------------
Vijay build his own fortune by following a holistic approach of looking at all four markets together even if he's trading just one of them.
That's because money or liquidity doesn't remain locked up in one market. It moves wherever it's rewarded the most. Vijay has been tracking the relationships between these markets and trading whenever and wherever he finds the best opportunity.
Vijay is also successful because he has created a proven trading system for picking his trades.
Take the example of trading in the currency market. In this video, Vijay describes his secret sauce to trade the US dollar.
I noticed that the prices in the vegetable markets, if collated and collected carefully, and the right vegetables and fruits were extremely accurate indicator of where the currency peg was likely to be.

So, we put together 16 vegetables, six fruits milk, eggs, and meats, poultry products prices and we tabulated them into an Excel sheet and once a week I would collect prices.

Here, you have to be careful. You need to collect prices from the same vegetable market because the data sample has to be collected from the same source. You cannot collect prices from the Colaba vegetable market on week one and Dadar vegetable market on week two and Borivali vegetable market on week three. It has to be from the same place.

So, we would basically collect prices once a week from a vegetable market. Note it down in an excel sheet. Follow this process for four consecutive weeks.

If I found that 85% to 90% of these items were higher in price on a week on week basis, for four consecutive weeks, it was an indicator that real effective inflation at the street level was rising.

This would be a trigger for me to go long on the USDINR, which means I was buying the dollar and at the same time, going short on the Indian rupee.
Can you beat that?
I would have never imagined picking a trading idea in the US Dollar by visiting the local vegetable market.
Vijay not only picks profitable trading ideas in currencies but also turns loss making trades in to profitable trades by visiting the vegetable markets.
You can read how Vijay turned a loss-making trade in potato futures in to massive profits here.
Revealing Tomorrow: The Great Indian Wealth Project
That's not all. Vijay is the go to person in India on crude oil. He has been absolutely right when it comes to calling a collapse in crude oil prices.
The recently decline in crude oil prices by 30% surprised a majority but not us. Vijay has been vocal about his views on a collapse in crude oil prices and a disintegration of OPEC.
Whether it's the Saudi Aramco IPO or geo-political tensions in Middle East, Vijay knows best how it could impact crude oil prices.
I'm not at all surprised that his last 11 trading recommendations resulted in profits for his subscribers.
Now if you aren't impressed by all this then I have something more to tell you.
Vijay will reveal his trading strategy on 30 March 2020 at 5 pm at the Weekly Cash Summit.
Now, the entire nation is in a lockdown, so you don't have to go anywhere to listen to Vijay. Join the summit from the comfort of your home along with thousands who have already registered.
With Vijay's guidance you can not only protect yourself but also profit from these volatile markets.
Register for the Weekly Cash Summit for free here.
See you on Monday...
Warm regards,

Apurva Sheth
Editor, Breakout Profits
Equitymaster Agora Research Private Limited (Research Analyst)
PS: Join India's #1 trader, Vijay Bhambwani, at the Weekly Cash Summit to discover the most profitable strategy for this market. Register for FREE here...
Recent Articles