The Jet Airways & Mindtree Sagas: Lessons for Individual Investors
Mar 28, 2019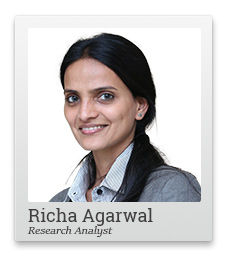 If you look at a financial newspaper, you will find Jet Airways and Mindtree dominating the headlines.
While they seem to be in focus for different reasons (Jet for its financial trouble, and Mindtree for the L&T takeover bid), the underlying principle behind them is the same: promoter arrogance.
Jet Airways, India's oldest surviving private-sector airline, is finding it hard to survive right now. The airline seems un able to fend off its large debt pile as almost two-thirds of its fleet is grounded due to its inability to pay its lessors.
But Jet's fate could have been much better had its founder and promoter Naresh Goyal followed through on his promise.
Goyal did not infuse any fresh equity to save his airline and refused to give up control to potential suitors willing to take over, until it was too late.
In the whole ongoing saga, the management did not care about minority stake-holders at any juncture.
--- Advertisement ---


Rewrite Your Financial Destiny...
With This LIFE-TRANSFORMING Step Today!

If you're tired of settling for small gains...

And worried you might not save enough for retirement quickly enough...

Here's something I believe could completely rewrite your financial destiny. And give you a chance to end up far richer than you ever imagined.

I'm talking about our small cap service - Hidden Treasure - which has given its subscribers opportunities to make double, triple and even four-digit gains in the long run.

But here's the best part...

Right now, you can join Hidden Treasure at 50% off and get our special report with 4 small caps stocks with great return potential. So don't hesitate.

Rewrite your financial destiny with this life-transforming step today!

Click here for full details now!
------------------------------
In the same vein, Mindtree a mid-sized company built by IT professionals, is in focus as its promoters are locked in a 'battle' with a much larger L&T, which is looking to take up a majority stake in the company.
However, according to media reports at the time, Mindtree's promoters did not show any urgency when a majority stakeholder warned them about his intention to sell his 20.4% stake in the company. They ended up reacting only after L&T acted first to scoop up the stake.
In both these situations, minority stake-holders were hit.
Jet airways is now going to be managed by banks which took over and ousted Mr Goyal. Mindtree's ownership future is uncertain as L&T intends to push for a larger stake and its founders are preparing to put up a fight to retain control.
Such disregard for minority stakeholders is something that we take note of here at Equitymaster.
This is because we realize that a company's management can change the direction a company takes.
Especially when it comes to small-cap firms, where the management quality can be a make or break factor.
Which is why you need to keep an eye out for how promoters and managements are tackling challenges, especially in small-cap companies.
Nevertheless, management quality is one of the most overlooked factors when evaluating small-cap stocks.
Before you dive head-first into a small-cap stock, make sure you know the answer to these crucial 5 questions:
Does the management walk the talk?
Is it transparent in its communications?
What's their focus: stock price performance or business growth?
Is the management aware of the trends?
Does the management consider the welfare of minority shareholders in its decisions?
It is important you ask these questions because small-cap companies seldom undergo the scrutiny their larger peers go through in terms of disclosures and corporate governance.
Since most of them are young and growing companies, managements find it hard to resist skirting on a few issues and window-dressing their numbers to attract interest from potential investors.
That's why I don't even think about recommending a company in my service, Hidden Treasure, without meeting its management first and getting the facts straight from the horse's mouth.
However, according to media reports at the time, taking management's word as gospel truth can also be a huge mistake.
What they say must be cross-checked. Claims that cannot be confirmed by suppliers, customers, and competitors must be dismissed.
Talking to management helps understand businesses and their vision better.
It helps understand whether managements actually care about running their businesses or are happy misusing shareholder wealth.
There have been countless instances where I have liked the business of a company, its numbers look encouraging, but the management seems to be blind to changing trends, or just not prepared for the road ahead.
Like how one management claimed to have filed multiple patents over the world. But after meeting them I found that it was able to monetize only a fraction of them, without any explanation about the earnings potential of the rest.
This convinced me to not recommend the stock in Hidden Treasure.
We meet with many managements, and we reject far more than we recommend.
While this approach led us to miss out on a few opportunities, Hidden Treasure subscribers are not complaining.
Hidden Treasure recommendations have had a success ratio of over 60% and CAGR returns of over 28% vs 11% for Sensex (as per audited data at the end of Feb 2019), the winners have far outweighed the losses.
Successful investing is not just about identifying a good business.
Especially for small and growing companies, a bad management of an otherwise good business can lead to unrecoverable losses.
Similarly, a change from a bad to a visionary management, can bring out the best in the company.
Make sure you have enough qualitative information before betting on a stock.
Warm regards,



Richa Agarwal
Editor and Research Analyst, Hidden Treasure
PS: Market conditions for small caps are brilliant right now. Don't miss the boat - get Richa's thoroughly-researched high-potential over 20 small cap recommendations by joining here.
Recent Articles