Investment in securities market are subject to market risks. Read all the related documents carefully before investing
Small Companies Offer Huge Potential
Long-Term Growth for Early Movers

Access Our Premium Research Today
My Recipe for Multibagger Returns in An Uncertain Environment
Mar 28, 2023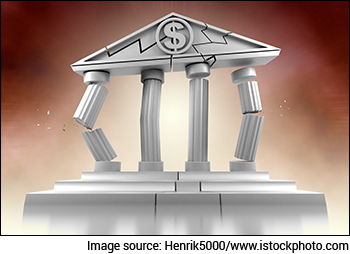 The constant lesson of history is the dominant role played by surprise. Just when we are most comfortable with an environment and come to believe we finally understand it, the ground shifts under our feet. Surprise is the rule, not the exception. - Peter Bernstein
Aren't these wise words from an economic historian?
This is also a fancy way of saying that no one knows what the future holds.
In investing, not many experts are good at confessing this.
On a daily basis, be it on television or social media, stock tips and short term guidance on markets are shared. The surer one sounds, the higher he is valued and sought after.
As we have seen in the last few years, investors who are prepared for uncertainty and believe in building arks have fared better than the celebrated figures with high conviction views.
A case in point is the performance of two famous investors - Cathie Wood and Warren Buffett.
--- Advertisement ---
Investment in securities market are subject to market risks. Read all the related documents carefully before investing

Your Invitation to Access

Our Small Business Stock Research is Still Open

Get Access Now
Details of our SEBI Research Analyst registration are mentioned on our website - www.equitymaster.com
The former rose to limelight in the post Covid rally, becoming the hottest investment guru with stellar performance of ARK Innovation ETF that focused on buying innovation at any price with stocks like Tesla, Coinbase, Zoom video. When money was cheap, the stocks zoomed on speculation. For tech investors, sky seemed to be the limit apparently.
However, no one was prepared for the hike in interest rates, and the crash in the tech space. No wonder then, all the gains were lost. Over five years, Ark Innovation ETF has offered returns of 2%. While this is bad enough, it would not be an exaggeration to say that for those who entered at the peak (which I suspect would be the case for most investors), the journey has been brutal.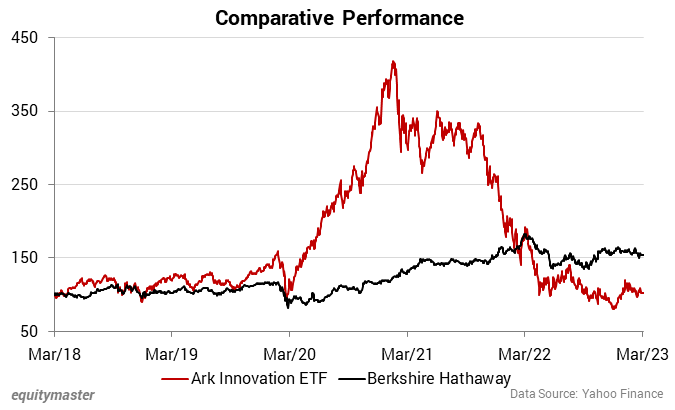 This is much lower than the performance of Berkshire Hathaway - up 54% over the same period.
The latter's performance was indeed overshadowed for the two years during post Covid rally, as Buffett, an experienced investor, stuck to the process that has worked for decades. Some were even quick to write an obituary for this investing legend.
But time is the true test of longevity.
A humble approach that accounts for the surprises and unexpected, turned out to be much better and consistent for the actual investors in them.
While the reality is humbling, overconfidence and short term predictions still sell well. That's because nothing scares the investors so much as not knowing.
The constant surprises - Covid, inflation, Fed rate hike, global wars, and now global bank collapse, have done nothing to curb the confidence and enthusiasm of the experts to predict the near term future.
As Peter Bernstein says, even the most serious efforts to make predictions can end up so far from the mark, as to be more dangerous than useless.
So does this mean that making future estimates make no sense?
As a bottom up long term investor and analyst, I do see value in them.
All my recommendations have a target price and clear horizon period to begin with.
Through this, we do not aim to be accurate, but roughly right.
The process works more often than not. It ends up beating benchmark indices because we approach investing with long term horizon.
I know there is no crystal ball to gaze the future, but following a few guidelines could increase your probability of landing multibagger stocks.
First, look for stocks with a respectable return on capital employed or ROCE of 15% or above. While too many investors are obsessed with revenue and profit growth, the real measure of growth quality is return on capital employed. It gives a sense of the return a business earns on every unit of capital employed. Unlike pure growth that could be funded by leverage or by throwing good money after bad, RoCE gives a sense of management's prudence with regards to capital allocation. A classic case is Ranbaxy deal for Sun Pharma, that was done with an ambition for growth, but was not the best decision with regards to the use of capital.
Second, check if there are enough triggers for sustainable long term growth, or reinvestment prospects. I don't mean just the revenue growth, but visibility on sustainable margins or value addition prospects that could improve margins as well. That is, you must look for businesses where the profits that are reinvested back in the business are able to generate a higher or at least similar ROCE that the business is generating.
Despite all the hard work done in understanding the business , management quality and future prospects, there will always be some surprises and unknown variables that you must be prepared for. So last but not the least, use margin of safety in valuations to account for the 'unknowables'.
To understand more about this process, do watch my video here.
Warm regards,



Richa Agarwal
Editor and Research Analyst, Hidden Treasure
Recent Articles