The Insiders See a Buying Opportunity in These Smallcaps Amid Coronavirus Outbreak
Mar 31, 2020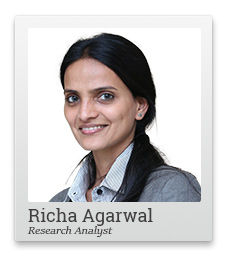 It was yet another 1,000-point plus crash in the Sensex yesterday.
The RBI move to ensure more liquidity has done nothing to life the fears in the market. Even stalwarts like HDFC and HDFC Bank have not been spared.
The smallcaps too are mirroring the trend.
If you are invested in the markets, you're likely witnessing one of the most painful correction phases.
What is even more concerning is no one knows how long the Coronavirus outbreak will persist, and how deep the fall could be.
As I wrote to my subscribers recently, amid 21-day lockdown, there has been a massive supply chain disruption. Most of the companies have formally announced plant closures keeping in mind the health of work force and resorted to working from home wherever it is practical.
All this will indeed have an impact that could last for more than a quarter on corporate profitabilities - an impact that was not estimated in by the markets.
The damage will be assessed once the crisis subsides.
In the meantime, one should be prepared for volatility. And given that we have not yet peaked in terms of new cases, further correction could follow.
Yet, this could be one of the best times to be betting on quality stocks.
--- Advertisement ---
LIVE NOW: One Stock Crorepati Summit

We're LIVE now... Don't waste another minute...

Click Here To Join...
------------------------------
From the sell off so far, I believe that the decline in the stock prices of a lot of quality stocks will be a lot more than the impact of the event on the long-term fundamentals of the businesses.
For those with a long-term horizon, and the temperament to withstand sharp down-moves without losing sleep or panic selling, this could be a multi-decade opportunity to get in quality stocks, at mouthwatering valuations.
This comes with a caveat. One must ensure enough liquidity in case the crisis prolongs...And never violate the allocation guidelines.
What will also help is to invest in the opportunities in a staggered manner, to make the most of the fear and panic selling in the markets.
But where should one invest?
While the news and scenario around us is all grim and gloomy, there's an encouraging development in some quality smallcaps.
It's regarding the insider buying in March 2020 - a month that has brought us face to face with Coronavirus crisis, that seemed to be happening in distant lands until February.
There are around 13 stocks in Hidden Treasure where promoters have increased stake and that look attractive from a long- term perspective. (Subscribers could access the list of these stocks here).
Like I mentioned earlier, while it is difficult to assess the exact near term impact of Coronavirus crisis on businesses and there could be volatility in the near term; recent promoter buying in these smallcaps indicates that markets have priced in a lot worse than what is warranted. With a staggered buying approach, one could make the most of the current pessimism in the market.
Peter Lynch has said:
"Insiders might sell their shares for any number of reasons, but they buy them for only one: they think the price will rise."
I believe these could be great levels for fresh buying for those who have no exposure in these stocks so far. In case one already has exposure, one could consider averaging within the allocation limits.
I hope you will make the most of this opportunity to benefit from the smallcap rebound.
Warm regards,



Richa Agarwal
Editor, Hidden Treasure
Equitymaster Agora Research Private Limited (Research Analyst)
PS: Amid this panic sell off, here's one quality stock now trading at multi year lows. I hope you will make the most of this incredibly rare opportunity. Click here for your crorepati stock recommendation.
Recent Articles