Is Bargain Season Over in the Stock Market?
Apr 3, 2019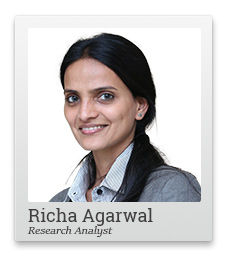 The BSE Sensex hit a fresh all-time high yesterday. It closed above the 39,000 level for the first time in its history.
That's not it. In the financial year 2018-19 that just got over, the benchmark index has delivered a stellar return of 17%, its best performance in the last four fiscals.
So, does this mean that the bargain season is over for equity investors?
Should bargain hunters pack up their bags and go home?
Are stocks of the kind a true value investor would like - solid companies at great prices - no longer available?
With all the headlines screaming of a record high for the Sensex, if this is what you get carried away into believing, you'll be making a big mistake!
There are still bargains galore available, if you know where to look that is.
--- Advertisement ---


Get Details Of Solid Small Caps In Your Inbox For Just Rs 245 A Month

A year's subscription to our hugely popular small cap recommendation service, Hidden Treasure, costs just Rs 2,950.

Rs 2,950 for a year comes to just Rs 245 per month.

That is an extremely small price to pay for details of high-potential small cap stocks in your inbox every month. In fact, there are some stocks you could consider investing in right now too.

So hurry, click here to grab this offer before it closes!
------------------------------
While all the institutional investor buying has taken many larger companies to lofty new highs, the rise has been very narrow indeed. Smaller companies have gotten almost completely left behind.
In fact, the BSE Small cap index is still down a massive 25% from its all-time highs hit last year.
And that's only the index... amongst the rank and file of individual small stocks, you will find dozens that are still down more than 50% from their recent highs... many even more...
Once you befriend volatility, you'll quickly realise that smaller stocks often see more volatility than the rest of the market. Much more volatility.
And I love this about small cap stocks! Because this makes them perfect for the opportunistic value investor who knows where to look.
For those who have not taken any exposure to small caps yet, I believe it's a great time.
You see, after almost a year of sharp decline, with all the FII money flowing into the country and all the thick action happening in large caps, the small cap segment is beginning to show signs of a rebound.
If you do not mind volatility in the short term for potentially higher gains in the long term, I recommend you consider four small cap rebound stocks.
As I write this, all four stocks are in the buy zone.
But with all the large cap action, they may not remain there for very long.
I strongly recommend you act quickly before they start moving up too!
Warm regards,



Richa Agarwal
Editor and Research Analyst, Hidden Treasure
PS: Get Richa's 4 Rebound Stock recommendations before they bounce straight out of your reach. The time is now, before the market rallies. If you miss the bounce back your portfolio will regret it in the future. Join Richa's service here.
Recent Articles