How to Get Free Cryptos...And, What You Will End Up Paying
Apr 5, 2018
Editor's Note: Blockchain startups are using new and innovative ways to promote their cryptos, even giving most of their tokenized assets away for free! However, there's no such thing as a free lunch. As usual, I defer to Prasheel's expertise when it comes to this new asset class. Read on for his insight -
Rahul Shah (Research Analyst)
Editor, Profit Hunter
---
It's called an airdrop - the cool new method of giving away cryptocurrency.
Not to be confused with Apple's service for storing data in the clouds, these 'airdrops' are a means to distribute free crypto tokens to the community.
You can get these free airdrops too - it's simple enough - find out about any startup giving away free airdrops, complete your KYC, fill in forms giving your details and your crypto address, or simply hold tokens in a chain of the developer's choosing and you should see free tokens in your wallet in a few days.
Free Anything = Smart Low-Cost Marketing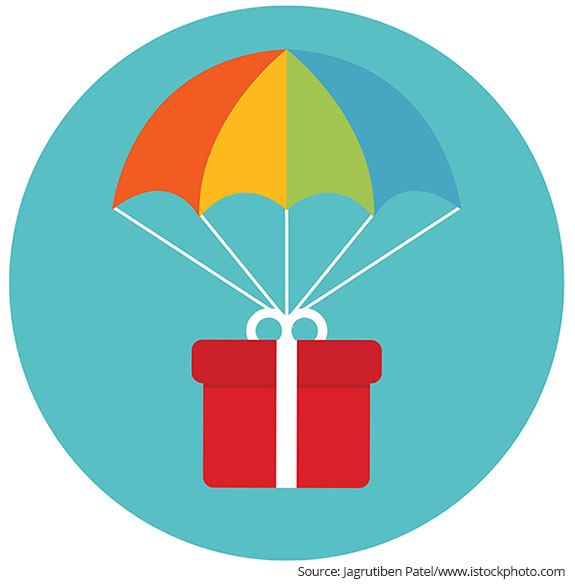 People start discovering and talking about 'free' tokens, and the word spreads around the community about that particular crypto. The word reaches thousands of people, and the cost of advertising - zero.
You're probably wondering why anyone would distribute tokens for free just for advertising's sake. They could have sold them and recovered the cost of advertising.
Airdrops offer many other advantages in addition to being a simple advertising tool. In many ways, free token distribution helps accomplish the same objectives of an ICO (Initial Coin Offering) in a better way:
Awareness and Popularity

Startups and blockchain companies realized that getting your token into as many wallets as possible adds a lot of value. It's like printing your own money to buy market share. If it is used strategically to target specific groups or communities of users, airdrops can spur massive adoption.

More coins lead to more interest and exposure, which in turn greatly increases the trading volume of a particular coin when it gets listed on an exchange.

--- Advertisement ---


Should you be afraid of Market Crash?

February month hasn't been good for investors globally. The market entered a meltdown mode.

But We think crashes are necessary, from time to time, for the healthy functioning of markets.

In fact, this Market Crash gave me an opportunity to share a Secret which could guide you retire early and wealthy.

Click here to find out... how to take advantage from this Market Crash.
------------------------------



Build Userbase

The eventual aim of most airdrops is to build up a strong userbase through the network effect. There are thousands of new blockchain projects and ICOs being pushed out every day. In such a situation, garnering and maintaining a strong userbase becomes nigh impossible for startups.

However, the community might be more likely to take a serious look at your project and stick by it if they hold a stake in it themselves.

Airdrops mean that the community members actually own a stake in the project of the token that was airdropped to them.

At the very least, this will encourage a portion of the community to educate itself and understand the project, thus increasing the stickiness factor.

Fund Raising

Airdrops are also a means for fund raising. Yes, giving away free tokens can actually be useful to raise funds. This is typically done in either of the following ways - Airdrops help increase the userbase, which is used for a pitch to venture capitalists or angel investors, who then invest in the project.

Another simple way to raise funds through airdrops is to distribute, say 90% of all tokens to the community and keep 10% as reserves for future development. The network effect would eventually raise the price of the token, thus making the 10% tokens as viable currency to fund the project.

Reducing Regulatory Risk

Regulators worldwide have taken a strict approach to ICOs. Just a few days ago, US regulators shut down a US$32 million ICO and arrested two of its co-founders for fraud. China has outright banned ICOs. Thus, to reduce run-ins with regulators, airdrops could be used to validate a project or a blockchain idea before a ICO. If a platform demonstrates its utility in the airdrop stage, regulators are less inclined to look at the platform as purely speculative.
If You're Not Paying for It, You're the Product
Blockchain startups and developers are obviously not giving out free cryptos out of the kindness of their hearts. This is a part of an elaborate PR and marketing strategy with the ultimate goal of increasing the value of their crypto.
Going forward, the popularity of airdrops only seems to be increasing. And owners of a diverse portfolio of crypto assets could indeed benefit from 'free cryptos' as the concept gains popularity.
However, there are major privacy and security concerns when it comes to airdrops.
As highlighted by prominent bitcoin author, Andreas Antonopoulos, claiming airdropped coins with a bitcoin key pair can risk linking an entire transaction history, even if a bitcoin user has been diligent.
That is all of your transactions, even if you hold multiple wallets could be linked to a single wallet.
Taking part in an airdrop would also mean disclosing information about one's cryptocurrency holdings.
For example, the OmiseGO (OMG) airdrop distributed tokens to Ethereum addresses with over 0.1 Ether in them, proportionately to the Ether value. Thus, holders of OMG at the time of the airdrop would be revealed as significant holders of Ether.
Not just that, scam airdrops are in play, taking advantage of the greed for free crypto. There have been a lot of cases of scammers announcing airdrops for projects that don't actually have one, or right after a popular airdrop has concluded to play on the feelings of FOMO, and asking for crypto deposits or private keys and then fleeing with the cryptos.
As with all things crypto, it pays to be careful about airdrops. Don't click on any suspicious links, and do not share your private key anywhere at all.
Stay informed. Stay Safe.
Warm regards,

Prasheel Vartak, CBP (Certified Bitcoin Professional)
Editor, Crypto Confidential
PS: The safest way to stay safe is, of course, to do what Warren Buffet did ie invest is safe, long-term stocks. Especially now that the market is teetering - get these 5 safe stocks to anchor your portfolio.
Recent Articles