India's Third Giant Leap
This Leap Could Potentially Generate Gains
Far Bigger than Anything We Have Seen in Our Lifetimes
What a 50-Year Old Leg Spin Bowler can Teach You About Investing
Apr 5, 2022
Editor's note: Dear reader, here's a note on the latest status of the ransomware attack on Equitymaster. Also, we have posted a detailed FAQ on the status of our Portfolio Tracker. You may read it here.
We are grateful for your continued support on YouTube. The Equitymaster YouTube channel has recently crossed 100,000 subscribers. YouTube has acknowledged us for the same.
Subscribe to Equitymaster's YouTube channel here.
---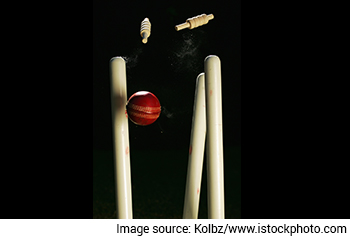 "You picked a 41 year old guy, are you crazy?"
A very normal reaction from the CEO of Rajasthan Royals to Coach Rahul Dravid back in 2013 post the auction.
I'm sure, most of us would have had the same reaction if we were the CEOs of any IPL franchise.
It's difficult to fathom the thought process Rahul Dravid would have had back then in 2013. After all, IPL was a platform to promote young talent.
Nevertheless, in hindsight Rahul Dravid proved once again why he is a legend when he picked the oldest player in IPL history, the leg spinner Pravin Tambe.
A lot of people, including me, didn't know about the journey of Pravin Tambe. For years, he toiled as a club level cricketer in Mumbai while doing his day job.
He was chasing his dream of playing for a Ranji Trophy team. It would eventually be a gateway to the Indian Cricket team. He participated in sundry tournaments and club matches.
What makes his perseverance great is the fact that for 20 years he just kept playing. He kept fighting for a spot in the Ranji Trophy team without any success.
The closest he got over 20 years of playing 'maidan' or club cricket was being a part of the list of probable players for the Mumbai Ranji team. Yet he never got a chance to play any recognised, formal cricket until the age of 41.
After 20 long years of perseverance, there was a point in time when Pravin was close to transitioning from a player to a coach of a university club.
Just as he was about to end his career as a failed cricketer...
Pravin Tambe got a call from the Rajasthan Royals selection team led by legend Rahul Dravid.
But his test with patience and perseverance would continue even after getting selected for the Royals. For a year and half after his selection, he didn't get to play a single match.
And then his luck changed.
The attitude which Tambe had even while sitting on the bench was something to learn from. He kept trying to improve his game by learning from all the international players and coaches.
And finally, as they say rest is history.
Tambe made it to the playing level for Rajasthan Royals in the 2014 season. He won the man of the match award for his 4 wickets for 20 runs. He helped Rajasthan Royals win the game.
The next year, he took a hat trick and the highest number of wickets in the Champions League. He is the first Indian and the oldest player to play Caribbean Premier League at the age of 48.
Forget investing for a bit, this story is about perseverance, grit, and determination. It differentiates between success and failure. It teaches us what life is...what it should be.
So what can Pravin Tambe's cricketing journey teach investors?
Patience and Perseverance
Time is the biggest friend of an investor.
I'm sure you must have come across many stocks in your investment carrier that didn't give any returns for the longest time. Then in 1-2 years those stocks made up for a lost decade.
In stock markets there are decades when nothing happens and then there are weeks when decades happen. That's why you should hold on to fundamentally good stocks. As it is in life so it is in investing. Things always change for the better.
I know of such a stock quite well. My father held the stock of Aegis Logistics and for 7 years from 2007 to 2014. The stock did absolutely nothing.
Then in 4 years, from 2014 to 2018, the stock went up by 18 times. That's 1,260% CAGR.
On further analysis, I realised the reason why the stock was in coma for a long time.
The company was undertaking heavy capex (more than doubling its assets). As a result, its earnings were depressed. Its cash flows were weak and debt was high.
But once the capacity started coming on stream, revenues multiplied, cash flows were healthy, and debt reduced.
The stock re-rated upwards.
The giant Reliance was also in a coma for 7 years. Absolutely no movement. Once Jio started operations, and the retail business sprung into action, the stock re-rated.
When you have high conviction in a stock, hold on to it. Your patience will reward you.
One more thing - Learn to change your investment style.
I strongly believe, we are in the markets to make money. That is the end goal. Period!
Pravin Tambe started his career as a fast bowler and later transitioned in to being a leg spinner.
Even when he was sitting on the bench he made sure he would practise all day and learn cricket from the best around him. He never had fixed ideas about the game.
In the stock market, it doesn't matter whether you are a value investor or a momentum investor or invest in high PE stocks or low PE stocks.
In the end, what matters is your profits.
The ability to adapt to investing styles which work during changing scenarios is what makes an investor successful.
Happy Investing!
Warm regards,



Aditya Vora
Research Analyst, Hidden Treasure
PS: Equitymaster.com is currently not accessible due to technical reasons. We regret the inconvenience caused. Meanwhile, please access our content on LiveMint and NDTV. You can also track us on YouTube and Telegram.
Recent Articles