4 Stocks to Make Your Portfolio Immune to the Second Covid Wave
Apr 6, 2021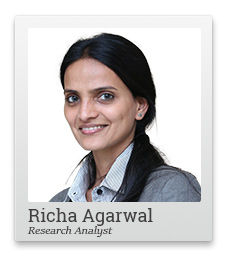 My WhatsApp and office chat groups are awash with 'Maharashtra Covid Guidelines'.
Most services barring 'essential' ones are likely to be restricted in the state.
Cafes and hotels that had barely come back to life after months of lockdown are once again staring at a possibility of a business shutdown.
The second wave of Covid is here. The Sensex has crashed over 1,000 points yesterday.
Today, it's in just one state but given the rise in cases, more could join.
Almost a year ago, we found ourselves in the same situation.
--- Advertisement ---
One stock to add to your portfolio asap

Our co-head of research, Tanushree Banerjee, has uncovered this one stock, which she believes is a must have in your portfolio.

Tanushree is very bullish on this stock.

It could potentially multiply invested money 12 to 13 times over the long term.

Tanushree will reveal details of this stock at her upcoming special event.

You can click here to sign-up. It's free.
------------------------------
Similar, yet so different.
We were dealing with an 'unknown' unknown then. The Coronavirus was a new kind of disruption, something that had not been seen or anticipated in decades.
Last year, there were neither vaccines nor antibodies. We had no clue how the economy, markets and businesses would adapt and evolve to this situation, if at all.
After a complete lockdown, the economy is well on its way to recovery.
From a decline of 7.1%, GDP is expected to recover in the range of 10.5% to 12.6%. In real terms, it suggests a growth over pre-covid levels.
The companies in the listed (non-financial) space have reported profits higher than the pre-covid quarters.
The order books for niche leaders look stronger with multi-year revenue visibility. As we wrote to you, even real estate is showing signs of a revival.
The dissimilarities don't end here.
Revealing Tomorrow: The Great Indian Wealth Project
A year ago, while markets had recovered from the sharp crash in March, most of the stocks were still cheap.
You could have picked any stock. Chances are good you would be sitting on a decent return today.
But things are different now...
There has been more than 50% and 100% rallies in the Sensex and smallcap index respectively in last one year.
While there is a great potential to make money in certain stocks, it's more crucial to be highly selective now.
One thing that we have learnt over the last year is that it helps to bet on businesses that have it in them to survive unseen risks.
You can account for any number of variables in your financial models and yet, some event that you never foresaw could decide the fate of the stock.
In short, successful investing is more about preparing well rather than predicting and then making your bets.
Most restaurants, hotels, cafes, entertainment parks, airlines, travel companies, and multiplex businesses are unlikely to make it to the list of such 'prepared' businesses.
--- Advertisement ---
How to Earn a Fortune in Gold, the Smart Way

Gold is on 'the verge of a decadal run' says Vijay Bhambwani, India's #1 Trader and Editor of Fast Profits Daily at Equitymaster.

He says gold has the potential to generate staggering gains in the coming years...And those who are betting on gold right now will hit the jackpot.

But wait.

While gold is an attractive investment destination, there's a very specific way to play this opportunity...

A way that ensures you rake in maximum profit and perhaps hit the jackpot...while minimizing potential pitfalls. Thankfully, Vijay - India's #1 Trader - can guide you step-by-step in the upcoming gold rush and help hit the jackpot just at the right time.

Sure, you don't want to be an average trader. That's not how you make a fortune.

Here's how you can get Vijay's guidance...
------------------------------
What will most likely make the cut is some essential/critical businesses, where the companies are unlikely to be shut down, or go out of business despite the macro shocks.
So without further ado, here are four companies I believe will survive the unseen risks. I cannot name them here, but I like them a lot and want to share my opinion.
For latest updates on these stocks, subscribers should keep a track of monthly performance review report.
For more such opportunities in the smallcap space, stay tuned. I will write to you about great opportunities to invest in smallcaps.
Warm regards,



Richa Agarwal
Editor and Research Analyst, Hidden Treasure
PS: Dear reader, on Thursday, 15 April, Tanushree Banerjee, our expert on safe stock investing, will reveal potentially the greatest wealth-building event for your net worth. Join Tanushree at the India Revival Summit.
Recent Articles