This Smallcap Tech Firm has Risen to the Coronavirus Challenge
Apr 7, 2020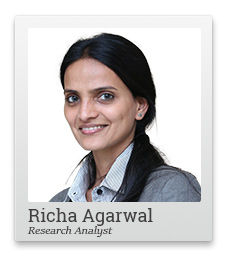 The last few weeks have been difficult.
Never had I imagined that new viral infections or deaths will be a metric to track for investing...and not just fundamentals and valuations.
Markets have tanked. Lives and livelihoods have been lost.
Containing the pandemic is the priority for now and there is some hope as other countries are flattening the infection curve.
But we need to be mindful of the second order effects on the economy.
These include supply chain disruptions, job losses, fall in disposable incomes and impact on both supply and demand.
There's a big question mark on whether manufacturing companies will be able to pull back the labor force that has migrated. There's the fall in oil prices.
What will be the impact on global liquidity and investments?
Will we see loan defaults? What will be the impact on NBFCs and banking sector?
Will there be a shift in consumption patterns?
In a complex word, and at a (relatively) early stage of virus outbreak, the list of things that could go wrong for the economy is long.
The reality is sinking in. This is evident from the massive erosion of the wealth in the Indian stock markets in last few weeks.
But every cloud has a silver lining. and the Coronavirus is no exception.
As an analyst, I believe I could serve you better by focusing on what could work, rather than just brooding over the negatives.
--- Advertisement ---
[URGENT] Closing Alert for Richa's No. 1 Stock for 2021

Gentle reminder that access to the details of Richa Agarwal's Top Stock Pick for 2021 will be turned off at 11:59 pm tomorrow.

This stock is effectively available for pennies on the dollar today and has the potential to deliver life-changing returns over the long term.

But you need to act fast... because the stock has already started to move.

We recommend you access all the details here right away.

Once 11:59 pm hits tomorrow, all the stock details will be made private and you will lose out on potentially the opportunity of a lifetime.

So, just continue reading it here right now...
------------------------------
For instance, a situation that could be potentially negative for manufacturing sector (due to migrant labor not coming back) could imply more of the rural population shifting to agriculture and allied activities - a positive for agri-stocks.
The manufacturing sector on the other hand could resort to increased automation. And the companies that are already technically better equipped will emerge stronger.
In the NBFC segment, the firms and banks with better balance sheets and ability to raise funds will gain market share from the firms that are not well managed.
And so on.
So, while I'm conservative on macro aspects, I believe at these valuations, there are stocks where the long-term growth opportunities are available at bargain prices.
Small Presentation: For Those Looking to Buy Stocks
The insiders in these companies, who have seen and come out of multiple downcycles, are aware of this. They have been making the most of the correction by buying more of their own stocks.
Hidden Treasure subscribers can access the update here.
Today, I want to specifically talk about one stock that insiders have been buying in the month of March.
Unlike most manufacturing firms that unfortunately have to shut down in these times, this smallcap tech firm is functioning at decent capacity due to feasibility of working from home.
While there will be challenges on the revenue front, cost cutting, and rationalization measures are underway.
Amid these challenging times, the company is engaging well with existing and potential customers. It's even winning new contracts.
With a diversified presence across industries including medical technology and healthcare and communications, it's well placed to not only lessen the blow of Covid 19, but to make the most of the opportunities due to the crisis as well. As per a recent announcement, it is offering the government tech based solutions to contain the virus outbreak.
As the coronavirus sell off has brought nearly 50% correction in the stock, the near-term challenges are more than priced in I believe.
With negligible debt on the balance sheet, net cash comprising over 20% of the market capitalization, and a dividend yield of over 6%, this smallcap tech firm is a long term growth story available at a bargain price in my view.
It makes a great addition to the list of smallcaps all set for a strong rebound.
I hope you will make the most of this opportunity. Subscribers can access the original recommendation report by clicking here and the revised maximum buy price here.
Stay safe!
Warm regards,



Richa Agarwal
Editor, Hidden Treasure
Equitymaster Agora Research Private Limited (Research Analyst)
PS: A single stock can potentially make one Rs 1 crore or more in the long term. Find out more...
Recent Articles