Worried About LTCG? This Hidden Tax is a Bigger Risk to Your Long-Term Wealth
Apr 9, 2018
Managing a goat farm comes just as easily to Mark Spitznagel as making money for investors.
He has won big accolades in both.
While the cheese produced at his farm won three medals at the cheese championship, his hedge fund made its investors a whopping billion dollars in one day flat.
Both these achievements rank at the very pinnacle of their respective fields.
Staying true to our Profit Hunter beat, let's go down the path of Mark's exploits in the field of investing.
An insightful paper that came out of his fund's research lab sums up his philosophy brilliantly.
Mark's mission in life is not to try and earn more returns for his investors. It is to help them pay as little volatility tax as possible. Mark is not after maximizing returns...
He is after minimizing volatility tax.
Do you see the chart below? The second portfolio is what happens when you pay a much smaller volatility tax.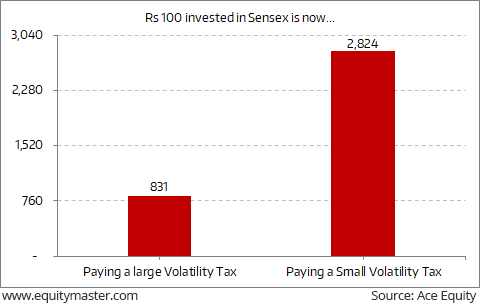 From the year 2000 till date, the Sensex has not done badly at all. It has turned every Rs 100 entrusted to it into a very acceptable Rs 831. That's a cool CAGR of 13%.
However, the second portfolio has blown the first one out of the water. Mind you, the second portfolio is literally a carbon copy of the first, which in turn mimics the Sensex. And all I've done is not let the second portfolio take a hit of 15% or more for the full calendar year i.e. for the years the Sensex fell 15% or more, the corpus remained the same.
There have been only three instances in the last 17 years when Sensex has fallen by more than 15% in a calendar year and look at what this negative volatility has done to overall returns. The first portfolio is not even one-third of the one that's been kept out of volatility's way.
It is this volatility that Mark refers to as the volatility tax.
Investors in Indian stocks between the year 2003 to 2008 have experienced this first hand. When the 2008 crisis struck, there were crippling losses. They were forced to give a significant chunk of their gains back. Gains that took them a few years to build. In other words, they had to practically start all over again.
This is what huge volatility can do to your long-term returns. It is the biggest danger staring in the face of buy and hold investors.
As Mark says, minimizing this negative compounding, or paying less volatility tax, results in higher sustained CAGRs and is the very name of the game in successful investing.
I couldn't agree more.
So how do you deal with this?
Unless you had divine powers, there was no way you could have known markets were going to crash more than 15% in a given calendar year. It is impossible to time the market every single time.
One way out is to do what I recommend our subscribers in Microcap Millionaires.
An investor is vulnerable to paying a high volatility tax when the markets are trading significantly higher than historical valuations. Indeed, this was the case in all the three instances we discussed above. All the 15%+ corrections happened when the Sensex was trading at expensive valuations.
Therefore, wouldn't it be a good idea to reduce exposure to stocks when markets turn expensive and increase them when they turn cheap? Of course, it would be.
In fact, this is what has led to Microcap Millionaires subscribers paying a much lower volatility tax and enjoying an outperformance of nearly 2:1 vis-a-vis the benchmark index.
So, when markets are cheap and there's very little possibility of it paying a high volatility tax soon, I recommend that subscribers consider being 75% in stocks and 25% in fixed deposits. And when they turn expensive with a high chance of falling and subjecting investors to a high volatility tax, I recommend reversing the ratio i.e. 75% FDs and only 25% stocks.
Simple, isn't it? Trust me, it is mighty effective as well.
Do you avoid paying high volatility tax using the same method... Or do you have some other trick up your sleeve?
Do write in to tell us your preferred way of reducing your volatility tax.
Good Investing,

Rahul Shah (Research Analyst)
Editor, Profit Hunter
PS: Like Mark, there are several brilliant Indian super investors that can show you the path to incredible returns - click here to follow these super-investors on their ride to greater wealth
Recent Articles