Do Not Ignore This Short-Term Price Trend in Smallcaps (And Why I'm Making an Exception to My Rule...)
Apr 9, 2019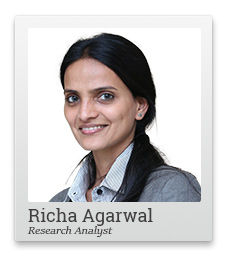 It was a year of odds for the markets.
While Sensex is close to touching another milestone, flirting with 40,000 levels, over 400 smallcaps touched 52 week lows.
As I write this, the small cap index is still down by over 20% since the highs last year.
But in this year-to-year comparison, there is an interesting trend missing, that I want to bring to your attention.
The small cap index is showing signs of rebound. Since the lows in Feb 2019, the small cap index has recovered 15%. Some individual smallcaps have witnessed gains as high as 40%.
Mind you, this is ahead of events like earnings season and elections. The FIIs are back in the Indian markets. And guess what they are betting on.
Most of their bets are in smallcaps.
The coming months could see more of such swings in the highly volatile smallcaps.
While I often ask you to ignore short term price movements, this time it is different.
If you have been following me in this space, you know that I have selected four smallcaps that have significant rebound potential.
Hidden Treasure subscribers can access the report here.
These are the stocks where I am impressed with financials, the long-term story and last but not the least, the management.
With initial signs of rebound showing in smallcaps, the stocks may not remain in the buying range for long. And you may miss out on a rare opportunity to earn some life changing gains just by a few days (In fact, as I write this, one of these four rebound stocks is already up 29%).
And if you are thinking of waiting for election results, there is enough history to prove that elections have never determined the long- term returns in the stock markets. Irrespective of the governments in power and various catastrophes that have befallen the economy, including demonetisation, the Sensex has generated tremendous wealth in the long term.
And if there is one stock class that can beat Sensex at creating wealth, it is volatile smallcaps. Of course, conditions exist - you have to choose the right businesses, managements and valuations.
With such selective bets, Hidden Treasure has beaten Sensex nearly 2.4 times in 11 years since inception (as per the audited track record in February 2019).
And we believe we will maintain the outperformance in the long term. Unfortunately, the window for action may not remain open for long. So act as soon as you can.
Warm regards,



Richa Agarwal
Editor and Research Analyst, Hidden Treasure
PS: An enormously lucrative opportunity in small caps is available today, if you just know where to look. We, of course think, you need to look no further than here.
Recent Articles