An India Revival Stock I'm Bullish On...
Apr 9, 2021
Editor's note: Join our ace chartist, Brijesh Bhatia, on Equitymaster's YouTube live stream. Brijesh will be talking about the price of bitcoin. Is it in a bubble? Find out at 11 am on 10 April. Set a reminder for the live stream here.
---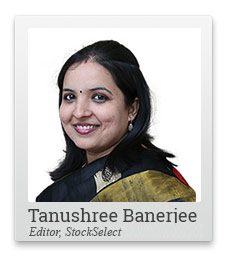 India currently ranks 5th among the world's largest economies.
Two of its predecessors, Japan and Germany, have had spectacular tales of economic revival in the past century.
Yet, India's economic prosperity, lost for nearly 300 years, now finds a chance of such revival.
Let me explain.
World War II wiped out the progress Japan had made since 1860s. About 40% of the nation's industrial plants and infrastructure were destroyed. Industrial production was pushed back several decades.
Some critical reforms helped the country swing back into action.
--- Advertisement ---
The Smallcap Revival Summit

Join us on the evening of 20th May to learn,

• Why despite rallying over 100% since March-2020 lows... small-cap stocks are set for a massive rally over the coming months and years
• Details of our top 3 stocks to capture potentially huge gains from this upcoming small-cap rally
• And how to spot opportunities, even in the current market, with the potential to generate 200%, 400%, and even 900% long-term gains

Plus, there is a lot more that we are going to cover.

The summit is free to attend for Equitymaster readers.

But since there are limited seats, we would recommend you to register at the earliest.

Grab your spot for the Summit here. It's free.
------------------------------
Japan's new factories were equipped with the best modern machines, giving it competitive advantage over the victor states, who now had older factories.
Similarly, Germany had suffered a bout of hyperinflation after the Treaty of Versailles, which destroyed its currency the Deutsche Mark. After World War II, when Germany surrendered, there was nothing left but the rubble of their once prosperous nation.
When the German stock markets finally reopened in 1948, the first trades were 90% below the levels of 1941.
Starting 1950, Germany rose from the ashes and had a sharp economic turn. German stocks compounded at a staggering 24.6% in real terms over the next decade.
Rebuilding public infrastructure played a crucial role in both cases.
Infrastructure can only be built by deploying capital that does not demand excessive rate of return. The lender must wait for cash flows to start accruing. This requires a long wait and endurance.
Get Details: We are Bullish on These 3 Little-known Stocks
And this is where a development finance institution (DFI) comes in. DFIs have played a key role in nation-building in developing countries.
The National Bank for Economic and Social Development (BNDES) in Brazil has been a very effective DFI.
The China Development Bank has bankrolled an infrastructure glitz that has been a global talking point for several years.
So, a recent bill passed by the government holds centre stage in India's revival.
The National Bank for Financing Infrastructure and Development (NABFID) Bill allows setting up a DFI under an Act of Parliament.
Now, India had DFIs in the past but the steep interest rates in 1990s failed to keep any of them viable.
--- Advertisement ---
[EXCLUSIVE] Webinar Invitation -
"Pandemic Impact. Economic Recovery. Investment Strategy - Insights Revealed!"

Date: May 21st | Time: 6pm | Venue: Your Computer

The Covid-19 crisis in India is said to be one of the biggest crises the country has ever seen.

Amidst this turmoil, investors are also questioning the future of their financial wellbeing.

In this exclusive webinar, Chirag & Sorbh will answer big questions like:

• How will the second wave of Covid-19 impact economic recovery?
• What asset allocation could you consider for uncertain times like this?
• Is the Indian stock market immune to the Covid-19 surge?

And many more...

Click Here to Register FREE for this Exclusive Webinar
[No Payments | No Credit Card | Absolutely FREE] | [Yes! I want to attend this Webinar]
------------------------------
The single biggest advantage that NABFID will enjoy is that it will borrow at a very low cost of capital. It will get the benefits of being a quasi-sovereign body.
So, combined with the National Infrastructure Pipeline of Rs 102 trillion, this DFI has the potential to revive India's infrastructure dreams like never before.
Of course, there will be many private sector companies too that will participate in this resurgence.
But one company has captured my attention with the kind of contracts it won in the most trying times.
I will share details on this company soon.
I recommend you join me, dear reader, at the India Revival Summit on Thursday, 15 April, to know more.
Warm regards,

Tanushree Banerjee
Editor, StockSelect
Equitymaster Agora Research Private Limited (Research Analyst)
PS: Join me on 15 April, at India's Revival Summit. I will reveal a once-in-generation opportunity to potentially make 1000% long-term gains. Get the full details here.
Recent Articles