This Indicator Can Stop the Market Rally in its Tracks
Apr 11, 2019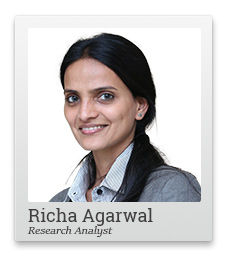 Earlier this week I wrote to you about how the broader indices are rallying merely based on sentiment. But sentiment alone can only take the markets so far.
If you look beyond the optimism, you will see that a multitude of indicators are turning against the Indian economy.
The Asian Development Bank, Reserve Bank of India and, more recently, the International Monetary Fund, have all cut their forecasts for India's GDP growth. All three have blamed rising risks to global economic growth as well as weakening domestic investment activity.
Uncertainties related to Brexit, and the US threat of new US$ 11 billion tariffs on the European Union are bound to make the global environment more volatile.
While these factors are certain to have an impact on the domestic market rally, one factor can stop it right in its tracks.
I'm talking about crude oil.
While the domestic markets have continued their sentiment fueled rally, crude oil prices have also quietly creeped up.
Brent Crude oil is already past the US$ 70 per barrel mark and is up 40% from its lows in late December 2018.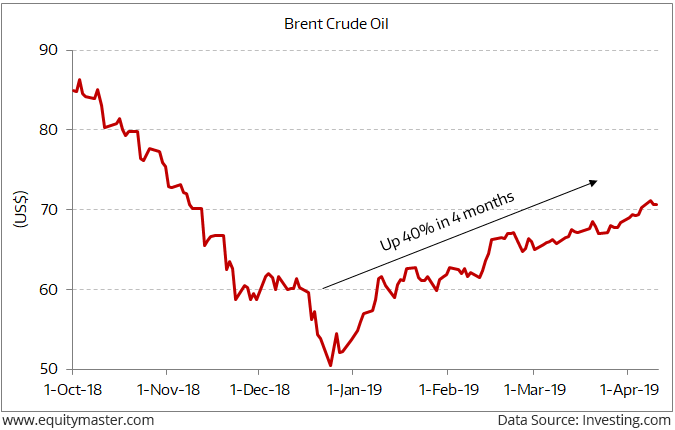 Crude oil is up owing to the Organization of the Petroleum Exporting Countries' (OPEC's) ongoing supply cuts, US sanctions against Iran and Venezuela, and strong US jobs data.
As you know, rising crude oil prices have a big impact on the country's economy as India imports over 70% of its energy needs.
Rise in crude oil increases input costs for dependent firms. It also means rising inflation. Rising inflation means rising interest rates.
It also puts pressure on the government to cut excise duty, thereby impacting its revenues. We have already seen that happening.
This has the potential to bring down sentiments in the domestic markets.
And if oil prices continue their upward march in a tight global environment, a broader correction in the sentiment fueled domestic market cannot be ruled out.
Now, a broader correction will bring down the prices of stocks I have already recommended. But that does not bother me.
I don't have to worry about the stocks I recommend for my service Hidden Treasure, for these reasons:
We invest for the long term. With the long-term horizon, the impact of macro events evens out for the stocks we recommend.
We pick fundamentally strong companies who can withstand corrections and macro uncertainties by the virtue of their superior business quality.
We build in enough margin of safety in valuing every stock we recommend, to account for these 'known unknowns'.
Lastly, we never recommend an allocation of more than 3% to a single stock.
This is to makes sure one doesn't panic in case there is a correction in the short term (because of such macro factors) and are ready to wait till the macro and the markets favour the stock again.
Not to mention the fact that while crude oil prices have an impact on the markets in the short term, in the long-run, Sensex and BSE Smallcap index returns have been independent of crude oil prices.
Crude oil prices doubled from US$ 41 in December 2008 to US$ 84 in April 2010. In the same period, the BSE Sensex doubled while the Smallcap index tripled.
Sentimental correction in stocks due to such macro factors offers us a good opportunity to scoop up great businesses at attractive valuations, adding to my margin of safety.
While oil prices, macro trends and global developments may play out taking the markets up or down with them - businesses and their potential will remain.
Focus on the fundamentals and buy the stocks where quality meets value.
If you want to know which ones you can add to your portfolio right away, you can always just start with these 4 rebound stocks I strongly recommend.
With solid fundamentals, these stocks are not only built to last any macro disturbances but are also one the verge of rebounding with the market.
Warm regards,



Richa Agarwal
Editor and Research Analyst, Hidden Treasure
PS: While the large caps are rallying away, the small caps are yet to catch up. This gives investors the perfect opportunity to get in just as they do. 4 rebound stocks I recommend in a special report could be on the verge of a surge. Sign up here to get your special report.
Recent Articles