Making Money from the Market's Ignorance
Apr 12, 2018
Have you read any of Benjamin Graham's books on investing?
Not many have.
I'm willing to bet that Graham's books on investing would be the dustiest in any library.
It's not really that surprising if you think about it. His books are old - the two most famous were published in 1934 and 1949. That's well over half a century ago...
In a world where real time market updates are available in the palm of one's hand, that's downright Jurassic!
But it gets worse.
Read Graham and the first thing that jumps out is that everything he talks about is from a different era altogether. The examples he cites, the companies he mentions, the stock market conditions, the people... even the language seems archaic.
Many conclude that his ideas are outdated and barely relevant in today's age.
Few actually get through his writings.
And then there's the common perception that ace investor Warren Buffett, Graham's most famous and successful student, has moved far beyond what his mentor expounded... That how Buffet invests today is far removed from Graham's teachings.
--- Advertisement ---


You could possibly even beat Buffett using this Secret

Using this Secret, you have a potential advantage over not just Buffett, but every other big fund manager and investor out there.

As a small investor, if you start with this proven Secret, it could make a big difference to your wealth and final returns.

Once you start using this Secret, not only you'll have an inherent edge, but you'll also face less competition in a special class of investment.

Click here to learn more…
------------------------------
But perhaps we should ask Buffett himself how he conducts his investing these days...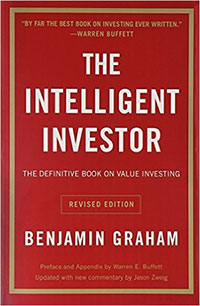 Luckily for us, Buffett included a section titled 'Some Thoughts About Investing' in his 2013 letter to Berkshire Hathaway shareholders.
And guess how he starts this section? With a quote from Graham's book, The Intelligent Investor:
Investment is most intelligent when it is most businesslike.
Now maybe he chose to use a Graham quote because it's just a real fine quote. But here's what he writes next:
It is fitting to have a Ben Graham quote open this discussion because I owe so much of what I know about investing to him.
What follows is a detailed, three-page discussion of two small but highly successful personal investments Buffett made.
At the end of this discussion, Buffett concludes:
I learned most of the thoughts in this investment discussion from Ben's book, The Intelligent Investor, which I bought in 1949. My financial life changed with that purchase.

Before reading Ben's book, I had wandered around the investing landscape, devouring everything written on the subject. Much of what I read fascinated me: I tried my hand at charting and at using market indicia to predict stock movements. I sat in brokerage offices watching the tape roll by, and I listened to commentators. All of this was fun, but I couldn't shake the feeling that I wasn't getting anywhere.

In contrast, Ben's ideas were explained logically... These points guide my investing decisions today.

Of all the investments I ever made, buying Ben's book was the best.
So that was Buffett in 2013.
And here's my point: The masses in today's market have a very superficial understanding of Graham's ideas.
Most people think they are all but obsolete. They stick to this mis-perception and don't bother to look further.
This might seem sad. And it is for them. Ignorance is a sad thing.
But it's great for us.
I'm a big believer that the resulting neglect that Graham's ideas receive - along with the time-tested money-making potential of those ideas - means that for the few who bother to truly understand and use them, a goldmine of wealth-creating possibilities awaits.
At our service Microcap Millionaires, we uphold the investing ideas of Benjamin Graham. In fact, the whole service is built around his prescriptions for investing.
And we've got some amazing results over these last four years since the service was started.
It works! You ought to see the results!
Good Investing,


Rahul Shah (Research Analyst)
Editor, Profit Hunter
PS: Rahul Shah has just released a special report with the Top 5 Microcaps You Should Consider Buying Today...
There's no better stocks to start your wealth building journey with Microcap Millionaires than the ones covered in this report. Click here to learn more...
Recent Articles