Pick Best of The Best Stocks...Irrespective of Trade Wars
Apr 13, 2018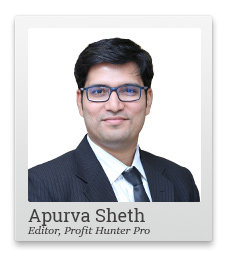 Last week I wrote to show you how to trade in the Trump Era: The Techno Funda Way.
One week later, the situation is no different - Trump is still callously spewing venom against China. And he isn't stopping there. Russia is the new target.
Russia vows to shoot down any and all missiles fired at Syria. Get ready Russia, because they will be coming, nice and new and "smart!" You shouldn't be partners with a Gas Killing Animal who kills his people and enjoys it!

— Donald J. Trump (@realDonaldTrump) April 11, 2018
You know the old proverb: When elephants fight, the grass gets trampled?
Well, the markets are certainly getting run all over by these fighting nations.
Nevertheless, we will let the world leaders have their fun and games; and focus, instead, on how you can pick the best of the best stocks in such turbulent markets.
The process of picking stocks I'm going to share with you is formulated from having closely worked with institutions in the past, and tracking their success to generate money in challenging, difficult environments by trading in only the best fundamental stocks.
Trading + Value Investing = Success even in Turbulent Markets
Some choose to trade only in sectors which were doing well. Some trade only in the best 20 stocks of the Nifty 50 basket.
No matter what your trading style, everyone can use the techno-funda approach.
When I joined Equitymaster in November 2014, I knew that the best available research out there is Equitymaster's fundamental research.
With access to all Equitymaster-recommended stocks, all I had to do was apply technical filters.
That's how I created my most successful yet process of picking stocks. Here's how it works...
Three-Step Process to Identify Best Techno Funda Trading Opportunities
Step 1: Apply Qualitative Filters
I apply qualitative filters to build a universe of fundamentally strong stocks.
Then, I create a bucket of stocks chosen through the magnified lens of the Equitymaster Research team. This includes stocks from some of Equitymaster's premium stock recommendation services. There are seven services which track some of the best stocks across the length and breadth of Indian stock markets.
--- Advertisement ---


Nobody is telling about these Retirement Lies…

You might have never heard about these Retirement Lies which are causing many people to live a mediocre retired life.

These Lies, created by our "System", could sabotage one's retirement.

But today we're going to expose these Lies and guide you - how you could possibly live better in retirement than you do now.

In fact, so much better that you could potentially retire early and wealthy!

Click here to find out… what we're going to reveal today.
------------------------------
Each service is designed with a different objective and investment philosophy. But, one thing which is common across these services is that, their well-defined process has delivered solid results over the years. Here's a peek of what the services are all about...
(Please note: I do not have access to Phase One Alert which is Equitymaster's most exclusive recommendation service.)

Equitymaster Services with Open Recommendations as on 11th April 2018
There are about 141 stock recommendations across all the above services.
Some of them are common and recommended in two or more services...which is good as it means the stock has gone through two very different set of investment filters and processes.
Overall, there are 127 unique stocks which the Equitymaster team has recommended. These are live as I wrote this letter.
I include all stocks that are recommended with an average liquidity criteria of Rs 5 million in my universe.
Step 2: Use Visual Chart Analysis
I apply technical analysis tools like trendlines, volumes, support and resistance, momentum to identify timely entry and exit points. I have written in detail about them and how I have used these tools alone successfully to identify some of the best stocks.
At this point, I will employ a combination of the fundamentals (stocks recommended by Equitymaster team) and technicals (my time tested proven system of trading) process to identify the best trades on the best stocks.
Step 3: Recommend Best Trades on Best Stocks
Finally, I will recommend stocks which pass both the filters with a maximum buy price along with target and stoploss percentages.
I have been using this strategy to recommend best trading ideas to my Profit Hunter Pro subscribers for the last five months. And the strategy has worked wonders for us.
Some of our recommendations have generated gains like 12.2% in 20 days, 14.39% in 24 days, 20% and 10.73% in about 2 months.
By now, I am sure you may be wondering how you can use the same approach...You may not be a subscriber to any of these services...or you might have only a few of them...or you may not know how to use the technical tools for trading.
You don't have to worry about any of this. We have a solution for you.
Regards,


Apurva Sheth (Research Analyst)
Editor, Profit Hunter Pro
PS: Apurva's brilliant systems and simple recommending style have made him very popular with his susbcribers. Join the ranks of Profit Hunter Pro by subscribing here.
Recent Articles