The Next Set of Smallcap Winners
Apr 13, 2021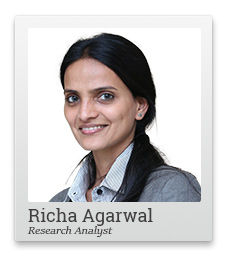 The shutters are closing early. The streets look deserted again.
Many companies have already extended work from home policies until the end of the year at least.
The second wave of lockdown is here.
And it could spread from one state to another as Covid cases mount.
I believe there will be revisions to corporate earnings and GDP growth.
The markets are already showing signs of nervousness. The Sensex fell over 1700 points yesterday, by 3.4%. The smallcap index was also down 3.4%.
But this time will be different.
If you expect a drastic correction of the kind that was seen in March 2020, you could miss the opportunity forever.
You see, unlike in March 2020, we are not dealing with an 'unknown' anymore.
A large chunk of population has already developed anti bodies. We have vaccines now.
--- Advertisement ---
One stock to add to your portfolio asap

Our co-head of research, Tanushree Banerjee, has uncovered this one stock, which she believes is a must have in your portfolio.

Tanushree is very bullish on this stock.

It could potentially multiply invested money 12 to 13 times over the long term.

Tanushree will reveal details of this stock at her upcoming special event.

You can click here to sign-up. It's free.
------------------------------
Most importantly, the markets have become better at assessing how this wave could impact different businesses.
Covid has turned out to be a solid differentiator between resilient and weak businesses.
Quite a few businesses in hospitality and service industries are looking at the possibility of a permanent shutdown.
On the other hand, it's been a positive surprise to see many companies in the small cap space reporting profits higher than the pre lockdown quarters.
This suggests an underlying strength in their business models.
Some of these gains have come from consolidation across the industries. Weak players made way for stronger ones, with the latter increasing its market share.
The second wave of lockdowns is only going to strengthen this trend further.
In May 2020, when we focused on this opportunity for the first time, there were 5 essential stocks that stood out.
Revealing Tomorrow: The Great Indian Wealth Project
Two of these have already met the target prices.
On one of these we booked 145% gains.
The other stock is up 195% at the time of writing.
While the rising cases is unfortunate, I think a great buying opportunity has emerged in smallcaps.
One of these companies operates in the fintech space.
The industry in which it operates enjoys a duopoly. That is, there are only 2 players for the kind of operations it deals in.
It's a rare business that did not see any curtailment in its operations during the first lockdown. The second lockdown will be no different
This makes it a perfect candidate for 'Essential' stocks to own during the second lockdown.
Riding on the dual trends on financialisation and digitisation, the business is witnessing strong tailwinds in its favour.
--- Advertisement ---
How to Earn a Fortune in Gold, the Smart Way

Gold is on 'the verge of a decadal run' says Vijay Bhambwani, India's #1 Trader and Editor of Fast Profits Daily at Equitymaster.

He says gold has the potential to generate staggering gains in the coming years...And those who are betting on gold right now will hit the jackpot.

But wait.

While gold is an attractive investment destination, there's a very specific way to play this opportunity...

A way that ensures you rake in maximum profit and perhaps hit the jackpot...while minimizing potential pitfalls. Thankfully, Vijay - India's #1 Trader - can guide you step-by-step in the upcoming gold rush and help hit the jackpot just at the right time.

Sure, you don't want to be an average trader. That's not how you make a fortune.

Here's how you can get Vijay's guidance...
------------------------------
Within the fintech segment, the business in recent years, has incubated different verticals. In some of these, it has already emerged as market leader.
With a focus on monetisation, these segments could make a huge positive difference to its financial performance.
I really like the debt free and cash rich balance sheet, as well as a strong margin of safety at these valuations.
In fact, the margin of safety is so strong, perhaps the stock price is all the due diligence one might have to consider for this stock.
And did I say that the business operates on a negative working capital cycle? This means unlike most businesses, its cash does not get stuck in its working capital needs.
This stock could be a great wealth compounder in the long term.
And with a dividend yield near 3%, you can get some steady income as well.
Hidden Treasure subscribers can read more about the stock here.
For more such opportunities in the smallcap space, stay tuned...
Warm regards,



Richa Agarwal
Editor and Research Analyst, Hidden Treasure
PS: Join Tanushree Banerjee this Thursday, 5 pm at India's Revival Summit. Our safe stocks expert will reveal potentially the greatest wealth building opportunity in India today. Book your free seat.
Recent Articles