A Stock with 700% Return Potential Comes with Additional Payoffs
Apr 15, 2021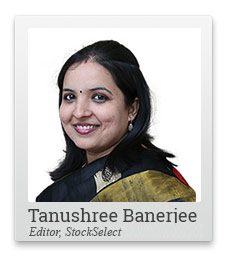 This time, last year, news media was packed with Covid-19 related headlines.
However, what caught my attention was news on counter-terrorism unit of National Security Guard (NSG).
The NSG was partnering with India's defence tech startups. Their objective was to find solutions against rogue autonomous drones swarming across Indo China borders.
Now, it's always easy for the Defence Ministry to import hi-tech weapons to counter acts of terrorism.
But this time it was looking to invest in 250 Indian startups in the defence technology space.
The plan was to develop 50 defence innovations over five years to prevent and counter terror attacks.
--- Advertisement ---
Revealing at 5pm Today - The Great Indian Wealth Project

Today at 5 PM sharp, we will reveal our Great Indian Wealth Project at a special online event.

At this event, our co-head of research, Tanushree Banerjee, will reveal the details of your first stock for accumulating a potential Rs 7 crore in long-term wealth.

Please watch this short video message, which Tanushree recorded just for you.




Watch Now
------------------------------
Needless to say, startups across areas like aerospace, aeronautics, robotics, and security solutions have shown interest in collaborating with the Ministry.
Being self-reliant in defence technology has huge benefits for the Indian economy.
And the scope of success of defence technologies is far higher than commercial ones.
Startups in this space, therefore, are of immense interest to me. So, whenever I can, I try to dig deeper into their projects.
For instance, Bengaluru based Tonbo Imaging Designs, builds and deploys advanced imaging and sensor systems.
Mumbai based, ideaForge, a brainchild of IITians, has developed drones in collaboration with DRDO. Its clients are paramilitary and security forces, including National Disaster Response Force and Delhi Police.
Aadyah Aerospace develops electronic optic systems for missiles and launch vehicles.
India's borders are no longer secured with just electronic meshes. IoT and artificial intelligence (AI) play an important role. CRON Systems is a startup that is developing state-of-the-art intrusion detection systems.
Revealing at 5pm Today: The Great Indian Wealth Project
Are you wondering if these startups will fetch big orders anytime soon?
In a first, in late 2020, the Indian army awarded a Rs 1.5 bn deal to procure drones made by ideaForge Technology.
The niche drone maker won the contract after competing with Israel's top drone manufacturer Elbit, besides the Tata Group.
What most investors do not know is that Infosys has been an early investor in ideaForge for many years. Plus, the company doubled down on its investment in the startup in February 2021.
Of course, Infosys is not the only bluechip with potential to offer big payoffs from such startups in the coming decade.
There is one bluechip that had been an early backer to Infosys' Narayana Murthy, when the concept of unicorn founder was unknown.
--- Advertisement ---
How to Earn a Fortune in Gold, the Smart Way

Gold is on 'the verge of a decadal run' says Vijay Bhambwani, India's #1 Trader and Editor of Fast Profits Daily at Equitymaster.

He says gold has the potential to generate staggering gains in the coming years...And those who are betting on gold right now will hit the jackpot.

But wait.

While gold is an attractive investment destination, there's a very specific way to play this opportunity...

A way that ensures you rake in maximum profit and perhaps hit the jackpot...while minimizing potential pitfalls. Thankfully, Vijay - India's #1 Trader - can guide you step-by-step in the upcoming gold rush and help hit the jackpot just at the right time.

Sure, you don't want to be an average trader. That's not how you make a fortune.

Here's how you can get Vijay's guidance...
------------------------------
Even decades later, this company's core business remains well fortified and it is vying to become one of the biggest startup investors in the country.
I believe its long-term return potential is in the realm of 700%!
Do you want to know more about this stock?
Join me online at the India Revival Summit at 5 pm TODAY, to for details on not one, not two but 3 such stocks.
Book your free seat at my India Revival Summit.
Warm regards,

Tanushree Banerjee
Editor, StockSelect
Equitymaster Agora Research Private Limited (Research Analyst)
PS: Joint me at 5 pm this evening at the India Revival Summit.
Recent Articles